VIX - Market Sentiment:
Welcome back to the new daily sonar report. After several of you have reached out to me, I have decided to return to writing recaps, but will structure them in a different format. I will no longer be providing the bullish/bearish sections of this paper, and will only provide the top 4 unusual movers in terms of market/options activity. You asked for it, and now it returns. The volatility explosion/implosion sections have now been re-added, focusing on movers you should keep on your radar. Hopefully, the re-focus on a few specific names will allow my page views to return and keep the sonar alive.
After a long weekend, S&P futures were slightly higher after closing at all-time highs last Thursday. S&P futures traded in a tight 6 handle pattern, opening higher before getting slapped down 10 handles after poor economic data was released. Futures were initially weighed down by the Final Manufacturing PMI number coming in at 54.6 versus an expected 55. To make things worse, the ISM PMI number and ISM manufacturing prices indexes both missed by a mile against analysts expectations. Tomorrow we expect Italian and German PMI to be released, which could again move the markets heavily, followed by the Wednesday ADP Non-Farm Payroll number.
The spot CBOE Volatility Index (VIX) and futures were mixed in early trading, trying to digest the recent economic data. Volatility ETF (NYSEARCA:VXX) was little changed, trading fractionally higher after the 10:00 economic release. Option volume was overall extremely light throughout the day, with the largest VXX and VIX trades today both betting on potential volatility pops in the upcoming months. The weekly 22.5 call was traded heavily today in comparison to normal as overall call buyers and put sellers came into the markets. At the time of this writing, VXX had only traded 50% average daily volume with just over an hour and a half left to trade. Calls did outnumber puts 1.6 to 1, with calls bought 50% on the ask and puts sold on the bid 49% of the time.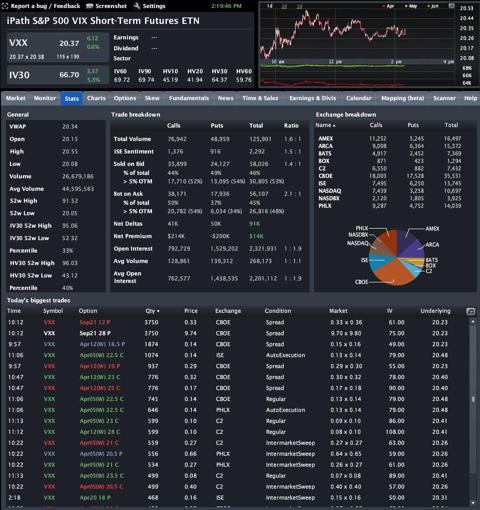 Statistics and Screenshot Provided By LiveVol
VIX futures are listed below.
Yesterday
· April VIX Futures 14.20
· May VIX Futures 15.60
· June VIX Futures 16.60
Today
· March VIX futures 14.50
· April VIX futures 15.60
· May VIX Futures 16.55
Options Paper:
Walter Energy (NYSE:WLT) was just destroyed today, trading down almost 8% at one point during the day. Heavy bearish paper hit this name in the last two weeks, and today those traders booked almost 2M in profits and rolled the position out and down. Today, sellers of the April 35 strike puts came in, selling more than 3.2M in April 35 strike puts and using the proceeds to buy almost 1.5M in May 25 strike puts. This position was done as WLT was under heavy selling pressure as the coal space was just beaten down today. It is noteworthy to state calls were overall net bought as well today to the tune of 274K, but bears are clearly in control in terms of both price and option activity. Options were more than 2.5x average daily volume, with puts outnumbering calls 3 to 1 on the day.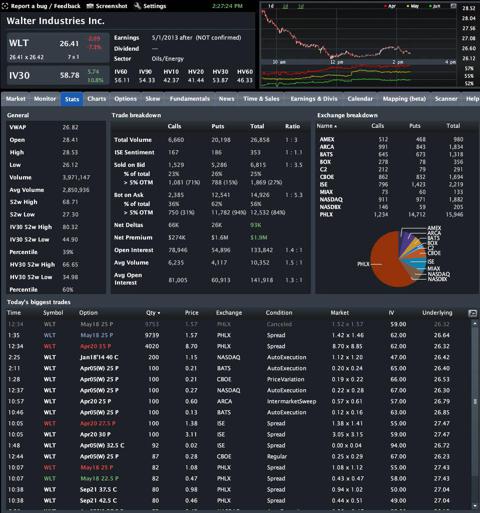 Statistics and Screenshot Provided By LiveVol
Amazon (NASDAQ:AMZN) was another name today seeing some heavy bearish paper in a relatively weak tape. AMZN saw block buyers of the May 260 strike puts for 10.90 offer almost 1.2K times. Additionally, calls were overall sold as longs continue to take profits in this name as the stock again flirts with the 260 level and is now below the 50 day moving average. Both option and stock volume was overall light in this name. It is important to note the options still saw almost 900K of net new position inflows with 1.2M in overall bearish paper bought. Puts barely outnumbered calls 1.2 to 1, with puts bought on the offer 44% of the time and calls sold on the bid 44% of the time.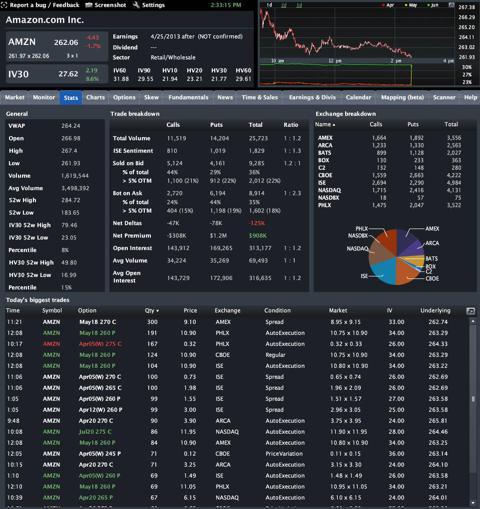 Statistics and Screenshot Provided By LiveVol
Volatility Explosion:
Tesla Motors (NASDAQ:TSLA) is no stranger to the sonar report, and today the name exploded to the upside along with volatility. TSLA saw IV near 52 week lows just last week, but today is now trading up 27% on the day and continues to see both call and put buying across the board. TSLA is a name with a high short interest, which was crushed after earnings, falling from 40 to 34 in a very quick manner. TSLA has now broken through to the upside on heavy volume, and bulls and bears are getting ready for the next round. Quite a few delta neutral trades went off in the name today, but overall sentiment was mixed across the board. Options activity was more than 6x average daily volume with calls outnumbering puts 1.7 to 1.
Volatility Implosion:
Endeavour International (NYSE:END) saw volatility collapse, dropping more than 24% after announcing results today. This name typically does not see much action, and last week, volatility was pumped up as call buyers stepped in, looking for END to run after earnings. Not all activity was bullish, however, as bears stepped into this name last Thursday looking for downside, but were still killed as the front month volatility sucked all the premium out of the options. Today the bulls have returned to this name, looking to roll positions from April out to June and beyond. Overall, calls outnumbered puts almost 5 to 1 on the day on more than 2x average daily volume in this name.
Disclosure: I am long AGNC, BA, CBB, CONE, DNDN, DRYS, JCP, TLM, and I am short ASH, BAX, EMR, LULU, SPY.
Trades Today: Closed ARUN short, Closed ENDP long.
I wrote this article myself, and it expresses my own opinions. I am not receiving compensation for it (other than from Seeking Alpha). I have no business relationship with any company whose stock is mentioned in this article.
Disclaimer: The opinions in this document are for informational and educational purposes only and should not be construed as a recommendation to buy or sell the stocks mentioned or to solicit transactions or clients. Past performance of the companies discussed may not continue and the companies may not achieve the earnings growth as predicted. The information in this document is believed to be accurate, but under no circumstances should a person act upon the information contained within. I do not recommend that anyone act upon any investment information without first consulting an investment professional as to the suitability of such investments for his or her specific situation.