Throughout my history as a Seeking Alpha contributor, I have been bullish on both Annaly Capital Management (NYSE:NLY) and its rival American Capital Agency Corp (NASDAQ:AGNC). However, personally I have only owned NLY. There are three reasons why I now believe AGNC is a better buy than NLY.
1. Dividend
As shown in the chart below, AGNC currently yields 4% more than NLY. This represents a significant difference in yield between AGNC and NLY. The difference in yield is especially important given the current interest rate environment. The 4% yield differential between NLY and AGNC is greater than the yield differential between 3 month T-bills and the 30 year treasury bond. Simply put dividend investors can generate significantly more income from AGNC than NLY.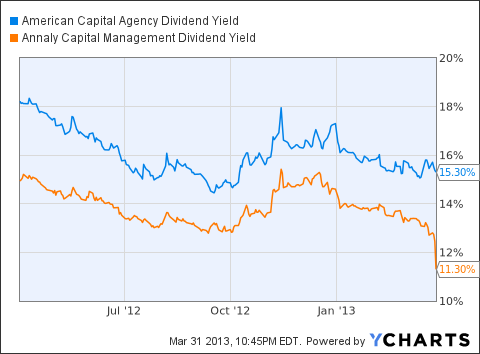 AGNC Dividend Yield data by YCharts
2. Valuation
In the past, as shown by the chart below, AGNC has traded at a premium valuation relative to NLY. However, right now, the companies are trading at essentially the same valuation. Over the past few years, AGNC has proved a better operator than NLY. AGNC has provided higher dividends and better increases in book value. For this reason, the market has placed a premium on AGNC vs NLY. Currently, with NLY and AGNC trading at the same price/book it makes sense to consider buying AGNC instead of NLY.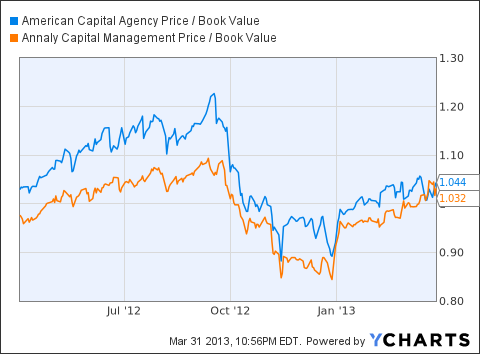 AGNC Price / Book Value data by YCharts
3. Possible Share Offering
In my recent piece, American Capital Agency Corp Sells Shares, Annaly Likely To Follow, I suggested that NLY would likely come to market with a stock offering of its own. Thus far, NLY has not yet announced a share offering. I continue to believe that NLY will soon come to market with a share offering, because, well as I said in my previous piece, that is what mREITS do. Both NLY and AGNC have had a long history of issuing shares and then using that capital to generate returns. If NLY comes to market with an offering, the share price would likely come under short-term selling pressure. Of course, as was the case with AGNC, I would be a buyer of NLY on the decline. That being said, AGNC does not face the same short-term risk as it is unlikely that AGNC will sell more shares anytime soon.
Dividend Record Date
NLY's record date for its fourth quarter dividend of $0.45 is April 1, 2013. Stock holders of record on this date, who bought the stock prior to the ex-dividend date, March 27, 2013, will receive the juicy cash payment. On April 2, investors can sell NLY, and move into AGNC without missing the crucial first quarter dividend. Investors will not be eligible to collect AGNC's first quarter dividend as the record date, March 20, 2013, has already passed. However, shareholders will be able to receive the next quarterly dividend without any problem. Now is a good time to make the shift from NLY to AGNC because no dividends will be missed.
Conclusion
AGNC is a better buy than NLY because of its higher dividend, current relative valuation, and lack of risk regarding a potential stock offering. Investors currently holding NLY should look to make this move on April 2 so that no dividend payments are missed.
Disclosure: I am long NLY. I wrote this article myself, and it expresses my own opinions. I am not receiving compensation for it (other than from Seeking Alpha). I have no business relationship with any company whose stock is mentioned in this article.
Additional disclosure: may initiate a long position in AGNC