I was not surprised to see bullish headlines following Friday's personal income and consumer spending reports, just one day after the S&P 500 (NYSEARCA:SPY) achieved a new all-time high. For many investors, these income and spending figures validate the market ascent we have seen since last November, arresting any concerns that the economy's stall speed in the fourth quarter was a precursor to a recession. Wall Street strategists have been racing to lift their 2013 targets for the S&P 500, salivating over the certainty of continued quantitative easing (QE), while at the same time grasping at economic data points that they believe support the bullish narrative from a fundamental standpoint.
A new all-time high for the S&P 500 adds another arrow to the quiver of the camp arguing that a new secular bull market is underway. After 13 years of negligible gains, the stock market is finally breaking out of the painful channel that has imprisoned it. That is how bulls interpret the chart pattern below.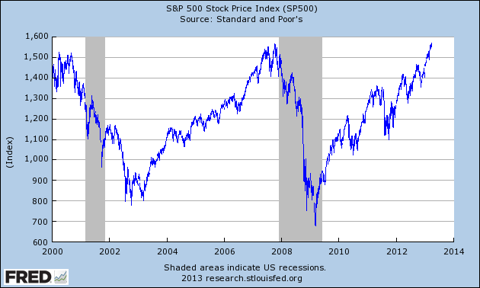 Despite the new all-time highs, the bearish camp is still questioning the efficacy of QE and the sustainability of any real improvement in the economic fundamentals. Bears also question the predictive value of a modest new high in the S&P 500, considering the fact that we established a similar new high for this benchmark in October 2007, just prior to the last bear market. Therefore, bears are looking at the same chart above, and instead see what sits below.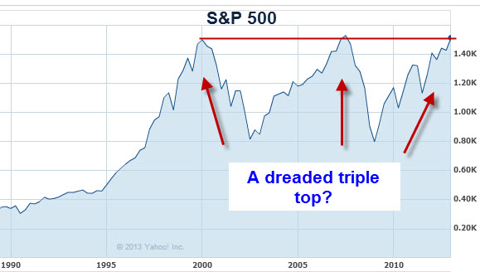 We all fall victim to confirmation bias, which is our tendency to interpret information in a way that confirms what we already believe. Both bulls and bears can draw from any number of recent reports to find sufficient data to support their beliefs. Some will surely argue that my assertions in this article are evidence of my own confirmation bias, or perhaps my critics, in discounting my assertions, are falling victim to their own - time will tell. I battle this tendency by focusing on long term trends. When analyzing the high-frequency data, like Friday's income and spending reports, the ultimate objective should be to see if the new information confirms the current trend or identifies the beginning of a new one.
At first glance, which is the extent to which investigative reporting typically delves these days, these numbers look very good. Consumer spending, also known as personal consumption expenditures (PCE), rose $77.2 billion from the preceding month, or .3% in real terms, at a seasonally-adjusted annual rate. Personal income increased $143.2 billion from the preceding month, or .7% in real terms. These are huge numbers on a stand-alone basis, but when examining the details of the numbers, questions arise about the accuracy and strength of the contributing factors. Additionally, when adding these new figures to prior months' data, the February report does not interrupt the long-term downtrends.
In reviewing the details of the Bureau of Economic Analysis (BEA) report, I noticed several statistical anomalies. With respect to consumer spending (PCE) on line 37 of Table 3, the increase in spending on nondurable goods of $48.5 billion is higher than any figure in the prior eight months. The increase in services of $29 billion on line 38 matches the January increase, and is also higher than any figure in the prior eight months. There is a decline in spending on durable goods of $400 million on line 36. Durable goods are primarily autos and auto parts. This is a hard number, meaning that it is not subject to dramatic revisions. Spending on non-durables and services are soft numbers. These categories of spending are heavily dependent upon guesstimates by the BEA, and are therefore subject to significant revisions. I find it very odd that spending on services and non-durables would surge in the month of February, and at such a significant rate. It makes even less sense considering the tax increases that took effect in January. I think these estimates, and with them overall consumer spending, will be revised down significantly.
The personal income figures don't substantiate the strength reported in these estimates either. With respect to the income figure of $143.2 billion on Table 3, the amount attributable to dividend income on line 20 is more than $80 billion. Actual wage and salary disbursements totaled a much more modest $43 billion. Furthermore, when accounting for the record decline of 3.7% in personal income for the month of January, the February increase was relatively weak, and it did nothing to reverse the long-term downtrend in the income statistic that matters most. Real per capita disposable income has declined at an annual rate of .4% over the past five years. This is the worst rolling five-year period since the data started being tracked in 1964.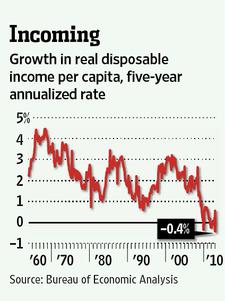 It would not be unusual to see significant revisions by the BEA in spending and income figures. Consider the magnitude of the revisions to first-quarter 2008 GDP that occurred in June of that year. Spending on non-durables was revised up from -1.3% to -.3%, and spending on services was reduced by .4%. Then there was the upward revision of the initial GDP estimate for the second quarter of 2008 from 1.9% to 3.3% in August of that year.
The spending and income reports for February 2013 may be celebrated by the market this week, but the long-term trends in spending and income remain discouraging, regardless of whether the figures are revised lower or not. I think the best way to identify the inflection point in these long-term downtrends, and to remove the distortions of the data that result from seasonal adjustments and guesstimates, is to focus on the year-over-year rates of change.
When I look at the year-over-year rate of change in consumer spending (PCE) for the fourth quarter of 2012, shown on line 2 of Table 8 in last week's GDP report, I see an increase of 1.8%. If we put this rate of growth in consumer spending in context, it is easy to see in the chart below that we are on the precipice of recession. Each time this rate has fallen below 2%, dating back to 1980, we have had a recession.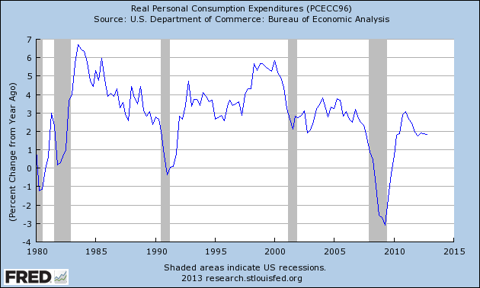 Perhaps this time it will be different. I suppose it is possible that the tax increases will not slow the rate of growth in consumer spending and that government austerity will not have a measurable impact on economic growth. I suppose that capital spending by corporations in combination with the housing recovery could offset these potential headwinds, reinvigorating the US economy. This supposition, however, would defy the consistent pattern we have seen over the past 30 years, as seen in the chart below, in which a decline in the year-over-year rate of real economic growth below 2% leads to recession.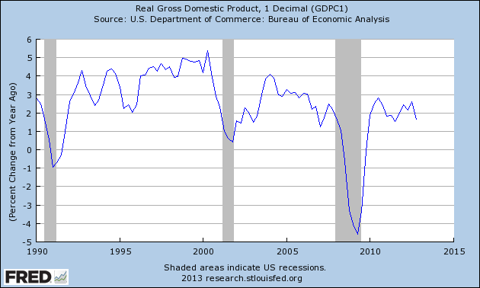 When I look at these charts showing the long-term downtrends in real economic data, at the same time the stock market is achieving all-time highs, I ask myself who is falling victim to confirmation bias? Is it those that believe we are crossing the finish line of the current expansion, or those that believe the expansion and bull market is just getting started?
Disclosure: I have no positions in any stocks mentioned, and no plans to initiate any positions within the next 72 hours. I wrote this article myself, and it expresses my own opinions. I am not receiving compensation for it (other than from Seeking Alpha). I have no business relationship with any company whose stock is mentioned in this article.
Additional disclosure: Lawrence Fuller is the Managing Director of Fuller Asset Management, a Registered Investment Adviser. This post is for informational purposes only. There are risks involved with investing including loss of principal. Clients of Fuller Asset Management may hold positions in the securities mentioned in this article. Lawrence Fuller makes no explicit or implicit guarantee with respect to performance or the outcome of any investment or projections made by him or Fuller Asset Management. There is no guarantee that the goals of the strategies discussed by will be met. Information or opinions expressed may change without notice, and should not be considered recommendations to buy or sell any particular security.