Two share classes worth Investigating
Ever wonder why some companies seem to have two listings, and two different prices on those listings? In earlier articles, I have investigated the dual-share class structure for these two companies:
Royal Dutch Shell (NYSE:RDS.A) vs. (NYSE:RDS.B) (article)
BHP Billiton Ltd (NYSE:BHP) vs. BHP Billiton PLC (NYSE:BBL) (article)
For this article I am looking at Unilever. For American investors buying shares on the NYSE there are two options for investing in Unilever: Unilever NV (NYSE:UN) and Unilever PLC (NYSE:UL). This article will investigate which shares are right for you and your investing situation.
Company Structure / History
Looking at the investor website, I was able to find this:
Unilever was founded in 1930 following a business merger between Naamlooze Vennootschap Margarine Unie of the Netherlands and Lever Brothers Limited of the UK. To avoid punitive taxation levies and the disruption to the business that would result from dividing integrated national companies into their component parts, both companies pooled their interests through a business merger as opposed to a legal merger.

Two controlling companies were set up, one English (Unilever Ltd - now Unilever PLC) and the other Dutch (Naamlooze Vennootschap Margarine Unie - now Unilever NV). To allow both companies to operate as a single legal entity notwithstanding their independent legal structures, a series of agreements was put in place: mutual sharing of brands and technology; equalization of dividend; mutual guarantee of borrowings; identical Boards of Directors and equal treatment for shareholders in the event of dissolution.
The investor website also provides a nice visual aid: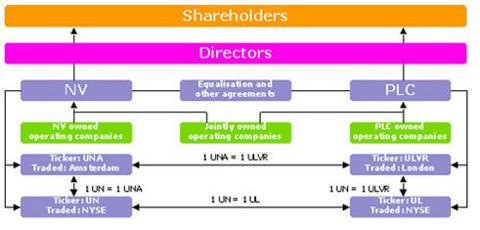 The 2012 Annual Report also had this to say (Page 93):
The two parent companies, NV and PLC, together with their group companies, operate as a single economic entity (the Unilever Group, also referred to as Unilever or the Group). NV and PLC have the same Directors and are linked by a series of agreements, including an Equalization Agreement, which are designed so that the positions of the shareholders of both companies are as closely as possible the same as if they held shares in a single company.

The Equalization Agreement provides that both companies adopt the same accounting principles. It also requires that dividends and other rights and benefits attaching to each ordinary share of NV, be equal in value to those rights and benefits attaching to each ordinary share of PLC, as if each such unit of capital formed part of the ordinary share capital of one and the same company.
If you are interested in the steps the company takes to maintain equal value, the Annual Report goes to great lengths to explain what is done with regards to currency translation effects and how they are minimized to maintain equal value between the two shares.
Also worthy of note: While the share classes have a long-standing history of equal economic standing relative to their respective values, it was a 2006 stock-split that finally made the shares of each equivalent to each other on a pure 1-to-1 basis.
In summary: There is Unilever NV, a Netherlands-sourced operating company with shares carrying the ticker UNA trading in Amsterdam, and equivalent ADRs under the ticker UN trading on the NYSE. There is also Unilever PLC, a United Kingdom sourced operating company with shares carrying ticker ULVR trading in London, and equivalent ADRs under the ticker UL trading on the NYSE. Also worth noting, dividends are declared in euros. Here are two tables: The first shows the tickers for the four possible ways to invest in Unilever. The second table shows the currency exchange each dividend declared must go through before being received by the holder of the various shares.
| | | |
| --- | --- | --- |
| Tickers | Unilever NV | Unilever PLC |
| Local Exchange | UNA: Amsterdam | ULVR: London |
| US ADR | UN: NYSE | UL: NYSE |
| | | |
| --- | --- | --- |
| Currency Exchange | Unilever NV | Unilever PLC |
| Local Exchange | euro-euro | euro-GBP |
| US ADR | euro-USD | euro-USD |
Now, let's just focus on this from the perspective of a US investor looking to invest in one NYSE-listed share or the other. From all of the evidence above, I will consider a share of Unilever PLC to be economically equal to a share of Unilever NV . There are a few steps to take before making a decision though, so let's take them one at a time.
Taxable Account
Assuming your Unilever shares are being purchased to be held in a taxable account.
Taxation
Here is a table that summarizes the base tax implications of an investment in each share class.
Share Class

UN

UL

Dividend Tax Rates

Foreign Tax Withheld

15%

0%

Normal Applicable US Rate

0-23.8%

0-23.8%

Capital Gains Tax Rates

Foreign Tax Withheld

N/A

N/A

Normal Applicable US Rate

0-23.8%

0-23.8%
At first glance, UL appears to be the more desirable choice. Considering that both share classes pay out dividends of close to 3% at their current prices. Take 15% off of your dividends for foreign withholding taxes and you are losing almost 0.5% off your investment gains annually. This, however, does not take into account US tax law regarding foreign taxes paid. This allows for a dollar-for-dollar credit for foreign taxes paid, restoring what you lost on your dividend when you file your taxes. Keep in mind, though, that there are tax situations when this does not hold true. I have outlined two below and you can consult the IRS website (IRS topic 856) for more information.
If you are subject to the Alternative Minimum Tax (AMT), the foreign tax credit you are able to take may be reduced. Here is a table summarizing the dividend tax consequences for UN investors who are and are not subject to the AMT.
Unilever NV shares

Subject to AMT

Yes

No

Foreign Tax Withheld

15%

15%

Cancel Effect at Tax Time

(<15%)

(15%)

Net Foreign Tax Effect

0-15%

0%

Normal Applicable US Rate

0-23.8%

0-23.8%
Another instance is if your foreign tax paid exceeds a $300 limit for individuals or $600 for married couples filing jointly. In this instance you will need to file Form 1116 and you are at risk of not receiving full credit for foreign taxes paid. Check with a tax expert or look at the form for yourself if you think this might apply to you. Credit goes to Seeking Alpha user Rick D for pointing this out in an earlier article I wrote.
Unilever NV shares

Required to file Form 1116?

Yes

No

Foreign Tax Withheld

15%

15%

Cancel Effect at Tax Time

(<=15%)

(15%)

Net Foreign Tax Effect

0-15%

0%

Normal Applicable US Rate

0-23.8%

0-23.8%
So for taxable accounts, UL shares have an advantage over UN shares for those investors who are subject to the tax circumstances described above. For everybody else, these two share classes have equal tax consequences, making them equally preferable from a tax perspective.
Opportunity Cost of Delayed Value Realization
For those not affected by the above stated tax situations, it is worthy to note that roughly 15% of your annual dividends from UN will be received as a tax credit with varying dates of value realization. If you precisely keep track of your taxes due (tracking all inputs) throughout the year and make estimated payments as a result, this will be muted. For the majority who overpays, and therefore receives a tax refund when they file, there is an opportunity cost associated with not receiving immediate value from your dividends. Therefore UL receives a slight advantage from an opportunity cost perspective. Credit goes to Seeking Alpha user richjoy403 for pointing this out in an earlier article. Here is a quick summary:
The one-year dividend yield on UN is 3.06% (look under "Valuation" below for calculation). If 15% of this amount is withheld from you, that is approximately a 0.46% yield on your investment that is being delayed for part of the year. With the dates for dividends received being March, June, September, and December the average time that each portion of your dividend is withheld is 8.5 months (assuming tax benefit is realized when taxes are filed in April of the next year). Assuming you could earn 10% annually on your investment your opportunity cost would be $3.25 annually per $10,000 invested in shares of UN (using the closing share price on 3/28/2013).
$10000 x 3.06% x 15% x (8.5 months / 12 months) x 10% / year = $3.25 / year
Here is a table showing the opportunity costs on $10,000 invested in UN, using different assumptions for annual rate of return. The table also includes the dividend yield premium you would need to offset this opportunity cost (once again using the closing share price on 3/28/2013).
| | | |
| --- | --- | --- |
| Annual Return | Opportunity Cost per $10000 Invested | Dividend Yield Premium Required (UN vs. UL) to Offset Opportunity Cost |
| 4% | $1.30 | 0.013% |
| 6% | $1.95 | 0.020% |
| 8% | $2.60 | 0.026% |
| 10% | $3.25 | 0.033% |
| 12% | $3.90 | 0.039% |
IRA-type Account (tax deferred or otherwise tax advantage)
Now let's look at the two share classes for somebody who is investing through a Roth IRA or a tax-deferred account, like a Traditional IRA.
Taxation
Share Class

UN

UL

Dividend Tax Rates

Foreign Tax Withheld

15%

0%

Normal Applicable US Rate

N/A

N/A

Capital Gains Tax Rates

Foreign Tax Withheld

N/A

N/A

Normal Applicable US Rate

N/A

N/A
In these types of accounts UN still has the 15% foreign tax withholding, while UL does not. There are no US taxes applicable, and no foreign tax credit to recover the foreign tax that was withheld. This reduction in your dividend from owning UN shares becomes a permanent loss. Certainly from a tax perspective, UL is the more favorable choice in an IRA or similar account.
Price Discrepancy
Using Yahoo! Finance I pulled historical prices for UL and UN shares. I used the closing price on the first trading day of the month going back to January 2007 and through March of 2013. This graph compares the price of the two stocks over that time period.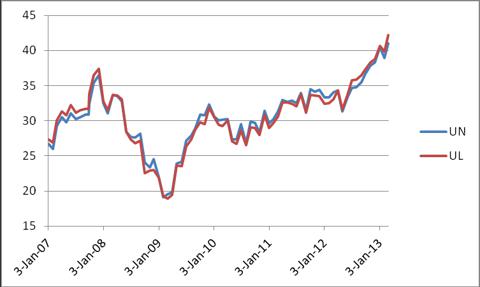 Here is another graph showing the % premium for UL over UN over that same time period.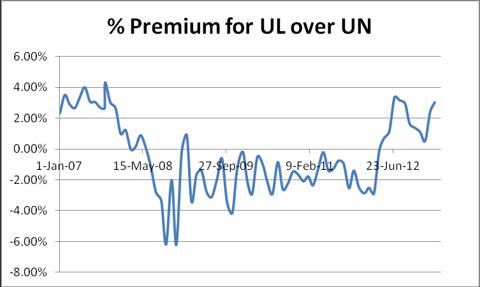 The two share classes have stayed relatively tight over the last 6+ years with UL trading at between a 6% discount and a 4% premium to UN in this time frame. It is certainly interesting that UL has oscillated between a discount and premium over this time frame; the last such change-over occurred less than a year ago in fact. As of right now the premium stands at around 3%. This is enough of a difference that it appears from a pure-price perspective that UN would be preferable at the moment.
Still, with variations like this you have to consider that at certain times, efforts by the company to keep the two share classes economically equal might fall short. I take solace in the fact that looking at the effects over a time period such as this, which includes some of the most harrowing financial market conditions of arguably the last 50 years, yields still only minor variations in price difference between the two share classes. For purposes of this article and analysis, I maintain that each share has roughly an equal economic value in the combined Unilever.
Valuation
Here are some key metrics to compare the two (as of March 28, 2013 - closing prices from Yahoo! Finance. Dividend yield was calculated for both UN and UL using last 12 months of dividend payments compared to current price. Many financial sites list UN dividends after the 15% Dutch withholding tax; that is why this method was used.):
| | | |
| --- | --- | --- |
| Share Class | UN | UL |
| Share Price | 41 | 42.24 |
| P/E | 20.56 | 21.18 |
| Dividend Yield | 3.06% | 2.97% |
The differences in valuation are small, but since they represent equal economic interests in Unilever, UN has a more compelling price based on valuation.
Bringing it all Together
After looking at all of the inputs, it makes sense that UL would trade at a slight premium to UN, due to the tax implications associated with UN. Here is a flowchart that a US investor can use to make the correct decision on which share class of Unilever they should own. Keep in mind that this flowchart takes into account the status quo at the time this article was written. Changes to US Tax law, Dutch Tax Law, international Tax Treaties, or a sharp change in the premium/discount relationship between UL and UN could render this analysis and flowchart useless.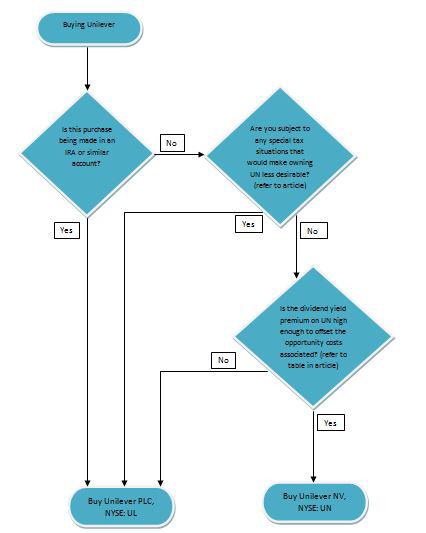 Disclosure: I am long UL. I wrote this article myself, and it expresses my own opinions. I am not receiving compensation for it (other than from Seeking Alpha). I have no business relationship with any company whose stock is mentioned in this article.