China and Japan are the world's second-largest and third-largest economies respectively. Hence, when official data is reported from these two global powerhouses, the financial world sits up and takes notice.
However, fresh data from both China and Japan do not indicate a clear trend in the global environment. In Japan, the central bank reported that the quarterly Tankan Survey for large manufacturers was at minus 8 in March from minus 12 in December. The median estimate of 24 economists surveyed by Bloomberg News was for a Tankan reading of minus 7.
Japanese stocks immediately fell after the announcement, with the Topix Index heading for a three-week low.
The negative reading is worrying. Although the yen has weakened over 1,000 pips since the start of the year - a move that should boost exports - the survey results tell us that confidence among big Japanese manufacturers and exporters is still weak.
The lingering pessimism may make it harder for Kuroda to achieve a 2 percent inflation target as he needs companies to boost spending and wages to help revive growth. Analysts including former Morgan Stanley Chief Global Economist Stephen Roach say they're not convinced monetary easing alone can revive the Japanese economy, as Kuroda vows to do "whatever it takes" to end more than a decade of deflation. The Bank of Japan will meet this week, from 3rd to 4th April, which is the first policy meeting after Governor Haruhiko Kuroda took office.
Kuroda last week said the BOJ will consider combining its monthly bond purchases and asset-purchase fund, as well as buying more debt with longer maturities and scrapping a rule that limits the scale of bond buying. He has also suggested bringing forward open-ended asset purchases planned for 2014. The central bank currently buys government bonds with maturities of up to three years, as well as exchange-traded funds, real-estate investment trusts and other risk assets, through a fund targeted to reach 76 trillion yen by the end of this year.
In China, the National Bureau of Statistics reported that the Purchasing Managers' Index (PMI) came in at 50.9, an 11-month high and up from 50.1 in February. Although an 11-month high, the PMI was lower than the 51.2 median estimate of 26 analysts surveyed by Bloomberg News.
Immediately after the announcement, the benchmark Shanghai Composite Index rose 0.2 percent. The yuan also strengthened for a fifth straight week and touched a 19-year high.
Top News This Week
USA: Non-Farm Payrolls. Friday, 5th April, 8.30pm.
I expect figures to come in below 200K, (previous figure was 236K).
Trade Call
Short GBP/AUD at 1.4565
On the 4-hourly chart, GBP/AUD is moving in a range, with resistance located at 1.4623. With China's good PMI figures, I expect the Aussie to strengthen.
An entry is taken at 1.4565, 58 pips below the resistance level. A stop loss of 80 pips is placed above the resistance level. We will have two targets on this trade, exiting the first position at 1.4485 and the second position at 1.4405.
Entry Price = 1.4565
Stop Loss = 1.4645
1st Profit = 1.4485
2nd Profit =1.4405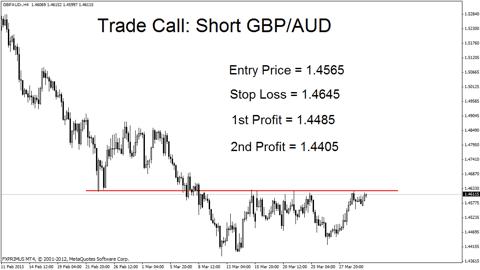 Disclosure: I have no positions in any stocks mentioned, and no plans to initiate any positions within the next 72 hours. I wrote this article myself, and it expresses my own opinions. I am not receiving compensation for it. I have no business relationship with any company whose stock is mentioned in this article.