The long-term impact of pooled product fees on investment results is a subject frequently addressed in general but seldom discussed in detail. While traded funds are certainly a convenient way to broadly track or access certain niche corners of the market, convenience does come at a cost, sometimes a rather large one. For the long-term investor with several decades of growth potential ahead, I would think twice before settling down with a portfolio full of ETFs and CEFs. The amount of money invisibly blowing away in the wind over time may surprise you.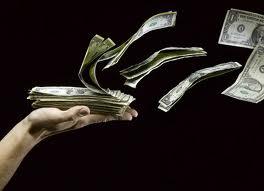 To Fee Or Not To Fee?
To illustrate the comparative impact of fees on return, we will conduct a simulation utilizing two hypothetical investors, one owning only fee-based products, the other only stocks and bonds. They both intend to invest for a total of 25 years. The parameters of this simulation are as follows:
Both investors start with $100,000 unqualified money and will add $5,000 a year Jan. 1 of years 2-10, $10,000 a year in years 11-18, and $15,000 beginning of years 19-25.
The ETF investor will execute 6 trades a year, and the other investor will execute 25 trades a year. Each trade costs both investors $10, for a respective $60 and $250. The fees will be assessed at the end of the year. I considered this a fair consideration as an ETF investor is prone to be less active.
The ETF investor's portfolio will be charged 40 basis points in fees at the end of the year. Other than annual trading costs, the other investor has no ongoing portfolio fee.
We will assume portfolios that perform identically with 8% gross annual total return, but we will dock the ETF investor .4% a year in expense for only a net 7.6% annual return.
We won't include any annual dividend assumptions or tax ramifications for simplicity.
Trading costs will be subtracted after applying the positive return for each year.
The Results
The following chart summarizes our investors' performances during the course of the 25 year time frame.
| | | | |
| --- | --- | --- | --- |
| Investor | after10 years | after 17 years | end of 25 years |
| ETF | $254,002 | $511,768 | $1,148,919 |
| Stock & Bond | $259,216 | $531,247 | $1,221,903 |
| Difference | $5214 | $19,479 | $72,984 |
On a percentage basis our ETF investor underperformed the individual security investor by around six percent over the life of the simulation. As can be seen in the chart, as portfolio value builds the impact of expense, nominally speaking, increases dramatically. I know many of you will contend that many ETFs have fees far below 40 basis points (bp). This is true. I thought the 40bp expense was a fair "average" for the wide range of pooled products available for purchase on the market today.
Exchange traded funds from Vanguard including VTI, Total Stock Market and BND, Total Bond Market have fees as low as 6bp and 10bp, respectively. Obviously if you own these funds, your fee impact won't be anywhere near as great. On the other hand if you are invested in a bunch of equity and fixed-income CEFs with full percentage point fees or even higher, your impact could be much greater.
The point of this article isn't necessarily to talk you out of ETFs and into individual stocks. The goal is to help you decide if the ongoing costs associated with pooled products are acceptable given personal circumstance, and if so, help you make the best decisions possible when considering or utilizing them.

Having said that, the nominal return shortfall in our simulation might (and should) cause an entrenched ETF investor to question the wisdom of holding fee based fund products for the long-term. Given the graduated scale of profit erosion as a portfolio grows, developing a "fee-less" or minimal fee portfolio in short order seems logical. On the flip side, if you don't believe you can successfully buy and sell stocks, then maybe our hypothetical 6% is a small price to pay for a good night's sleep. A more predictable, index-like return in ETFs may be a better alternative compared to taking on a potentially burdensome and costly long-term challenge of individual security investing.
Finding Value In Pooled Products
The decision to utilize pooled products in your portfolio comes down to a simple portfolio/life analysis. For investors who simply wish to mimic market return, work 60 hours a week, spend time with family, or play golf until their hands bleed, VTI and BND would seem a good value. Investors in pursuit of more targeted investment themes, and with more time on their hands, may find value in paying a fee to instantly gain diversified access to an idea. For example, leveraged ETFs are a good way to execute a near-term market thesis, like Direxion's 3X Financial Services Funds (FAS or FAZ). They are down right risky, but nonetheless simple and cost effective for short-term trades. The same might be said of country specific funds for longer-term investment ideas, like iShares Turkey ETF (NYSEARCA:TUR) or the closed-end Mexico Fund (NYSE:MXF).
From the annals of my own portfolio, I have utilized ETFs as "stop gap" positions in the past. For example, last year desiring exposure to the mREIT space, but undecided on a specific equity plan, I "settled" on a position in REM, an mREIT ETF product from iShares. Several months later following a period of due diligence, I sold REM and bought my own diversified block of mREIT stocks. REM provided a valuable short-term bridge to me while I plotted a future course of mREIT action.
Another product I found value in last year, this time in the CEF space, was the Alpine Global Premier Properties Fund (NYSE:AWP). At the time I bought into it, AWP was trading at more than a 10% discount to NAV. I examined this unique portfolio and concluded it contained an attractive blend of global real estate and that the severity of the fund's discount was undeserved. Over the past year, AWP's discount has narrowed to its current 3% and NAV is up substantially. I disliked the idea of paying 1.3% to own it, but I felt the discount to NAV and overall value add to my portfolio was worth the price tag. I still own the fund, but no longer consider it a screaming value.
AWP - 3 Years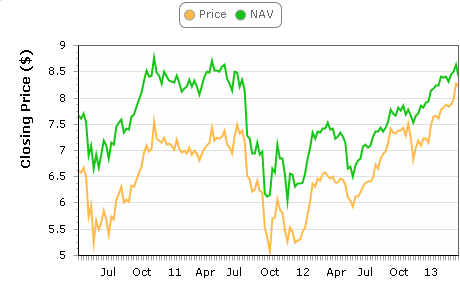 Shop Around For The Necessities
Given the vast universe of ETF/CEF options, there are many ways one can seek to minimize expense over the long haul. One, as was touched on above, would be to utilize low cost products from Vanguard or other vendors. For those investing in more expensive, targeted plays, shop around. There are many companies out there offering similar portfolios and strategies at various price points.
Also, attempt to avoid portfolio overlap. Since pooled products typically hold a large number of securities, owning a big basket of ETFs can become a duplicative endeavor, as identical underlying holdings pile on top of each other. If you own too many funds, you'll likely end up with index like performance with higher than necessary cost and an increased tracking headache.
And by all means, please think long and hard before buying any "fund of funds" products. They are inordinately expensive. PowerShares CEF Income Composite Portfolio (NYSEARCA:PCEF), a popular ETF with a ridiculously high 142 closed-end fund holdings, charges investors a whopping 1.73% when layering Invesco's management fee (.5%) over the underlying holdings' fees (1.23%). Cohen and Steers has a similar product, the closed-end Opportunity Fund (NYSE:FOF), a closed-end fund of closed-end funds. C&S charges investors about 1% to manage this albatross and doesn't make any visible effort to advise investors about the underlying fund fees. We can assume they are in the same range as the PowerShares fund (1.23%). All tolled, you're probably paying about 2.25% plus transaction costs to own FOF. Perhaps C&S should change the ticker on this fund from FOF to FEE?
Conclusion
While I would certainly encourage ETF and CEF dependent investors to consider moving into individual securities as practicable going forward, there are certainly many good reasons to justify maintaining all or partial portfolio exposure to pooled products. As long as one is cognizant and understanding of the fees involved and the ongoing impact upon one's holdings, there's no reason to denigrate an ETF heavy portfolio. However, I would contend that far too many are paying far too much for a relatively low collective quality of holdings. Take the time to address your long-term strategy, portfolio composition, and overall cost structure so you don't end up throwing money away and become the biggest ETF loser.
Disclosure: I am long AWP. I wrote this article myself, and it expresses my own opinions. I am not receiving compensation for it (other than from Seeking Alpha). I have no business relationship with any company whose stock is mentioned in this article.
Additional disclosure: Disclaimer: The above should not be considered or construed as individualized or specific investment advice. Do your own research and consult a professional, if necessary, before making investment decisions.