With more than 200 million unique monthly visitors and over 100 million reviews and opinions, TripAdvisor(NASDAQ: TRIP) has become the world's largest travel platform. But is there more room for growth? We try to answer this question by making a complete stock report. The article is divided as follows: 1) Business Overview, 2) Business Model, 3) Momentum, 4) Competitors, 5) Management, 6) Valuation, 7) Growth and 8) Conclusions.
1) Business Overview
TRIP is a 1,600 people online travel media platform founded in 2000, with strong presence in Europe and the U.S., and active presence in more than 30 countries.
Its platform features reviews and opinions (mainly user generated content) about destinations, accommodations, restaurants and other travel-related issues. Brands include: tripadvisor.com in the US, daodao.com in China and 19 other travel media brands.
As of January 2013, 200 million unique monthly visitors (Source: Google Analytics, worldwide data) made (according to comScoreMedia Metrix research for TripAdvisor sites) TRIP the largest travel media platform on the Internet.
Key Level Facts
- 30 countries, 21 languages
- 670,000+ hotels and accommodation pages (July, 2012)
- 200 million unique monthly visitors ( comScore Media Metrix for TripAdvisor Sites, worldwide, January 2013)
- 44 million registered email-able members (July, 2012)
- 75 million user-generated reviews (July, 2012)
- Revenue: Aprox. $45 per 1,000 page views,
Key Growth Facts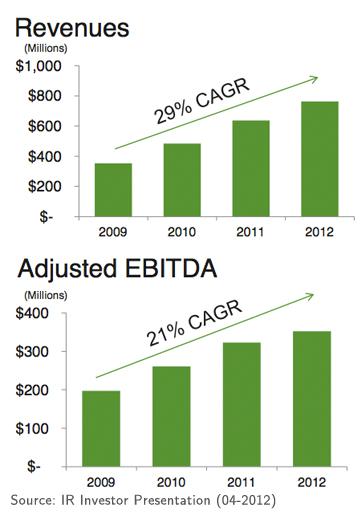 2) Business Model
TRIP obtains revenue from cost per click advertisement, subscription services and display ads (impressions). Main clients include travel agents like Expedia (NASDAQ:EXPE) and Priceline (PCLN), as well as travel vendors. Since TRIP's traffic is both highly targeted and massive, it is regarded as a top advertising platform in the travel industry. Thus, a vast amount of travel vendors and tourism offices around the world have TRIP as their main source of traffic.
TripAdvisor has benefited from this position by increasing revenue in the high 20s for the past 4 years, currently standing at $763 million (2012) with an average operating margin above 40%.
We identify 4 key points in TRIP's business model:
a) Traffic based: All the revenue is highly dependent on the ability of TRIP to deliver massive targeted traffic to its clients.
b) Not-capital intensive: User generated content is free and also regarded as the best source of information when it comes to service reviews. This allows TRIP to enjoy both high margins, making them able to convert as much as 30% of their annual revenue into free cash flow.
c) Economies of scale: Due to its size, TRIP has fixed cost advantages (like infrastructure and negotiation power with clients). Its leading position allows it to attract user generated content easily, as users tend to choose high traffic websites to write their reviews. TRIP is well aware of the importance of keeping a leading position in the industry and has labeled the 2013 key theme as: "TripAdvisor everywhere," a plan to further increase its traffic by strengthening its travel-specific brand portfolio, improving its mobile services and targeting emerging economies.
d) It provides value for both users and vendors, creating a sustainable win-win situation: To keep its high quality traffic active, TRIP addresses all phases of the travel cycle: the "dreaming" phase when users check TripAdvisor's best travel choices or surveys, the "plan and book" phase when users check hotel reviews, the "on the trip" phase and the "share experience" phase, creating a sustainable viral loop.
3) Momentum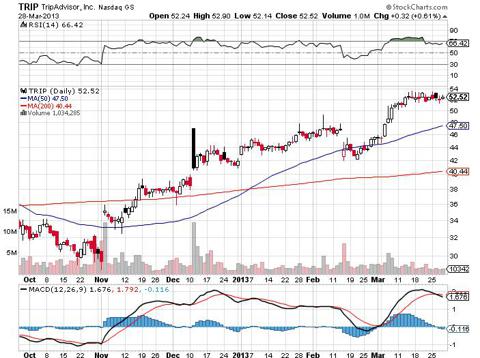 (Graph by Stockcharts | Click to enlarge)
At $52.52 a share, TripAdvisor is very close to break once more its 52 week high (28.63 - 53.73, achieved on March 15th, 9 days after it had its "buy" rating restated by analysts at Deutsche Bank).
Even though shares fell 7% the next day since marketing costs seem to be higher this year (something that will actually add value in the long run)、stock performance has been excellent (25% up since February 13th) after the firm released its above estimates Q4 earnings press on February 13th.
We believe that the strong bullish sentiment in the street will remain for the following weeks, with a high probability of TRIP reaching $55-57 per share in the next 5 weeks.
Latest news regarding TRIP include:
| | | |
| --- | --- | --- |
| Date | Event | Impact |
| March 22 | Acquisition: TinyPost , an iOS app that lets users take pictures, write captions over them. | Irrelevant in short run. Positive in long run. |
| March 26 | Price target increase: Equity research analysts at Stifel Nicolaus boosted their price target from $50.00 to $58.00 | Slightly positive in the short run. |
| March 27 | Price target increase: By Needham & Company, from $51.00 to $63.00. | Slightly positive in the short run. |
4) Competitors
Websites that offer a similar page format and platform to TripAdvisor cannot become major competitors. TripAdvisor's content database size is simply enormous. On the other hand, competitors that offer a localized travel service (e.g. hotels in U.K., tourism in Thailand, etc) do reduce market share. However, TRIP is active in acquisitions. Any early star and possible strong competitor can be bought.
Social networks are a major competitor, because of their viral potential and because they easily attract user generated content. Finally, clever search engines that offer a clean and fast service like Google's Hotel Finder and Adioso.com could become formidable competitors in the near future, as they offer something unique, fast and new.
5) Management
Upsides: We believe that management is both committed and capable of maintaining the leadership position of TripAdvisor. They will pursue further growth by strengthening local brands and investing in technology: TripAdvisor everywhere.
The presence of CEO and Founder Stephen Kaufer (who owned about 260,000 TRIP common shares in September 2011, valued at $9 million) has been crucial in building TRIP into the largest travel online platform. Both his management style and his share ownership guarantees absolute commitment to the continuous success of the firm.
Downsides: Liberty Interactive could own as much as 57% of the voting power through a mix of common stocks and Class B stocks. They would have the ultimate word on all major decisions.
6) Valuation
Value is driven by expected future cash flows, which in turn are determined mainly by revenue growth and by the return of newly invested capital (assumption: 18%). In our model, we moderately assume that revenue will grow at a 16% perpetual growth rate (Current: 22.93% | Sector average: 16.61%). This is a conservative scenario: if TRIP manages to further expand its network in emerging economies we see a 20% growth rate more realistic. See the next section for more details about this point.
Fair value estimate: $56.5 per share
View: Optimistic
Comparison: 18 analysts offering 12 month price targets for Tripadvisor have a median target of $45.50, with a high estimate of $63.00 and a low estimate of $37.00. For other price targets on TRIP, click here.
7) Growth
We think that growth will be the main value driver in the next 5-10 years for 3 reasons:
a) Emerging markets: Growth potential is very high. Planning a trip online is a concept that is still relatively new. TripAdvisor already generates 75% of site traffic from international users in 30 countries.
b) Consumers will continue shifting from physical travel agencies to online travel platforms: Travel is already dominated by online resources (the Tripbarometer states that only 18% of travelers use a store-front travel agency, while 69% of them review travel websites).
c) Management style: Aggressive growth through strategic acquisitions, local brand creation and heavy marketing and technology investments.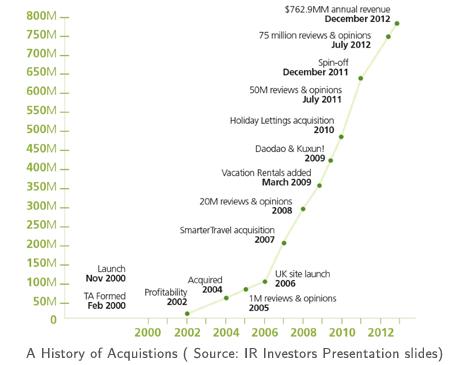 8) Conclusions
View: Optimistic
Main revenue source: Advertisement
Main costs: Marketing, Technology Investment
Main competitors: Expedia, Priceline.com, Google, Social Networks.
Rate: Outperform (March 31st, 2013)
Disclosure: I have no positions in any stocks mentioned, and no plans to initiate any positions within the next 72 hours. I wrote this article myself, and it expresses my own opinions. I am not receiving compensation for it (other than from Seeking Alpha). I have no business relationship with any company whose stock is mentioned in this article.