By Brian Bolan
Is the search game over? Has Google (NASDAQ:GOOG) already won the war against its competitors? Following the sketchy tech earnings of 4Q12 in late January, it was clear that investors would seek a safe haven from volatility while still wanting to stay invested in the tech space, and in that instance, Google was the play.
Yahoo! (YHOO) has seen its stock come back to life after it tapped former Google employee Marissa Mayer to be the new CEO. The anticipation of a potential windfall from an Alibaba IPO has also impacted shares. When it comes to search, the story is far less pretty.
Mister Softee as it's called by traders, or Microsoft (NASDAQ:MSFT) as it's known by almost everyone else, has seen market share increase, but it's come at significant costs. After a great strategic move in its attempted acquisition of Yahoo!, it may lose its search deal with the company and faces stiff pressures from several other spots
Phoning It In
Yahoo! has by and large stayed out of the phone wars. It has opted to remain more of a content and technology company that is agnostic to the device that consumers use.
Microsoft, on the other hand, does have a stake in the phone wars. It has the windows operating system out on some select phones, but it is far behind the market leaders Apple (NASDAQ:AAPL) and Google.
A big winner in the mobile phone business has been Google. Its Android operating system has grown substantially in a short amount of time. Most reports have Google leading Apple in terms of mobile market share by a 70-30 margin.
The importance of the phone wars is very high, and a primary reason that Google gives away its operating system for free. It wants to be on the devices people use to search the web, and when mobile search pricing improves, Google will stand to have the most to gain. Below is chart of mobile search market share from netmarketshare.com.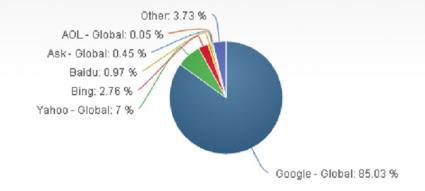 The thing to note from this chart is the market share difference between Yahoo and Bing (MSFT).
Searching on the Reg
Desktop searches are still the bread and butter of the search industry. It is far and away larger and more profitable than the mobile segment of the business.
When we look at the market share breakdown for desktop searches, we see that Google increases its lead over the competition.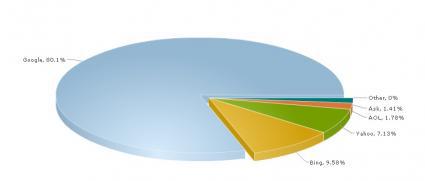 2 3's vs. a 2
Right now, both Yahoo! and Microsoft are Zacks Rank #3 (Hold) stocks, while Google is a Zacks Rank #2 (Buy). One the major components of the Zacks Rank is the trend of earnings estimates, so let's take a look at how each one has been trending.
Microsoft has seen its estimates consistently tick lower throughout 2012. The Zacks Consensus Estimate for 2013 earnings peaked at $3.09 in June 2012, but then tumbled to $3.01 in September and closed the year at $2.88. The current estimate is calling for $2.84 for 2013.
Yahoo! has seen a better picture, but still one that is not what most investors that focus on earnings are looking for. Over the same time period mentioned above, YHOO has seen its Zacks Consensus Estimate move from $1.08 to $1.13 and then closing the year out at $1.12. The current Zacks Consensus Estimate for YHOO is all the way back to $1.08 for 2013.
Thing aren't much different for Google. Estimates have moved from $44.42 to $41.83 and closed the year at $38.92. The current Zacks Consensus Estimate for 2013 is $38.38. The difference here is that the current estimate is up from a bottom $38.06 in February, where as the other companies are not seeing that same "uptick."
Conclusion
Google is mostly search, but it has it fingers in a lot of pies. Yahoo has a potential windfall coming right around the corner in the form of an IPO from Alibaba as well as new leadership. Microsoft continues to try to gain mind share and market share in the online world. At this point, the clear winner has been Google and given its higher rank and almost a defensive style name in technology, it might be the best investment of the three during 1Q13 earnings.
GOOGLE INC-CL A (GOOG): Free Stock Analysis Report (email registration required)

MICROSOFT CORP (MSFT): Free Stock Analysis Report (email registration required)

YAHOO! INC (YHOO): Free Stock Analysis Report (email registration required)