Intuitive Surgical (NASDAQ:ISRG) is an old favorite of momentum hounds. From Q1 of 2003 to Q3 2008, the company was the Joe DiMaggio of Wall Street, beating estimates for 23 straight quarters by pretty whopping margins.
In fact, the streak was probably longer than that, but I don't have access to the data.
But the good times stopped rolling on January 7, 2009. The company preannounced preliminary Q4 results that were below expectations, with CEO Lonnie Smith making the following statement:
Our system sales in the quarter reflect the challenging global economic and financial market environment. At this point, we believe that uncertainty in global economic markets will make forecasting system placements difficult into 2009. Procedure growth remained strong worldwide. We continue to believe that procedures are the leading indicator for the strength of our business.
And what happened this morning? The company dramatically missed earnings and revenue expectations due to "$20.1 million of revenue deferrals associated with offers made to certain customers to upgrade their recently purchased da Vinci(r) S(tm) Surgical Systems to our recently announced da Vinci(r) Si(tm) Surgical System."
$20.1 million? Is there a reason they decided not to announce this important piece of data sooner?
It's time to face facts. The ISRG party is over.
Take a look at this chart, which measures ISRG's actual earnings relative to estimates. See the trend into negative territory? Failing to beat expectations is the absolute death's knell for any momentum stock, and ISRG has now missed twice in a row.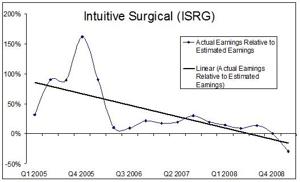 Momentum stocks are built around consistent earnings beats, and it's obvious that ISRG's best days are behind it. It is simply not delivering the big quarters, and the economy is hurting demand for its innovative, but expensive surgical systems.
And don't count out the psychological impact of the revenue deferral. It doesn't matter one bit if it all gets recognized by the company this year. Investors hate anything that makes analyzing a company's financials more difficult - just take a look at what a mess Electronic Arts' (ERTS) numbers are with those nonsensical revenue deferrals.
Just be careful when you get those analysts' reports reiterating Buy recommendations, with lowered earnings estimates. I've been a sucker myself for momentum stocks that lost their juice - in fact I still have nightmares about Rackable Systems (OTCPK:RACK), GFI Group (NYSE:GFIG), and the big Daddy of them all, Zoltek (NASDAQ:ZOLT).
Don't be as dumb as I was.
Tune out the spin, because ISRG is toast..
(disclosure: no positions in any names mentioned)