The market results for the first Monday of the quarter continued the typical pattern of generating negative results for investors. As the below chart shows, the average return of the Dow has been negative for Monday's so far in 2013. Could this be a precursor of return expectations for the second quarter?
Source: The Kirk Report and Bespoke Investment Group
Conversely, Monday The Wall Street Journal reported on a comment from Rob Leiphart of Birinyi Associates that noted the total return for years in which the S&P 500 Index had first quarter returns greater than 10%, the balance of the year on average generated positive returns.The S&P 500 Index was up 10% in the first quarter and the Dow was higher by 11.25%.
Birinyi Associates points out there have been 12 other years dating back to 1929 in which the S&P 500 rose by at least 10% in the first quarter. In 11 of the those 12 instances, the S&P 500 finished those years in positive territory, with 1930 being the lone outlier. However, much of those full-year gains were front-loaded in the first three months of the year. After accounting for the gain in the first quarter, the market is still up, but only 1.39% on average, from the end of the first quarter through the end of the year," Leiphart said in an email, while noting the index was positive from the second quarter through the fourth quarter of those years 10 out of 12 times. The S&P 500 has averaged a 16% full-year gain in those 12 instances.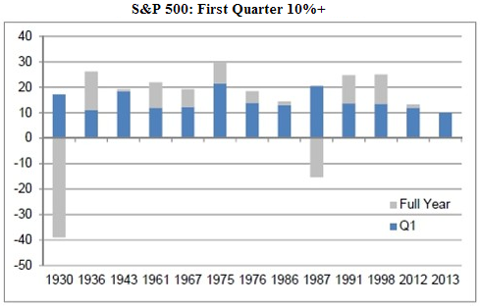 From The Blog of HORAN Capital Advisors
Source: The Wall Street Journal
One important factor in the market's future direction will likely hinge on upcoming first quarter earnings reports.