This article discusses four important reasons to believe that equity markets in the U.S. might be headed for a correction relatively soon.
Over the years, there has been a strong relation between the dollar and asset markets. In general, a stronger dollar is a sign of contracting global liquidity while a weaker dollar indicates expanding global liquidity.
The chart below gives the recent trend of the dollar against other emerging and advanced economy currencies.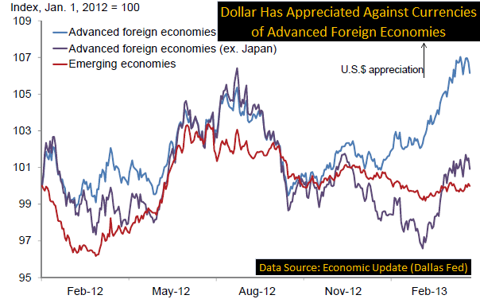 Very clearly, the dollar has appreciated meaningfully over the last few months against currencies of advanced foreign economies. This is a signal of relative tightening of global liquidity and a gradual shift towards "risk-off" trade. The point I am making is further evident from the fact that the 10-year U.S. Treasury bond yields have declined from 2.06% to 1.84% over the last 2-3 weeks. Decline in yields does indicate money flowing into the so-called "risk free" assets. Investors therefore have a reason to be cautious in the near term. Caution is also advisable just considering the fact that equity markets have experienced robust returns in the first quarter of 2013.
Corporate earnings going forward is one of my biggest concerns besides the dollar factor, which roughly indicates the direction of money flow. With Europe in a recession and the U.S. experiencing continued sluggish growth, earnings might disappoint going forward with nearly 40% of S&P 500 earnings coming from outside the U.S. (primarily from Europe). For the fourth quarter of 2012, a higher percentage of companies missed earnings estimates compared to the third quarter. The first and second quarter of 2013 might also be relatively unpleasant resulting in gloomy market sentiments.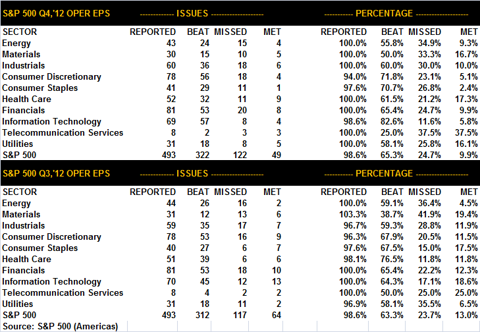 Staying with economic fundamentals, another important reason for markets to correct will be very weak real economic activity. There is no doubt in my mind that the current rally has largely been excess liquidity driven. This is one of the unintended consequences of easy money policy. The flow of money from one asset class to another will be swift resulting in relative over exuberance in different asset classes at different points of time. For now, equities are benefiting from the liquidity lead optimism. My concern about the real economy is underscored by the fact that money velocity (M2V) remains at a 50-year low and real unemployment (U6) remains uncomfortably high at 14.3%.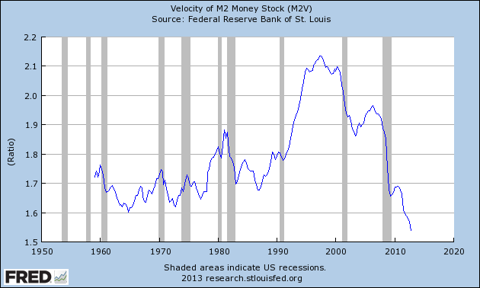 Current market valuation is another factor, which leads me to the conclusion that a correction is highly probable. Amidst a weak global economic scenario and uncertain U.S. economic outlook, markets are currently trading at a PE of 18 times trailing twelve month earnings (S&P 500). This certainly looks stretched considering the fact that markets were trading at an average of 16-18 times earnings during the best phase of economic activity in 2006-07. As corporate earnings disappoint (on a relative basis), markets will correct to a fair valuation.
It is difficult to talk about the extent of correction and targets for the S&P 500. The important point to understand is that market participants need to avoid fresh exposure at these levels. If markets do rally further, it might be a good idea to lighten up on existing positions. I can say with some conviction that markets will provide an attractive entry opportunity over the next 3-6 months.
If markets do correct by 10-15%, the following investment options can be considered for medium term:
SPDR S&P 500 ETF (NYSEARCA:SPY) - It has been proven that beating the index is not an easy task. Therefore, the strategy should be simple -- beat the index or invest in the index. From this perspective, SPY looks interesting. Also, with excess money flowing into risky asset classes, the S&P should trend higher over the next 3-5 years. Therefore, the expected correction can be used to consider fresh exposure to the ETF. The ETF provides investment results that, before expenses, generally correspond to the price and yield performance of the S&P 500 Index.
Johnson & Johnson (NYSE:JNJ) - is a good investment option. I like this highly diversified healthcare company, with products as well as regional diversification. Further, the sector catered to by JNJ is not very prone to economic shocks. JNJ has been a good dividend payer in the past, with a dividend yield of 3.4%. In my opinion, the stock is excellent for a long-term portfolio. It also commands a higher rating than the U.S. sovereign rating.
BP Plc (NYSE:BP) - Long-term exposure to oil exploration companies is a must if one is bullish on the energy sector. Geopolitical tensions, weaker currencies and demand from emerging markets will be the key growth drivers for energy stocks. I personally like BP, which gives me a dividend yield of 5.1%, besides looking promising for long-term capital appreciation. The company is an attractive long-term buy for several other reasons as well. It has an excellent and diversified asset base, presence across the value chain, and presence in alternative investment themes. Further, the TTM P/E is at an attractive level of 11.6. Overall, BP is well-positioned to take advantage of the long-term appreciation in crude oil prices.
iShares MSCI Emerging Markets ETF (NYSEARCA:EEM) - Global diversification is necessary and exposure to emerging markets is critical. Over the long term, emerging markets will outperform developed markets in terms of equity price appreciation. The iShares ETF corresponds generally to the price and yield performance, before fees and expenses, of publicly-traded securities in emerging markets, as represented by the MSCI Emerging Markets Index.
My suggestion also includes emerging market equities as financial markets are still synchronized and a correction in U.S. markets will result in a decline in emerging market equities, which gives a good buying opportunity.
Disclosure: I have no positions in any stocks mentioned, and no plans to initiate any positions within the next 72 hours. I wrote this article myself, and it expresses my own opinions. I am not receiving compensation for it (other than from Seeking Alpha). I have no business relationship with any company whose stock is mentioned in this article.