Elevator Pitch
Power-One (NASDAQ:PWER) stock has been pushed down due to a weak solar power sector even though it has increased sales within this sector by over 300% over the last few years.
Company Description
Power-One makes its money by selling power supply products for the renewable energy industry, as well as power supply equipment for telecommunications, servers, and networks.
Thesis & Catalyst For Power-One
Power-One has done a triple bottom test over the last year and is near an oversold level on the chart. The reason Power One sold off in September of 2012, falling from $7 per share down to around $3.80 by mid-November, was because of the oversupply problem that has plagued the solar power industry for the last few years.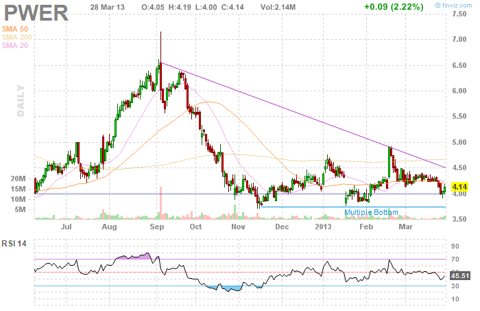 Power-One was unfairly punished in my opinion as investors overreacted by dumping anything even remotely tied to solar power. However, Power-One is not a solar power company. They do not make solar power cells. They make the solar inverters that convert direct current DC output of a photovoltaic solar panel into alternating current AC.
Power-One has continued to experience significant growth over the last few years. Sales of their inverters have continued to increase. Power-One recently announced that they have sold over 1 million inverters. In 2010, Power-One had installed 3.2 GW worth of inverters. As of March 2013, they have installed more than 10 GW. That is a 300% increase in sales over the last two years.
Everything in the world runs on power. Power-One's products can save power on every device, every server, and every network. The stock is at a steep discount because investors only see the solar side.
Valuation
Power-One has a P/E ratio of 13. They are sitting on a huge mountain of cash as well. Power-One has over $265 million in cash with no debt. Their book value is $3.94 per share and the stock is currently trading around $4.14 per share. With such a high amount of cash on hand, we could see Power-One make some strategic acquisitions. At the very least, Power-One can use that cash to continue to add new offerings to their product line.
Revenue & EPS Outlook
Power One's fourth quarter 2012 guidance expects revenues to be between $190 million and $195 million, and a net loss between $12 million to $15 million. This is down from previous estimates of $221 million in revenue, and positive earnings per share of $0.07.
Variant View
Continued weakness in the solar power industry could continue to add significant drag on this stock. Management lowered guidance last quarter, sending Power One's stock price down -10% in a single day.
According to Power-One's last earnings call [see transcript], bad market conditions in renewable energy were to blame with a big drop in sales from Italy and Germany.
Power-One has committed a lot of time and money developing products for the solar industry and opening offices across Europe. Some are questioning whether this was a good business move by Power-One given the current European debt crisis.
Disclosure: I have no positions in any stocks mentioned, but may initiate a long position in PWER over the next 72 hours. I wrote this article myself, and it expresses my own opinions. I am not receiving compensation for it (other than from Seeking Alpha). I have no business relationship with any company whose stock is mentioned in this article.