When a REIT's assets surge 20 times in just three years, people begin to wonder if that is too good to be true. It becomes even more disturbing when the Fed Governor refers to mortgage REITs (mREITs) saying that some credit markets were showing signs of potentially excessive risk taking. More so when we have an investment professional, John Gilbert, CIO of General Re-New England Asset Management, a unit of Berkshire Hathaway, saying that "We have to be on the lookout for the downside."
Mortgage REITs like of American Capital Agency Corporation (NASDAQ:AGNC) have given excellent returns to investors, not only by way of dividends but also through appreciation in stock price. The Fed continues to pump in money by way of holding interest cost near zero, which is helping REITs make more money.
Is this prompting these companies to take excessive risks? John Gilbert says it is not a full-fledged bubble as yet. In the same breath, he says it certainly can go further. The question is when will it bust? Or will it bust at all?
Explosion in REIT assets
This is in reference to the news that Gary Kain of AGNC used his knowledge of the home mortgage business to turn his company into the fastest growing REIT. Without taking the credit away from Mr. Kain, the explosion in asset size of mortgage REITs is primarily an "unintended consequence" of the monetary policy.
In 2012, REITs bought $100 billion worth of government-backed mortgage securities. According to JPMorgan & Co, they are expected to buy another $60 billion in 2013. Mortgage REITs have to date collected roughly $400 billion of the debt.
Mortgage REITs issue short-term debt for buying long-term mortgage securities and earn their profit from the spread. The Fed has kept interest rates for short-term low in order to stimulate the economy. The Fed is holding borrowing cost near zero - fifth year on the run now. This actually reduces the cost of money for mREITs as they are able to borrow cheap, which they invest in mortgage-backed securities that pay higher interest, enabling them to make more money.
The Bubble
There is nothing wrong in buying (borrowing) cheap and selling (lending) at a higher rate. That is what business is all about. But the problem, which the regulator also seems to have taken note of, is that this has led to some REITs exposing themselves to excessive risks or increasing assets at a very rapid pace - "unintended consequence" of a monetary policy that is holding borrowing costs (interest rates) down.
Whereas protecting themselves against interest changes is common among mREITs, the sector per se does not have a regulator the way banks and insurance companies have. The sector does not come under the Investment Company Act that limits the level of leverage a company is allowed.
This environment of near-zero interest rates, has allowed the country's two biggest REITs, American Capital and Annaly Capital Management (NYSE:NLY) and even smaller ones like Invesco Mortgage Capital Inc. (NYSE:IVR) to offer double-digit dividend yields.
Most of the times, greed gets the better of discretion. REITs must necessarily distribute 90% of most types of their earnings as dividends. The high-dividend yield of REITs makes them more attractive to investors, which in turn pushes the stock price up.
A change in monetary policy or a specific restriction on the borrowing ability of REITs can have adverse, even drastic consequences. That is what can potentially bust the bubble. If the Fed continues with its near-zero interest rate policy, it is only going to pump up the bubble. The sell-off will start when the Fed exits or when mREITs are brought under the ambit of the Company Investment Act.
Asset Growth - not specific to American Capital
American Capital primarily earns leveraged-based income from agency mortgage-backed securities (MBS). Principal and interest on these collateralized mortgage obligations and mortgage pass-through securities are guaranteed by government backed entities such as Fannie Mae and Freddie Mac and other government agencies. Invesco is also an agency REIT, which means that it invests in mortgage securities guaranteed by a government agency or a government-sponsored entity. Annaly, on the other hand, manages and finances a portfolio of real estate related investments including agency mortgage-backed securities.
According to a Bloomberg article, Mr. Kain, who spent 20 years in Freddie Mac where he was responsible for managing bonds worth $800 billion, used that experience for expanding the REITs' assets from $5 billion to more than $100 billion. The fact of the matter is that assets of the Annaly and Invesco have also grown. Whereas total assets of American Capital grew from $2.44 billion to $100.45 billion (4016%) Invesco's assets grew 5167% (from $359.04 million to $18.91 billion). Growth of Annaly's asset lags far behind (123%).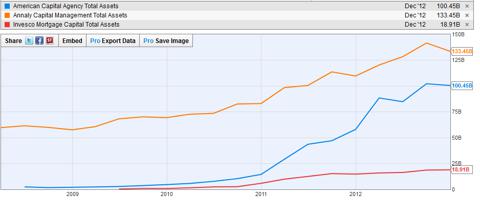 Chart from: ycharts.com
Not only has American Capital's asset base grown fast, it has provided investors more than double returns as compared to Bloomberg's 34-company Real Estate Investment Trust Mortgage Index. Since 2009, American Capital has returned 261% including dividend reinvestment.
REITs have been the biggest beneficiaries of the government low-interest rate policy, which has allowed them to increase their spreads. What has helped them even more is the Fed's buying policy, which is instrumental in pushing up the value of the mortgage-backed securities that REITs invest in. Moreover, since these securities do not carry any credit (default) risk, the REIT that is the most successful in hedging against interest rate fluctuations comes out as the winner.
It is not only Mr. Kain who has succeeded in this and been able to offer a double-digit dividend yield; Annaly and Invesco have comparable yields.
Conclusion
The appeal of REITs to investors lies in the fact that they provide better return on capital. They are also an excellent choice for investors looking to diversify their portfolios. Moreover, the price movement of REITs is not linked to the ups and downs of the rest of the stock market. However, there are also risks, which is one of the reasons that American Capital's phenomenal asset expansion is under the scanner of the regulators.
Investors should also keep in mind that REITs were among the hardest hit when the debt bubble burst in 2008-2009. REITs derive leveraged-based income. They will be the worst hit during a credit crunch, if that happens.
Already, the matter of unrestricted borrowing by these companies is under serious consideration of the Securities and Exchange Commission.
That said, mREITs are different from the government sponsored enterprises (Freddie Mac and Fannie Mae), which went bankrupt. These entities were not regulated by market forces and were able to borrow regardless of the risk due to the implied government guarantee. Mortgage REITs, on the other hand, are governed by market forces and their ability to borrow depends upon lender confidence based on quality of their assets.
The lure of a high yield is rather difficult to resist. Investment in mREITs provides high return on investment - a source of steady income along with a relatively good scope for appreciation. However, if I was to invest at this time, I would keep a strict watch on the Fed's monetary policy. I would also hedge my risk by investing a part of my investment dollar in a REIT Index ETF like Vanguard.
Disclosure: I have no positions in any stocks mentioned, and no plans to initiate any positions within the next 72 hours. I wrote this article myself, and it expresses my own opinions. I am not receiving compensation for it (other than from Seeking Alpha). I have no business relationship with any company whose stock is mentioned in this article.