With all of the hype you are hearing on TV and in the news it is easy to lose your head (and shirt) in that new "hot stock" that your uncle says is a sure thing. He may be right, but that's what was said during the dot-com bubble at the beginning of this century. My philosophy is always investment, not speculation. Undervalued companies can be found all the time, but only if you look. Many of the blue chips are too expensive now to be considered as investments, but that doesn't mean they should be ignored. Add them to a watch list and keep an eye on them. As Buffett himself said, "It is better to buy a wonderful company at a fair price than a fair company at a wonderful price." The biggest factor that decides your returns (aside from the chosen business's performance) is the purchase price.
For example, if someone were to get moderately swept up in the dot-com bubble and bought even a solid company like Intel (NASDAQ:INTC) at too high of a price and sat back to watch their investment grow, they would instead see it substantially shrink first and not even yet reach levels to assure them a profit.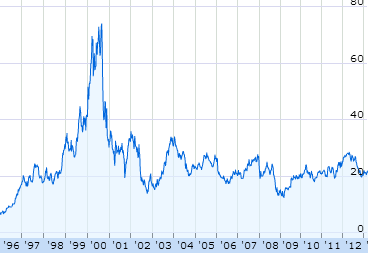 Seeking value investments has become crucial due to the current mania wondering if the market will "ever stop going up." It will. Nobody knows when but there will be a bear market, stocks will slump but they will escalate back up again just as they did in 2009, 1988 and in the 1930s. Investing in solid, stable companies will survive any bear market and provide the investor with handsome returns in the form of capital appreciation and dividends. During 2008, McDonald's (NYSE:MCD) declined from a high of about $65.67 to $52.12 in early 2009; a 20% decline, very small compared to the S&P 500 losing about 56% of its value during the same period. Now MCD is near crossing $100.00 per share. The best time to buy is when the market is low. As Buffett also said, "Be fearful when others are greedy and be greedy when others are fearful."
Here are 5 companies currently trading less than their Graham Number (a formula in The Intelligent Investor that can be used as a rough guide to see if a stock may be undervalued and worthy of future investigation). The Graham number is defined as follows: Graham said that nobody should pay more than 15 times earnings or 1.5 times book value for a stock. Creating an equation and solving for the price yields:

| | | | | |
| --- | --- | --- | --- | --- |
| Name: | Price: | Graham Number: | Margin of Safety: | Dividend Yield: |
| Aflac (NYSE:AFL) | 52.02 | 68.52 | 31.72% | 2.70% |
| ConocoPhillips (NYSE:COP) | 60.10 | 77.11 | 28.31% | 4.40% |
| JPMorgan (NYSE:JPM) | 47.46 | 77.45 | 63.19% | 3.20% |
| Goldman Sachs (NYSE:GS) | 147.15 | 214.16 | 45.74% | 1.40% |
| Wells Fargo (NYSE:WFC) | 36.99 | 45.73 | 23.62% | 2.70% |
It is important to purchase securities not only below their Graham Number, but at a substantial discount thereto (the margin of safety). This evaluation is by no means a reason to buy these immediately. I am a firm believer that intelligent investors need to take another's opinion with a grain of salt, no more, no less. This chart serves as a guide to suggest that these companies are deserving of your time to read some annual and quarterly reports and determine if they are a buy at their current price point. If you determine that they're not, keep an eye on them and quite possibly they will be soon.
Disclosure: I am long MCD. I wrote this article myself, and it expresses my own opinions. I am not receiving compensation for it (other than from Seeking Alpha). I have no business relationship with any company whose stock is mentioned in this article.
Additional disclosure: Although I will not initiate a long position within the next 72 hours, I will quite possibly purchase one or more of the stocks listed in the coming one or two months.