The largest commodity carload category for railroads is coal, accounting for a little less than half the volume transported. So, it may be surprising to see CSX Corp (NYSE:CSX) and Kansas City Southern (NYSE:KSU) hitting new highs despite a horrible year for coal shippers due to an 11% drop in volume last year.
But, that's exactly what these two stocks are doing thanks to robust growth in industrial categories, such as construction-related baskets and automobiles, record intermodal volume as more goods head in and out of America's biggest ports, and record petroleum traffic thanks to oil from the Bakken shale formation being shipped by rail instead of pipeline.
It's a bit early to claim the corner is turned for coal demand, which would remove the largest headwind for rail operators, but there are signs of improvement. Year-to-date, U.S. coal rail shipments are down -8.4% -- a bit better than the double-digit drop experience last year.
And, those comparisons should get a whole lot easier as we move further into 2013. After all, demand for coal last summer was anemic in the face of record utility stockpiles last June when they topped out at 197,052 thousands before retreating to 184,923 thousands at year end.
The coal story may be turning a bit rosier as we move further into this year.
According to the EIA, power plants' reliance on cheaper natural gas drove coal power production down to 37% last year from 42% a year ago. But, as natural gas prices have firmed coal is starting to regain some of its lost market share.
In March, the EIA reported that in January "The northeast saw a significant year-over-year decrease in electricity generation from natural gas due to the significant increase in regional natural gas prices. Generation from coal and other fossil fuels displaced natural gas generation."
A slower rate of decline may not suggest a move dramatically higher for mining stocks. But, it does mean weakening headwinds against the strongest growing carload categories and that's good news for rail operators.
In addition to the potential improvement in coal, investors should also remember grains will present easier comparisons as we move into the back end of 2013 too.
According to the Association of American Railroads, grain carloads were -9.5% lower in 2012 than 2011.
That's important given grain is the third-largest rail commodity category behind coal and chemicals. So far this year, carloads of grain are only -1.3% below last year. Assuming near record planted acreage again this year and normal rainfall, grains should provide additional support to railroad operators by year end.
The weakening headwinds coupled with strength in other categories has year-to-date U.S. railroad traffic up 1% from 2012.
So far this year, the strongest growth has occurred in petroleum carloads. Robust activity in the Bakken and Eagle Ford shale has helped petroleum carloads climb 57% from a year ago.
Carload volumes have also been helped by a recovery in construction activity, which has lifted forest products shipments by 2.6%. And, 2.5% more motor vehicles have been shipped by rail so far this year; helped in part by higher production rates in Mexico.
As for C S X and Kansas City Southern, each is well positioned to enjoy the strength in industrials and still benefit from a recovery in coal and grains later in the year.
For example, C S X's intermodal volume is almost as large as its coal business. And, Kansas City Southern gets a lot of volume from lines connecting Mexico and the United States -- routes which have been strong as manufacturing has shifted south of the border.
Industry wide rail intermodal volumes continue to support intermodal sales growth with total U.S. intermodal rail volume up 6.2% year-to-date from 2012, which helps both CSX and Kansas City Southern.
Containers handled at the Port of Los Angeles are up 4.87% year-to-date and U.S. trade with Canada and Mexico increased 3.5% in January from the prior year. Those increases suggests intermodal remains a bright light into Q2.
Finally, the timing might be right to get involved in both CSX and Kansas City Southern.
According to data from the Seasonal Investor, shares in both companies have posted Q2 gains in nine of the past 10 years. That's a pretty solid track record; particularly given the S&P 500 (NYSEARCA:SPY) has gained in just six of the past 10 years.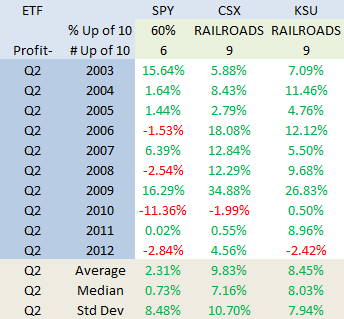 Disclosure: I have no positions in any stocks mentioned, but may initiate a long position in CSX over the next 72 hours. I wrote this article myself, and it expresses my own opinions. I am not receiving compensation for it (other than from Seeking Alpha). I have no business relationship with any company whose stock is mentioned in this article.