3D Systems Corp. (NYSE:DDD) experienced a steep sell-off in the last two months. The correction came after a tremendous 2012 move from split adjusted $10 to almost $50 at the start of 2013. It now appears to have formed a bottom, and might be ready for a new rise.
I wrote about 3D Systems on three occasions, suggesting the short-term dangers before earnings, and in the latest article about a possibility for the stock to reach a short-term bottom. The bottoming process appears to be underway in the last two weeks. And the force behind the latest strength comes from the competition.
Stratasys Inc. (NASDAQ:SSYS) reported earnings in early March, and gapped up higher on strong volume, and continued higher in a steady fashion since. 3D Systems continued to go down for two weeks, and then it stabilized around the 200-day moving average line. It is now almost 20% up from the bottom of $28, a correction of 42% since the late February top. Last week, The ExOne Company (NASDAQ:XONE), reported earnings, and they were perceived quite optimistically by the market and the stock rose 9.5% and made new highs. That certainly helped the group, as 3D Systems and Stratasys rallied too.
The ExOne Company reported 2012 revenue of $28.7 million, up 87.6% over 2011. It sold eight machines in the fourth quarter. The company expects revenue to increase in the 65% to 80% range. Kent Rockwell, Chairman and CEO commented: "We made solid progress in 2012. The recent technological advances of our 3D printing machines create persuasive economics for our industrial customers, who have demonstrated a growing interest in applying 3D printing in their manufacturing processes."
On the negative side, a VentureBeat article cited concern about a broad patent issue in 3D printing. In particular, a Stratasys patent for printing with chocolate is one example of such patents, where prior art could be claimed. It remains to be seen if the issue will be problematic for 3D printing companies in the future.
History repeats itself?
Stratasys has continued the "tradition," as it rallied first and outperformed 3D Systems in the 2011 and 2012 upside moves. 3D Systems caught on later on both occasions and outperformed in the later stages of the rally. In that sense, it is a positive development here for Stratasys to go up first and outperform 3D Systems, and that might be indicative of the potential for both stocks to go higher in the near term.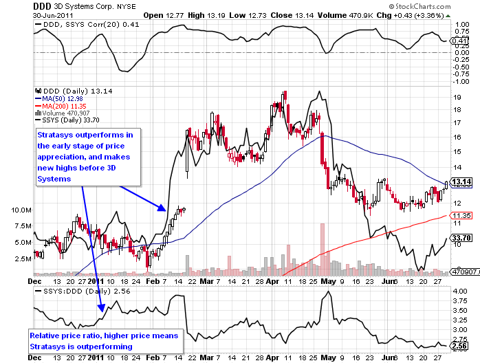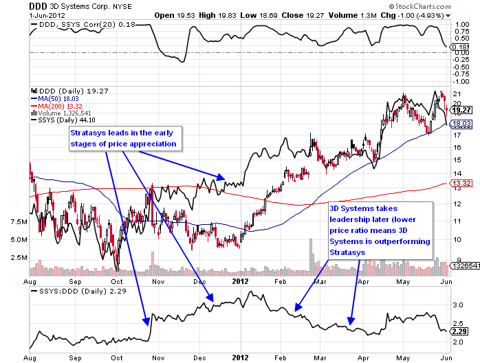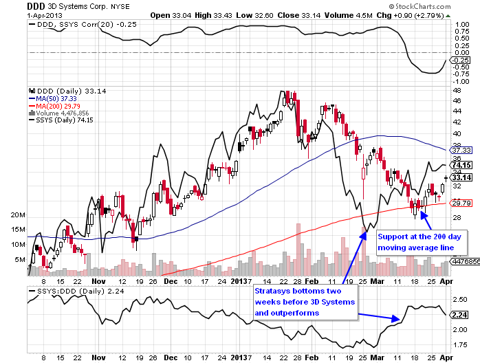 Source: Stockcharts
What can go wrong?
3D Systems faces some challenges. The company has been very aggressive with its acquisition policy, and the question remains if the company is able to grow organically. The management noted in the fourth-quarter conference call that a large portion of this year's growth will be organic. And it expects revenue to grow in the 24% to 37% range, and earnings in the $1 to $1.15 range, which translates into 30% to 49% growth. The company trades at 25.6 forward earnings, and it needs to deliver on the high end of guidance to support the valuation. A miss in earnings or inline results would probably not satisfy investors, as we have seen after the latest earnings report.
Short interest
Short interest hit another all-time high in the latest reporting period. About 1.9 million additional shares were shorted in the first half of March, bringing the total short interest at 25.95 million shares, which is 30.7% of float. The increasing short interest presents a burden on the stock's performance, but may as well provide fuel for a substantial rally.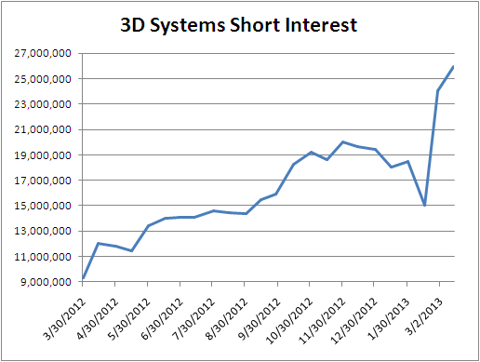 Source for data: Nasdaq.com
Conclusion
Given the previous history of early outperformance of Stratasys, and a better overall situation in the group movements in March, there is now a better probability for higher prices for 3D Systems in the near term. Rising short interest might be a burden on the stock's performance, but if there is a positive catalyst for the stock, it could prove to be a benefit and a major short squeeze would be underway. 3D Systems certainly needs to deliver above expectations in order to give support to the valuation, and the next earnings report is certainly eagerly expected by investors and traders.
Disclosure: I have no positions in any stocks mentioned, but may initiate a long position in DDD over the next 72 hours. I wrote this article myself, and it expresses my own opinions. I am not receiving compensation for it (other than from Seeking Alpha). I have no business relationship with any company whose stock is mentioned in this article.