Elevator Pitch
A temporary delay in orders for Entropic (NASDAQ:ENTR) creates an excellent bottom feeder opportunity.
Company Description
Entropic Communications, Inc. sells semiconductors and software solutions that enable connected home networking of digital entertainment over existing coaxial cable. Entropic supplies multimedia over Coax MoCA and Radio Frequency RF silicon to cable, telco and satellite service providers.
Thesis And Catalyst For Entropic Communications, Inc.
Entropic is at oversold levels and looks to be a great bargain below $4.50 per share.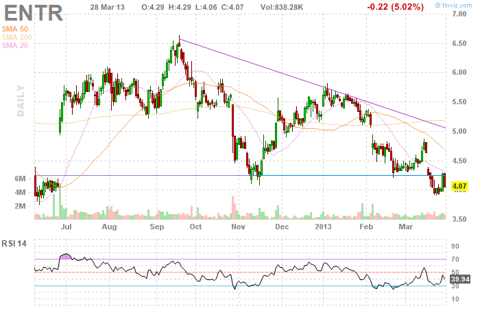 The reason Entropic has fallen over 15% in the last few weeks is because management has cut its outlook because of lower orders. However, the lower orders are a result of "delayed demand" and not a loss of demand for products.
Entropic said the delay in orders was related to high-definition HD-DTA set-top boxes, which allow cable providers to deliver HD content to basic subscribers. Reuters published an article on March 18, 2013, that quoted Benchmark Co. saying, "Benchmark Co said it believes the service provider delaying set-top box orders is Comcast," and "... it will take a few quarters for HD-DTA set-top box suppliers to burn through Entropic inventory."
This sounds like a classic situation of investors overreacting to a temporary problem that will be resolved in a few quarters. This is the exact sort of situation bottom feeders like myself love.
Valuation Looks Hot
Entropic has a P/E ratio of 81, but a forward P/E ratio of 12. This huge variation between past and future P/E is the result of massive sales growth over the last 4 years.
Entropic had over 30% revenue growth in 2012, and analysts expect another 20% revenue increase in 2013.
Entropic has a P/B ratio of 1.12, with a book value of $3.64 per share.
I really like how Entropic is sitting on a huge pile of cash, $97 million to be exact, and they have no debt. Companies that have lots of cash and no debt mean that they are less likely to surprise with a stock offering to raise money or file for bankruptcy.
Management Has History of Purchasing Assets With Cash
As Apple has taught us, it's not enough just to have a lot of cash on hand. It's what a company does with that cash that really counts. Entropic has a history of buying assets with their huge cash position.
In January of 2012, Entropic purchased Trident Microsystem for $65 million.
In July of 2012, Entropic bought direct broadcast satellite intellectual property and corresponding technologies from PLX Technology, Inc. (NASDAQ:PLXT).
With Entropic's huge cash position and no debt, it would not surprise me to see continued acquisitions and intellectual property purchases.
Expanding In China
Only a small fraction of China's 200 million TV households get broadband services from cable operators, but that's expected to change. Less than 4 million homes in China get broadband services from cable operators via Ethernet-over-coax EoC technologies, but that is forecasted to rise to almost 24 million by 2016 according to Infonetics Research Inc.
JiangSu Yinhe Electronics Co., a leading manufacturer of digital television receivers in China, has chosen Entropic's c.LINK 1.1 Broadband Access solution for its next-generation High-Definition HD set-top box for advanced Ethernet-over-Coax EoC installations. Yinhe Electronics has cornered a 10% market share in China. The Yinhe set-top box will be in mass production in Q2 2013.
Variant View
Competitors like NetFlix and new HD TVs with Amazon Video and Hulu built into them could continue to erode traditional cable operators' market share.
It is possible that the lowered forward guidance from Entropic is indicative of a much larger down trend in the sale of set-top boxes beyond just a temporary delay allegedly coming from Comcast.
Disclosure: I have no positions in any stocks mentioned, but may initiate a long position in ENTR over the next 72 hours. I wrote this article myself, and it expresses my own opinions. I am not receiving compensation for it (other than from Seeking Alpha). I have no business relationship with any company whose stock is mentioned in this article.