Bank of America (NYSE:BAC) was trading at about $7 this past summer and at only $5 in December 2011. The stock is now trading at over $12. Despite this large run-up in price, the stock is still trading at a significant discount to its book value per share of $20. Most stocks typically trade at least at or above their book value per share. This means that BAC has a good chance of performing well over the long-term as the price continues to approach its book value per share.
Bank of America operates in all 50 states and in more than 40 countries. The company serves over 53 million customers with about 5,500 banking centers and 16,300 ATMs, call centers and online/mobile banking platforms.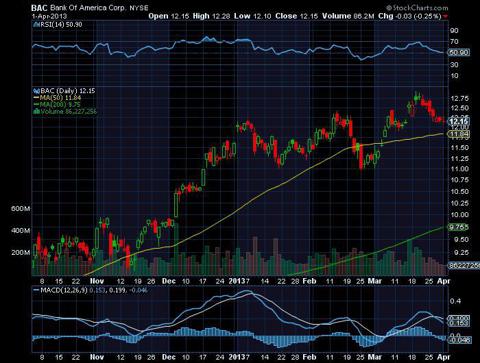 The company increased its assets by 3.8% and decreased its long-term debt by 26% in 2012 over 2011. Deposits increased 7% year-over-year, while average balances increased 1.2%. Loans and leases decreased by 1.2% year-over-year. Bank of America will need to continue driving down its long-term debt to further improve its balance sheet.
BAC is still striving to return to a healthy profitability level. Although the company did achieve earnings per share of $0.25 for 2012, this is not a level of earnings to brag about. Revenue actually decreased by $105 million in 2012 due to lower investment banking fees and lower net interest income. On the brighter side, average loans and leases increased by $7.1 billion in 2012, which was driven by growth in commercial and industrial loans in large corporate and middle-market segments.
Bank of America is expected to achieve earnings per share of $0.98 for 2013. This is nearly four times higher than the EPS achieved in 2012. The company is expected to grow earnings annually at about 19% for the next five years. This growth is enough to allow the current stock price of $12 to double to $24 in four years.
In addition to the low price to book ratio of 0.60, BAC also exudes an undervaluation with a forward PE of 9.35 and a PEG of 0.66. This provides a solid starting point for the current stock price.
It is important to be aware of the risks to the stock. Any fears of recession in the U.S. or further economic deterioration abroad could cause significant losses for BAC. The overall market has had a great run thus far this year, so if a market sell-off were to occur, BAC would surely take a significant dip in price. The "sell in May and go away" situation could be triggered by an economic or international event and lead to a sell-off in stocks.
Another risk for BAC is the potential for higher interest rates. If interest rates rise, the bank will pay more for deposits, while the rates on existing loans would not increase, resulting in lower profits.
Given that BAC is still trading significantly below its book value per share, I think the stock has some room to run as the company's earnings continue to grow and as the balance sheet improves. The next double in price will probably not happen without deep corrections of 10% - 20% along the way. Regardless of the bumpy ride, patient investors should do well for the long-term.
Disclosure: I have no positions in any stocks mentioned, and no plans to initiate any positions within the next 72 hours. I wrote this article myself, and it expresses my own opinions. I am not receiving compensation for it (other than from Seeking Alpha). I have no business relationship with any company whose stock is mentioned in this article.