Crude oil has gained $8/barrel in the last month, putting it just a few dollars shy of $100. My stance: the easy money has already been made in bullish trade.
Prices moved quickly from oversold to overbought territory as Stochastics show in the chart below. I think we're in the process of establishing an interim top, with a $3 to $5 correction soon to follow.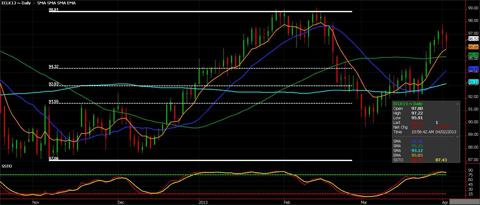 As far as winning streaks go, crude has closed higher 14 of the last 20 trading days (after a swing low on March 4th). What's more, we haven't seen two consecutive "red" sessions since that low was established a month ago. This streak will be broken if today's close is below $97. In my eyes, we'll have confirmation of an interim top on a settlement under the 8-day MA (orange line). I do not see a fresh 2013 low on the horizon, but I do think the market can depreciate $3 to $5, giving us plenty of room for a bearish trade.
If you're bearish WTI, my suggested play is shorting June or July futures while simultaneously selling out-of-the-money puts 1:1. Use Fibonacci levels as your objectives -- a 50% retracement would drag May futures $3.50 below current trade… June and July contracts should move accordingly.
Risk Disclaimer: The opinions contained herein are for general information only and not tailored to any specific investor's needs or investment goals. Any opinions expressed in this article are as of the date indicated. Trading futures, options, and Forex involves substantial risk of loss and is not suitable for all investors. Past performance is not necessarily indicative of future results.
Disclosure: I have no positions in any stocks mentioned, and no plans to initiate any positions within the next 72 hours. I wrote this article myself, and it expresses my own opinions. I am not receiving compensation for it. I have no business relationship with any company whose stock is mentioned in this article.