Waste Management (NYSE:WM), the largest waste collection, transfer, recycling and disposal company in North America, gave its full-year earnings and guidance six weeks ago. The call was taken very well by Wall Street. The 2012 results can be summed up as:
Free Cash Flow of $829 million, which covers the dividend
Revenue growth of 1.3%
Revenue growth from volume of 0.5% (the remaining 0.8% came from pricing)
The company's guidance for 2013 looks like this:
Free Cash Flow to increase to $1.1-1.2 billion, representing a percentage gain in the 30s or low 40s.
Continued Earnings Per Share (NYSEARCA:EPS) growth of 3-6% but,
Only 1-1.5% revenue growth.
When we consider that Q3 results included revenue declines from commodity price downturns and an accompanying drop in Free Cash Flow (NYSE:FCF), this quarter was an outright relief for many. Fears of insufficient cash flow to cover the company's generous dividend were lifted, and efficiencies from the company's previous acquisitions are set to kick in. Price action within the last three months shows that the "all-clear" has been sounded.
Those looking for steady growth, however, should look elsewhere. While 3-6% EPS growth looks solid on the surface, we will see that most of that increase comes from cost reductions and, even worse, from share buybacks. Waste Management is not a growth story.
Revenues Up Modestly
In 2013, management is expecting volume to grow by 0.5%-1% and pricing on total volume to increase revenue by 1-1.5% (defined as "yield"). We can expect "organic" revenue growth of around 2%. To put it another way, only half of the already modest earnings growth is coming from the top-line. Probably less.
Cost Savings Adds To Bottom Line
Although complicated headwinds and year-specific bonus accruals muddle the Cash From Operations numbers, they are expected to increase by $100 million in 2013. The company has reaffirmed a 2013 goal of $110 million in reorganization synergies from a previous acquisition. 2014 will see back office consolidation benefits from that same acquisition and also cost reductions from riding logistics efforts.
Share Buybacks The Driver of EPS Growth
In its Q4 2012 conference call, management said that about $500 million had been authorized for buybacks in 2013. This represents 2.7% of the company's share count and market cap. Considering EPS growth of 3-6%, share buybacks will likely be the biggest factor in earnings growth. This is not a good sign nor is it a wise idea.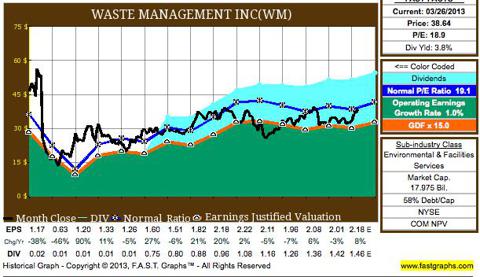 FAST Graphs
A "buyback" is when a company uses its own cash to purchase and "retire" stock. In my experience there are only two instances where buybacks work. The first is when the stock is trading at or near its "Fair Value." Think of it like this: when a company uses its own cash to buy its stock at a price above its intrinsic value, that price difference is really value destruction. Waste Management is currently nowhere near its Fair Value line, illustrated in orange on the FAST Graph above.
The second reason to buy back shares is if their dividend yield exceeds the Weighted Average Cost of Debt. From a cash flow perspective, it would then make sense to retire stock instead of debt. Waste Management's Weighted Average Cost of Debt is 5.2%, so the company's buybacks fail this litmus test too. It seems management is looking to buy back stock simply to boost EPS numbers.
Cash Flow Analysis
Perhaps the most positive aspect in Waste Management's 2013 guidance is an estimated increase in Free Cash Flow (FCF) of 33-45%. Those concerned about the safety of the $700 million dividend obligation can now rest easily.
About half of the cashflow "growth" is a function of Capital Expenditure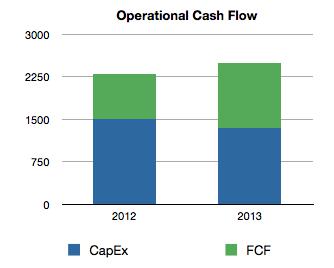 (CapEx) coming back down to normal. A historically high CapEx of $1.5 billion in 2012 is now coming down to a more usual $1.3-1.4 billion.
The other half comes from a combination of synergies from the recent acquisition and, to a much lesser extent, organic revenue growth. Although there are plans for further non-labor cost reductions in 2013, such improvements in FCF should not be expected to repeat in the long term. At some point, returns from continued cost-cutting efforts will diminish.
Debt Analysis
Waste Management has been doing what a number of others have for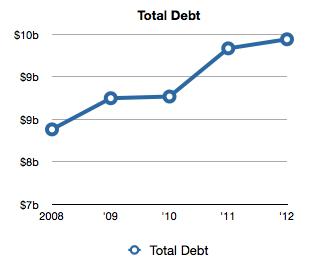 the past three years; "taking advantage" of low interest rates to load up on debt. Despite management talking a good game about debt reduction, total debt has continued to climb. Unfortunately, this new debt hasn't led to meaningful growth: Net Income has been stagnant for a long time and debt has grown faster than Free Cash Flow.
Management needs to turn this around, and the way to do so is pretty apparent. Consider this year's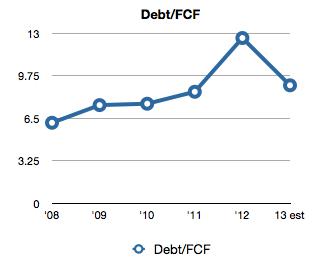 authorized share repurchases. They represent 43% expected of Free Cash Flow for 2013. They need to suspend the buybacks as long as the stock price is this high and concentrate on either Capital Expenditure for growth, or, if that is not a good allocation of capital, pay off debt. Turning around the debt situation is ultimately the best thing to do.
Silver Linings
The company does have some saving graces. First of which is the generous dividend and ample coverage ratios. While the dividend coverage ratio has been slowly climbing, 2013's dividend expenditure represents just under 60% of predicted Free Cash Flow. This leaves room for sustainable 4-6% dividend increases for at least a few years. An improved cash flow situation in 2013 will help in the short term, too.
Chart from Raymond James Institutuional Investors Conference
In addition, Waste Management is still the best trash collection, disposal and recycling operator. The return On Capital Employed is significantly higher than the next competitor. I've heard anecdotally that Waste Management has trash collection "down to a science."
Considering both of these things, I can grudgingly hold onto my Waste Management stock, even at these higher levels, and expect short- to medium-term dividend growth if nothing else.
Strategy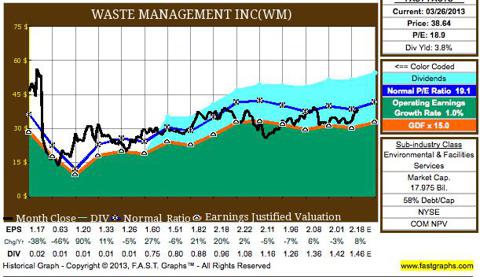 FAST Graphs
Taking a look at the FAST Graph once again, this time from a valuation perspective, we can see that Waste Management is no buy here. Its price is well above the orange "Fair Value" line.
Personally, I am long Waste Management and have a price target where I will sell. And that target is getting close. Being a small shareholder, I will only sell when the price is very high because commission will take substantially from my gains. Indeed, I got in this for the long-term dividends and never thought the stock would appreciate this much this quickly.
Conclusion
Waste Management is very good at what it does. The dividend is safe and poised for continued moderate growth for at least a couple more years. However, management is not doing the right thing with its cash. Most of all, this company's top-line, long-term income growth prospects are anemic. Perhaps its time to find an alternative.
Stay Tuned
Waste Management is a company I have written about in the past and intend to cover in the future. I plan to write update articles on Waste Management when material and relevant.
Additional Sources:
"Operational Cash Flow," "Total Debt" and "Debt/FCF" charts by author, data to 2012 by Morningstar. 2013 expectations data from Q4 2012 Conference Call. All Free Cash Flow estimates used by author represents the midpoint in management guidance.
Disclosure: I am long WM. I wrote this article myself, and it expresses my own opinions. I am not receiving compensation for it (other than from Seeking Alpha). I have no business relationship with any company whose stock is mentioned in this article.