Abstract: Technical analysis of charts can be applied to any time frame. This article examines monthly charts for the S&P 500 and the Russell 2000 indices since December 1999 and discusses the pros and cons of further market advances in the coming weeks and months from both a technical and fundamental standpoint. While current chart patterns may tempt one to pull back from holding equities, it's the fundamentals you don't hear about every day that may offer a more positive counterpoint.
Ask any card-carrying technical analyst about applying their craft to short-term and long-term charts, and they'll tell you that the same conclusions may be applied to a tick-by-tick chart as from a monthly, quarterly or yearly chart. With all the talk about major indices like the Dow Industrials (NYSEARCA:DIA) recouping its 54% loss from November 2007 to March 2009, and the S&P 500 index (NYSEARCA:SPY) flirting with a new all-time high, we approached the question of how technicians and fundamental macro analysts may see the market at these current lofty levels, starting with the broad technical picture.
Chart Discussion
While the S&P 500 Index has yet to mark a new all-time high beyond 1576.09 (as of April 1, 2013), we find ourselves asking the first thing that comes to mind while looking at its monthly chart (below), which is: "Would you buy the S&P 500 now?"
Most traders would point out the "double top" pattern that appears to be forming in the bar chart, if not a not-so-perfect triple top from April 2000 (more on that later). While the second half of 2012 took the form of a liquidity-driven rally, with P/E ratios expanding as money chased out of low-yielding fixed income searched for a new home, the same extended rally is enough to throw caution to the process of throwing money indiscriminately into equities.
Maybe there's some comfort to be found in smaller stocks of the Russell 2000 index (NYSEARCA:IWM), the advance has convincingly moved to new highs and out of the ominous double top pattern potential of its larger-cap brethren in the S&P 500.
This doesn't imply that smaller cap stocks may be a safer bet - if anything, they're extended from their November 2012 lows. The Russell 2000's gained 18% in price since then, while the S&P 500's added 22%. A technical analyst (present company included) would consider these levels as ripe for consolidation, with a correction of 5-15% healthy and welcomed to cool off some hot indices.
Broad Market Fundamentals
While these charts tell only a story of price history, what isn't visible are the fundamentals that may well keep investors staying with equities. Here are some points to consider.
S&P 500 earnings reporting season for the first quarter of 2013 (1Q2013) is starting, and while Thomson Reuters shows analyst forecasts of 1.5% earnings per share growth on a year-over-year basis, that number has come down from over 4% on January 1, due in no small part to a high negative to positive ratio for company-issued earnings guidance. While that may sound as if it's a negative, a high negative to positive ratio for 4Q2012 led analysts to project only a 1.8% EPS growth rate for that quarter. The net result was that corporate earnings came in at 6.3%. While one cannot be assured of the same thing taking place for this quarter, at least there is the comfort of the last quarter turning out better than forecast.
Inside of the outperforming Consumer Staples sector of the S&P 500, its home building sub-industry group is expected to see EPS growth at around 270%, according to Gregory Harrison, Corporate Earnings Research Analyst at Thomson Reuters. Harrison mentions that although the comparable historic data is low, the three S&P 500 home building members D.R. Horton (NYSE:DHI), Lennar (NYSE:LEN) and PulteGroup (NYSE:PHM) are all forecast to show year-over-year earnings growth of over 100%. While land prices were low, these companies bought cheaper land which allows for fatter profit margins.
Drafting on the home building recovery is the Financials sector, which is benefiting from looser mortgage lending standards, which helped banks of most every size, from the regionals (NYSEARCA:KRE) up to J.P. Morgan (NYSE:JPM). (Harrison noted that Discover Financial Services (NYSE:DFS) has recently started a mortgage lending business.
The forward 12-month P/E ratio of the S&P 500 currently stands at about 13.8 (see chart blue line) - still below the long-term historic 15 level. But the orange line in the chart below denotes a five-year median value around 12.8. So while the market does not appear grossly overvalued, it may not appear attractive enough to jump in with both feet.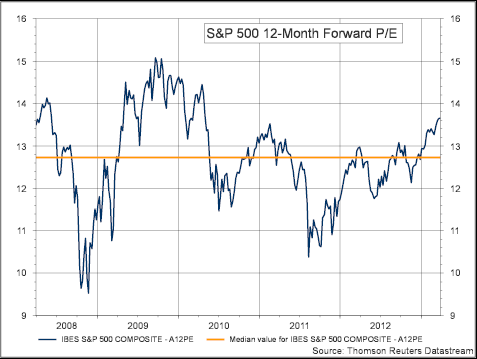 5. S&P 500 aggregate earnings growth rates remain reasonable. According to Thomson Reuters StarMine, the five-year analysts earnings CAGR value stands at 7.3%, though the recent index level suggests the market is only pricing in 4.3% of that growth - a three percentage point spread. So if the analysts are correct, the market appears undervalued. It is fair to note that this spread has been wider in the recent past - by as much as five percentage points around late November and late December.
SUMMARY
While the S&P 500 index price begs the question as whether or not these levels are bullish or bearish, its aggregate fundamental data in the form of: potential earnings surprises, a home building sub-industry that seems to be supporting the Consumer Discretionary and Financials sectors, and forward P/E and growth rates that, while not at bargain levels, are neither in places that seem to be extremely valued. A not so far-fetched scenario for the next several months may be one of market consolidation instead of an all-out decline, other things being equal.
Disclosure: I have no positions in any stocks mentioned, and no plans to initiate any positions within the next 72 hours. I wrote this article myself, and it expresses my own opinions. I am not receiving compensation for it. I have no business relationship with any company whose stock is mentioned in this article.