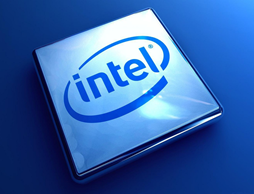 No other company defines the description of a Technology Staple better than Intel (NASDAQ:INTC). Why? At the heart of everything tech, lies the CPU, the literal brains of the computer. Without a CPU -- the decision maker, traffic cop, and super calculator, all in one, we have nothing.
Chuck Carnevale's recent article asks if it is time to reevaluate our view of mature technology companies. Instead of stereotyping them as high flying, but hard falling heartbreakers, we should classify some of them in the same category as traditional, reliable dividend blue chips, like Coca-Cola (NYSE:KO), or Procter & Gamble (NYSE:PG).
I agree and have also argued the same paradigm shift, noting that many technology companies have become so large and their products integrated within the fabric of society, that they should now be known as Technology Staples. Intel certainly fits the bill to a tee, and is a company I am bullish on for the long term.
If you subscribe to the belief that technology will continue to embed itself into the fabric of everyday life, consider the below graph, and this curve was only as of 2011.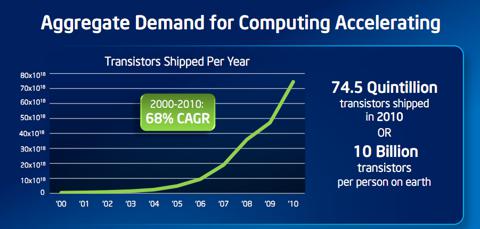 Intel Logo Source: Kona's Korner ; Chart Source: PC Perspective
PC vs. Mobile
Let's just get this out of the way. Intel still does derive 66% of its revenue from the PC market.
However, this percentage of revenue has slowly decreased over the past decade as Intel has made strides to decrease its dependence on PCs as a primary revenue source. The data center segment of Intel, for example has done extremely well, marking a 6% increase in profit for 2012.
Yes, PC growth is slowing, and analyst IDC has revised its forecasts downward several times. As consumers adopt multiple form factors, the question is not if PC sales will slow, but by how much.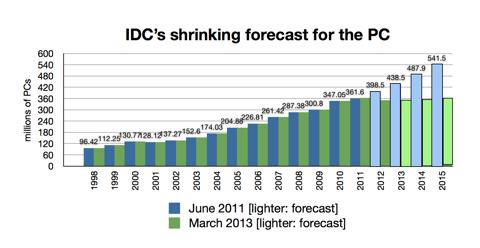 Source: The Guardian
However, even in a declining PC market, consider the following chart, where Intel powers Microsoft (NASDAQ:MSFT) software. For a "dying" platform, this certainly looks formidable to me. The PC is not "dying," it just has new neighbors, but it's still the biggest mansion on the street.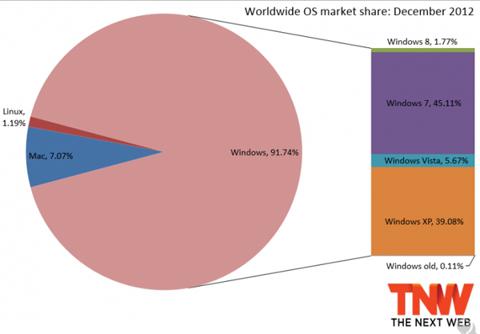 Source: Techspot
Choosing the Best Tool for the Job
Which experience would you rather have? Watching a movie on IMAX (NYSE:IMAX) 3-d with full theater surround sound or through Netflix (NASDAQ:NFLX) on your iPhone? Just because you can watch movies on the iPhone does not mean that movie theaters go out of business.
Televisions never replaced movie theaters, and neither did VCRs, DVDs, or digital delivery systems. Laptops also never replaced desktop PCs - they just gave consumers more choices and form factors to use in different situations.
Mobile and tablets complement the existing ecosystem of computing choices, so this is not a mutually exclusive environment where one technology simply replaces the other in a zero-sum, winner takes all contest.
For Intel, the question is where the form factor growth drivers will be, and how many devices it can get its gear into.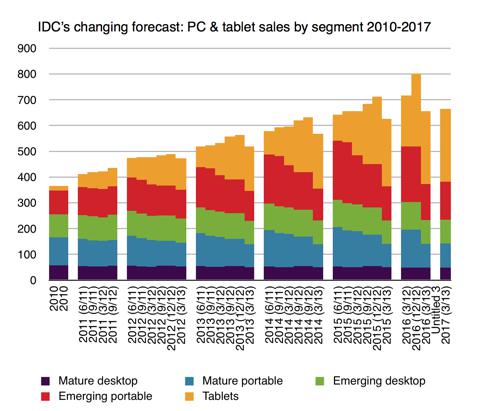 Source: The Guardian
Intel's Monster Footprint
Anyone connecting to the Seeking Alpha homepage from a PC, tablet, or phone, has passed through a Cisco (NASDAQ:CSCO) router. Avoiding a Cisco router on the Internet is nearly impossible, because Cisco products are so pervasive across the entire world that your traffic has to pass through a Cisco device at some point along the digital chain.
Now guess what chip is powering more and more of those network routers? That's right Intel. Guess what chip serves up many of the digital television feeds, the cloud computing services, and websites across the globe? Intel chips again. I have noticed a trend over the past decade, and that is Intel chips tend to displace proprietary chips and devices, rather than the other way around.
Even supercomputers from companies like the legendary Cray (NASDAQ:CRAY) are more and more powered by Intel chips.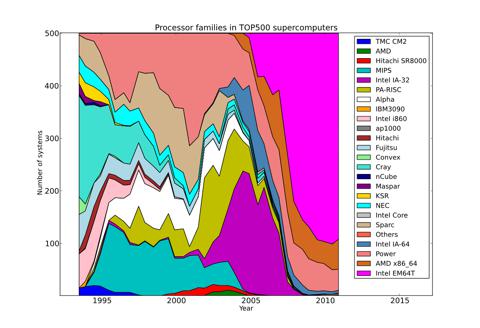 Source: Wikimedia
Diversified Winning
Intel's success is becoming less and less tied exclusively to the PC. Intel has also made substantial inroads into the data center over the past decade, and is expected to achieve additional revenues from markets on newer form factors like mobile, tablets, and hybrids. In addition, the company sells very high quality solid state drives, storage arrays, and may be getting back into the memory business as well.
Yes, that diversified growth also includes the Cloud: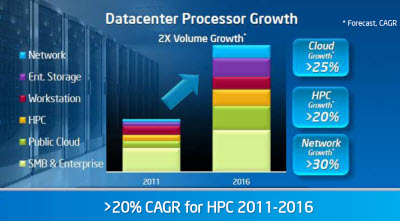 Source: VB
A key characteristic of any large Technology Staple, like any dividend blue chip, is that it has what I call a "monster footprint." This means the company product is so widely used, it is pretty much in every corner of the planet.
Geographic Diversification
Not only are Intel products found in multiple form factors and products, they are also geographically dispersed. About 75% of Intel's revenue comes from outside the United States, and Intel has been investing heavily worldwide as well.
Secret Weapon - Forward Thinking with Intel Capital
Technology companies win through R&D.
Just as oil companies like Chevron (NYSE:CVX) must spend tremendous amounts of capital on finding new reserves, technology companies must spend tremendous capital on forward thinking initiatives to grow new markets and get ahead of the competition.
Analysis of Intel never seems to bring up Intel Capital, and its nature as being a huge competitive advantage. In addition to its massive, $13 billion capital investment for 2013, Intel is in the venture capital business, where it provides funding for startup companies, which are often bought out by larger established companies. Think big pharma relying on the biotechs to deliver the next big thing.
Every large technology company should be doing this, especially HP (NYSE:HPQ).
Why? By providing funding, Intel gets early access to new technology makers. It builds relationships, and is constantly staying ahead of the technology curve. Intel is able to identify critical mass, and also helps to forge new ecosystems, which in turn can power hardware using Intel technology. Anything in this world that is running a chip, is fair game for Chipzilla, and there are plenty more markets which Intel can exploit.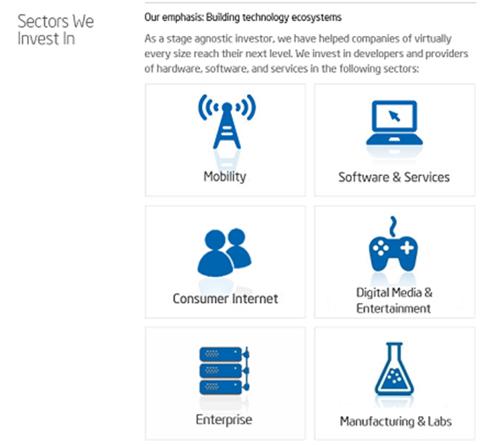 Growth Initiative No. 1 - Fabrication Business for Steady Growth
Intel recently entered the fabrication business, capitalizing on a core competency. This is a move I am hugely bullish on for the long term. The fabrication business means Intel will physically manufacture the components for other companies, which allows other companies to focus on intellectual pursuits, such as design, and research and development.
As Dana Blankenhorn rightfully notes, Moore's other law says that, as microprocessor technology continues to evolve, it increasingly becomes more and more expensive. This means as costs increase, the number of fabrication manufacturers worldwide continues to shrink, leaving only a handful of them left.
Note in the chart how so many companies will no longer be able to keep up capital requirements by 2015.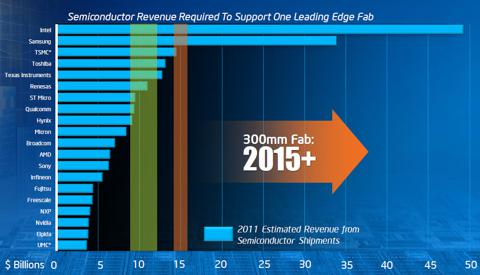 Source: Intel 2012 Investor Meeting
This is a major competitive advantage and a major barrier to entry, leaving Intel in a sweet spot, where it can begin to produce custom components for clients who are no longer able to invest the huge capital requirements required to keep up with modern semiconductor manufacturing.
Think of this like a large pharmaceutical like Teva Pharmaceuticals (NYSE:TEVA) producing generic drugs, or blockbuster drugs that were created by biotechs like Amarin (NASDAQ:AMRN). In this case, Intel is TEVA. Clients are the biotechs, concentrating on R&D, while being relieved of the huge capital requirements.
Although the fabrication business will mean lower margins for Intel over its custom designs, I believe the tradeoff will be a smoother, steadier, and high volume revenue stream.
I believe we will see some big names start signing with Intel. Ironically, many networking and storage vendors are starting to use Intel's x86 chips over their previous customized chips, however for those that still need them, like Cisco, Intel offers an attractive alternative. Ashraf Eassa seems to have uncovered a Cisco deal already.
If this is confirmed, then the world's largest networking provider will be sourcing many of its chips from the world's largest semi-conductor producer. This is a huge deal, and I expect many more big names to sign on, again, due to Intel's amazing relationship management and monster footprint.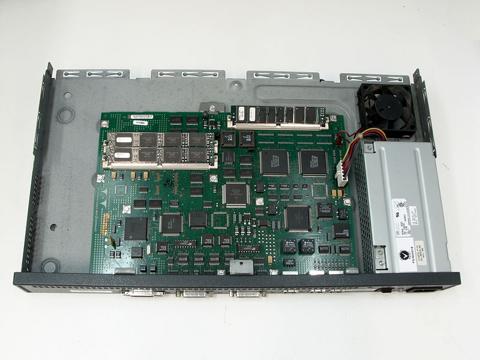 Legacy Cisco 2503 router with traditional Motorola CISC CPU (retired 2001); Source: Wikipedia
Fight the Power!
Intel has embarked on a ruthless, win at all costs war on power consumption in order to win the mobile space. Although late to the game, the idea is to make sure Intel's solutions consume low power and extend battery life. This is especially critical for mobile devices, which need to run without a plug for hours on end or risk irritating their owners, who will often opt for another device the next time they make a purchase.
Intel is able to attack the power consumption issue on two fronts -
Produce lower power chips (like the upcoming Haswell and the new lower-power Atom)
Offer guidance with partners to create an energy-efficient, integrated solution on the system board between components
Competition to claim the longest battery life is heating up, and the below chart (mid 2012) shows rapid improvement of Intel's chips, and expect the aggressive release cycle to produce even better results going forward.

Source: AnandTech
Integrated Alliances
Again, due to its monster footprint and relationships with its partners, Intel has a huge advantage over the competition.
Most mobile and desktop platforms are a collection of different components from multiple vendors. Considering those various components require disparate levels of power consumption, this presents a perception problem for a CPU producer like Intel.
Adopting a more Apple-like (NASDAQ:AAPL) design paradigm means focus shifts to the total end user experience. Therefore the entire system board and integrated power circuit paths, even from different or competing vendors, are now considered in design decisions. Ultimately this results in products powered by Intel CPUs, regardless of who is supplying all of the components, draining less power, and extending battery life, making the product more attractive to consumers.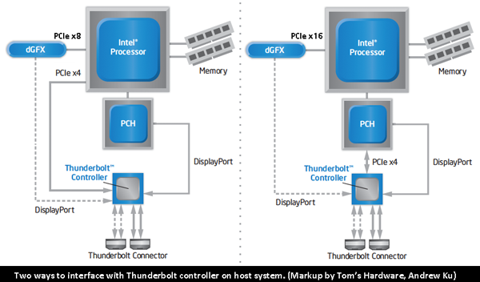 Intel's vast experience developing interconnect systems like Apple's Thunderbolt helps its partners integrate low power components into a unified power consumption solution. Source: Tom's Hardware
Growth Initiative No. 2 - WebTV Wild Card
ITunes and Netflix changed the content delivery game forever. In a move to diversify its revenue streams, Intel has announced plans to enter the digital content delivery market with its WebTV initiative. Apple is also entering this same market.
Intel is betting big on the initiative, with reports that its Intel Media group budget is larger than both Apple and Google (NASDAQ:GOOG), and hiring staffers from Apple, Google, and Netflix. The group hopes to offer more value-added services with its delivery by custom tailoring the content based on the user viewing it.
Ironically, Intel chips power many cable boxes, such as those found for Comcast (NASDAQ:CMCSA) systems, so the relationship management will be interesting to see unfold. The idea is that Intel's delivery model will benefit content providers and not compete with them.
For a technology company to enter content delivery is not a new precedent. After all, it was Hughes Electronics, which brought us DirecTV (NYSE:DTV) back in 1994, and it has been wildly successful. Another bold move was brought by Microsoft when it started the Xbox platform as well to deliver gaming content.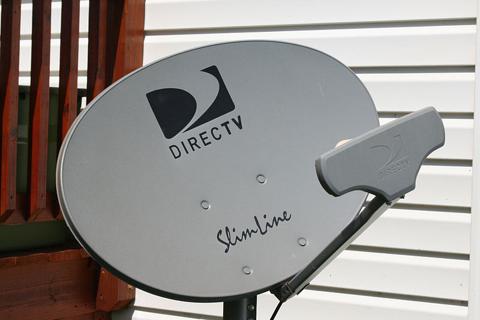 Criticism - What is McAfee Doing?
Intel has been criticized for its decade of software acquisitions. Perceived as a hardware-only provider, Intel has had a string of acquisitions that have largely gone unloved by the market. As an investor, I am not exactly sure what is going on with McAfee, and would like more guidance from the company.
Press releases like this one provide some marketing material and brand awareness, but not much in terms of execution strategy, vision and synergy.
Intel SWOT Analysis
STRENGTHS
Strong data center growth including Cloud
Cash Machine - high dividend and strong dividend increases
Low debt, share buybacks
Intel Capital identifies emerging technology and builds relationships
Globally diversified
WEAKNESSES
Software acquisitions - what exactly is going on here?
PC market still accounts for 66% of revenues
OPPORTUNITIES
Mobile and tablet markets
Foundry business offers steady, long term growth
Intel Media could provide huge new revenue stream
Entry into peripheral hardware business (Memory, storage)
THREATS
Commodity "just good enough" ARM processors threaten mobile market share
Upcoming CEO change means management uncertainty
Possibility of slowing PC chip sales not offset by growth initiative
Key Income and Value Metrics
Founded: 1968
Cash: $18.2 billion
Intel scores extremely well in most areas. With a cash stockpile, low debt, low payout ratio, low P/E, low PEG, huge dividend increases (at a great yield), and high O-Metrix scores, it makes a strong investment case, for Dividend Growth Investors, Value Investors, GARP investors, and scalpers alike.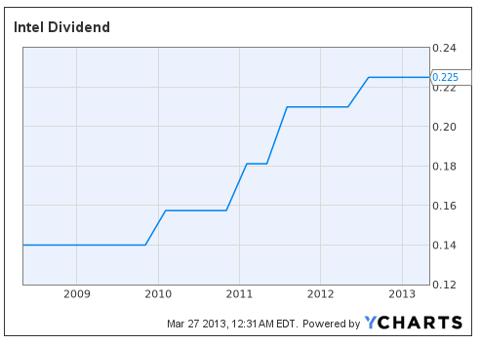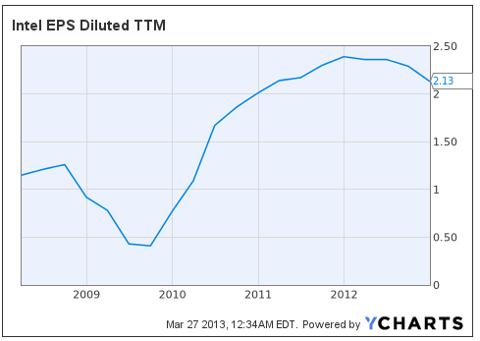 5-year dividend growth rate: 14.09%
Yield: 4.20%
Payout Ratio: 0.39
Debt/Equity: 0.26
P/E - ttm : 10
5-Year PEG: 0.9
Percentage under Graham Number: -5.58% (Target Price 22.28)
O-Metrix Score: 7.18
Composite Opinions
Morningstar: 4/5
Intel Trading Strategies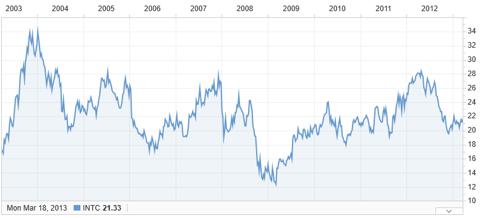 Source: MSN
Intel has been range bound for most of the past decade, between 20 and 30. Investors have been employing multiple strategies against this stock. The growing dividend and share repurchase plan provide a floor for the stock and the $20 level has been tested multiple times since 2009, breaking through but not holding for a long stretch.
I am personally long the stock in the $16-$20 range and sell monthly and LEAP puts at the lower end of the $20 range when volatility produces premium opportunities. I like negative news and analyst downgrades as those give me good entry points and volatility spikes. I do not mind taking put assignment as I want to own the shares anyway.
Other, short- to medium-term investors wait for a dip below $20 to buy, and then simply wait again for the stock to recover to the mid-20s, and sell again, collecting the dividend while holding.
K202 has an excellent series of articles for dividend investors seeking extra income from the stock through selling LEAP options, with a very straightforward formula of selling the options at the midpoint of its historical trading range.
Fully Informed's Teddi Knight has been investing for over 35 years, and has created very lucrative options strategies around the stock. Multiple strategies with both puts and covered calls, along with tips for rolling options, are discussed in detail, regardless of which way the stock is moving. Teddi shows actual trading examples that other investors can learn from, and has some commentary for the short-term outlook, up until earnings on April 14.
Conclusion
I currently only sell puts against Intel as I believe the stock is almost fairly valued in the short term, and does not have a big enough discount to purchase outright. My long holding period is years, so will hold the stock and collect the dividend until I reach a Graham profit target of 50%.
I have a very high conviction in the stock, and believe at these levels Intel is being penalized while the commodization cycle in mobile works its way out and adjustments to the traditional PC paradigm continue.
However I believe Intel will eventually close the mobile gap, the same way it countered the AMD and RISC threats over the previous decades.
I hold positions in both my taxable and retirement accounts.
There is much negative sentiment against Intel from analysts that is not warranted. Current analysis takes too much of a myopic view and consistently centers around the mobile paradigm without considering the entire ecosystem of technology. This technology ecosystem is huge and will only continue to grow as our world digitizes every corner of life, and forward-thinking companies like Intel continue to build the bricks and mortar for the 21st century and beyond.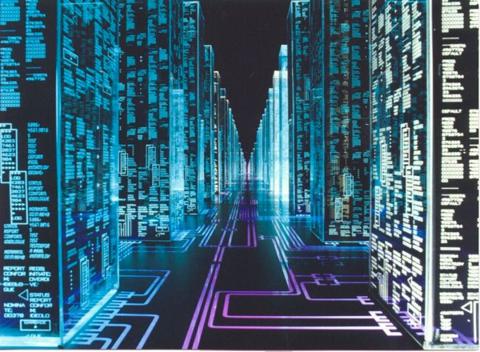 Source: TechTree
Disclosure: I am long INTC, MSFT, HPQ, CVX. I wrote this article myself, and it expresses my own opinions. I am not receiving compensation for it (other than from Seeking Alpha). I have no business relationship with any company whose stock is mentioned in this article.