My ongoing coverage of Annaly (NYSE:NLY), and the agency backed mREIT sector in general, has simply focused on what the average investor (like me) can understand. Without getting too technical, and bogged down in the infinite details of this sector's various business models, I believe we can have a fairly decent idea as to where the company's profits and investor dividends are headed.
In my last report (I strongly urge you to read it and review the comments as well), I reviewed the most recent confirmations of the Federal Reserve, their projections for continued QE policies, NLY's acquisition updates, and the company's proposal to create a separate company to manage the businesses, by moving the existing management team to the new company. While that proposal would likely reduce scrutiny of the salaries and earnings of each manager, it also could save NLY multiple millions of dollars. By saving NLY money, that move alone could mean more dividends to shareholders.
To be candid, the proposal raised more than a few eyebrows, including mine, but I happen to trust this management team to do the right thing, as they have always done, for all shareholders. There is simply too much at stake. If naysayer's want to accuse NLY of dastardly deeds, why not simply not own shares and walk away.
We Now Have More Positive News
Last week the Mortgage Bankers Association released it's latest report on mortgage activity. Recent findings have shown an increase in new mortgages, which of course is a positive for Annaly, and also shows an unchanged level of re-finance activity. That finding is also a positive for NLY and other agency backed mREITs:
Mortgage applications increased 7.7 percent from one week earlier, according to data from the Mortgage Bankers Association's [MBA] Weekly Mortgage Applications Survey for the week ending March 22, 2013........The refinance share of mortgage activity remained unchanged at 75 percent of total applications.
What makes this particular report a bit more interesting is that for the first time in a long time, the Government initiated program, HARP, was clearly singled out within the report:
The refinance share of mortgage activity remained unchanged at 75 percent of total applications. The adjustable-rate mortgage [ARM] share of activity decreased to 5 percent of total applications. The HARP share of refinance applications decreased to 29 percent from 31 percent the prior week.
It has been debated as to whether this program has been a success, and I continue to contend that while some homeowners have benefited from this program, the overall number has had less of an impact on the pre-payment rates of the entire mREIT sector.
Now that there is further confirmation that the actual numbers are decreasing, it is my opinion that NLY has an even more stable mortgage environment to profit from, which in turn means an even better dividend environment for shareholders.
Less Re-Financing, Less Pre-Payments, More First Mortgage Activity
To me, that headline looks very encouraging for NLY profitability and even more importantly, for shareholder dividends. I might go as far as suggesting that we just might see a higher dividend in coming quarters. This quarter, NLY announced a dividend of $.45/share which is the first time in several quarters that the payment was not reduced.
When we take a look at the chart, we see stability in interest rates as well: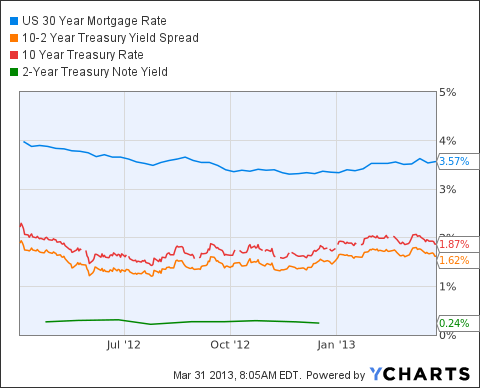 The fixed 30 year mortgage rate has come off of its bottom and appears to be inching up. That is in the face of the Fed policy of spending $85 billion per month to purchase longer term Treasuries and mortgage backed securities.
I contend that as stable an environment as we have right now, Annaly can use a bit more leverage with less risk, and increase profits in the next few quarters, at least. With the recent CreXus (NYSE:CXS) acquisition, NLY appears to be positioned for both top and bottom line growth ahead.
If the rumors of a Chimera (NYSE:CIM) acquisition also pans out, NLY will have even more arrows in its bow to fire off. That being said, I believe that even if this scenario does not occur, NLY is on solid footing until the Fed decides to reverse course.
Headwinds Remain The Same
Annaly is a dividend opportunity stock, and it requires more monitoring of various issues. Risks associated with the mREIT sector have remained the same since I began covering it.
The Federal Reserve policy of extremely low short term interest rates [ZIRP] will end at some point.
The Fed could stop buying longer term treasuries and MBS's which would take the lid off of longer term interest rates.
New, even more aggressive Government policies for existing homeowner re-financing, could increase the pre-payment rates.
A new wave of foreclosures could impact profitability in the sector.
A reversal of the housing market recovery could impact profits for the sector as well.
While these events and issues need to be watched, I believe that for the immediate future, a risk allocation of NLY stock, could benefit a dividend seeking investor's portfolio.
Disclaimer: The opinions of the author of this article is not intended to be a recommendation to either buy or sell any security. Please do your own research and due diligence prior to making any investment decision.
Disclosure: I am long NLY. I wrote this article myself, and it expresses my own opinions. I am not receiving compensation for it (other than from Seeking Alpha). I have no business relationship with any company whose stock is mentioned in this article.