The market is riding high. Investors are seeing all-time highs in the S&P 500 and Dow. Strong consumer confidence is coupled with continued earnings growth. So is it counter-intuitive to say that the correction is imminent and is nearer than ever?
The S&P 500 is currently trading at 1,571.80, up nearly 240 points - or 19.6% - since its November low of 1,343.35, and gaining ground on its all-time intraday highs. While significant, the run-up has been justified. As noted, companies are delivering strong earnings, and while Europe and China are still a poignant concern, the US markets have largely recovered from the mess of the past few years. Despite the thesis for continued long-term market strength, it seems recently that the weight of the world is standing on top of US equities; in order to break through these levels and continue in a long-term bullish pattern, we'll need to correct up to 5% to regain market sanity and give investors reason to put new money to work.
So the correction is coming, and it is coming this quarter. How do you make money during this correction? Look to these five names for profits during the downturn.
Buy Apple (NASDAQ:AAPL)

Apple has become a tired story. News outlets pump articles about the beleaguered stock. Is it going back to $700 or is it dead? Is the growth story over? Is there value in the shares?
It's right about now - when confidence and price are both low - that AAPL will provide the most security in a correction portfolio. Shares of AAPL are down nearly 40% since reaching highs of $705 in September. In addition to the reversal, shares of AAPL have become somewhat negatively-correlated to the performance of the broader indices with a volatility beta coefficient of 1.0. From a valuation perspective, AAPL trades at a staggeringly cheap 9.89x forward P/E multiple and despite negative sentiment about shrinking margins, the company still sees industry-leading EBITDA margins of nearly 36%.
Shares of the company have been decimated. A correction in the broader market to account for the recent bull run-up won't affect AAPL. In fact, it might be a catalyst to spark new money into the stock as a risk-on play. With over $100 billion in cash, you'll find safe haven in AAPL with any downturn in the market.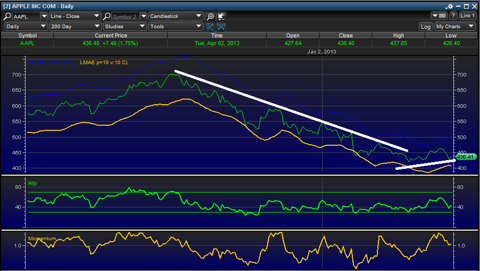 Buy Silver Wheaton (SLW)

Just as the market has rallied since early November, shares of Silver Wheaton have sold off. Since reaching recent highs of $41.30, shares of the company have given back 27.7% and are now trading under $30. It's no surprise that SLW has tanked during the rally; gold and silver stocks are down 23% on average during the past three months, and as one of the leading silver traders in the world, SLW has seen depressed prices caused by shrinking demand.
With any shift in overall market sentiment, investors will begin their flock into protection (gold and silver) and SLW will benefit greatly. It is an industry leader in profitability, with an outstanding operating margin of over 70%. Additionally, management has proven quite effective with a return on equity of over 20%. Given a 5% market correction, shares of SLW are poised to make a swift move back to the $36 level, a 20%+ premium to the stock's current trading level.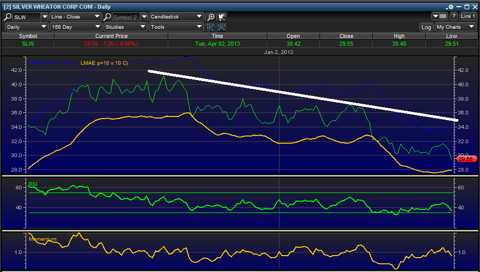 Buy the Volatility Index (NYSEARCA:VXX)

Pressure is mounting on the bulls to take profits in the gains that they have made over the past five months. One of the most appealing ways to profit from a coming correction could be an investment in the volatility index or VXX, an ETN that measures the investment community's desire to purchase "insurance" on its long positions. The VXX is currently trading at all-time lows. During Tuesday's (4/2/13), trading session it breached the $20 level and is currently trading at $19.76. If you're short-term bullish on the overall market, then the VXX is not an investment for you. But if you believe that, regardless of where the market will be a year from now, we'll soon see some profit-taking, then an investment in the volatility index could quickly yield you a 25% short-term return. Consider buying here under $20 for an attractive entry point, and in the coming days or weeks if the market continues to inch higher, build onto your position with a stop loss set at $18.50. That provides you with a 4-1 risk/reward scenario.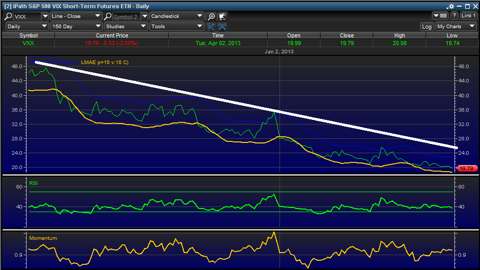 Short Home Depot (NYSE:HD)

I'm a long-term bull on Home Depot. I believe that this is the type of company that you want to have in your retirement portfolio. Management is extremely effective, valuation is fair, profitability is high, there's a consistently strong yield, and all of those factors are backed by continued future earnings growth. That's also exactly why I'll short the company when the bears break loose.
HD has led the Dow rally for some time now. Since the broader market rally began in November, shares of HD have surged 16% to current trading levels of $70.55. Look back further, though. Since August of 2011, shares of HD have more than doubled, up 147%. As noted, the rally has been founded on stellar fundamentals and a terrific recovery in the housing market and overall US economy. The rise has been precipitous, but grounded by substantial economic backing. Again, as noted, I look for this rally to continue long term, but the time has come now for investors to take profits in the investment that has yielded such terrific return over the past two years. Once any broader market correction is initiated, profit-taking will drive the stock lower to the $66 level. From a technical perspective, this stock has seen a long-term upward trend. It has bounced off the support level of this trend line seven times during the bullish run and a retreat back to $66 (6.5% pullback) will go hand-in-hand with a market correction.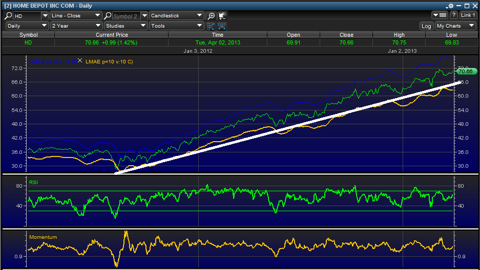 A Leveraged Short of the Financials (NYSEARCA:FAZ)

The most risky trade that I'll suggest to capitalize on any market correction will be to short the financial sector with a 3x leveraged bear ETF, FAZ. The reasoning behind the trade is that the financials have largely led the rally since November. The Financial Select Sector Fund (NYSEARCA:XLF) is up nearly 21% since November, outpacing the gains in the broader indices and helping to drive the market. It is my thesis that when the market gives back some of the gains that it has made over the past five months, the financials will lead the way. This will especially be the case if the market correction is catalyzed by uncertainty over the FOMC's desire to maintain quantitative easing.
By investing in FAZ, the investor is betting that the financial sector will have a bearish turn, and the leveraged nature of this particular ETF provides for far greater gains (and losses). Keep a tight stop loss on this investment, and I would recommend only initiating a buy once the market has turned and the correction is already underway. Trying to anticipate a turnaround with a leveraged ETF is very dangerous. Below is the chart for XLF, which shows the run-up in financials since November.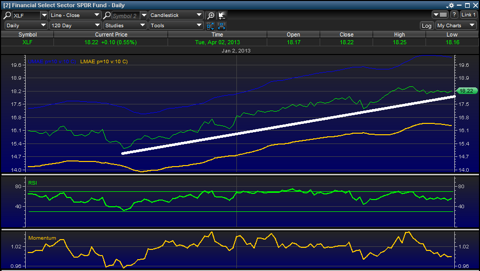 Disclosure: I am long VXX. I wrote this article myself, and it expresses my own opinions. I am not receiving compensation for it (other than from Seeking Alpha). I have no business relationship with any company whose stock is mentioned in this article.