The stock market hit and then furiously bounced off a low on March 9th. Since then it has shot up about 30% nearly uninterrupted. Hope abounds that we may be emerging from one of the worst economic disasters in 20+ years. By many measures the frantic chaos of the last year appears to be subsiding, particularly when looking at the resurgence of corporate earnings, stock prices, and declining value of the CBOE Volatility Index (VIX). Yet it is at times like these when it makes most sense to buy insurance, and it just happens to be cheaper than it has been in a long time.
Housing collapsed, lots of people lost their jobs, banks folded, the investment banking industry as we knew it is dead, and the public Treasury has been used in ways rarely seen in U.S. history. Unless you've been locked up in a bomb shelter for the last year you know the story. Then on March 10th something strange happened - the market launched into a furious reversal, sending stocks up about 30%: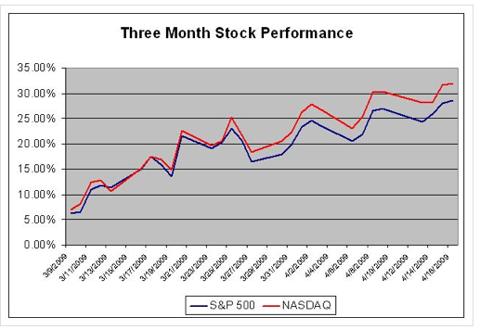 During the same period the VIX was down 32% (40% for the last 3 months):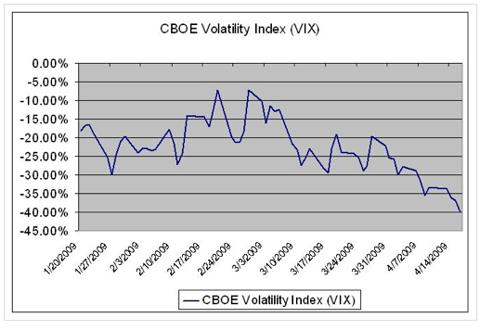 For those of you who track the VIX, you'll remember that on November 20th 2008 it reached a high of just over 80. Falling to its current level of just under 34 seems like a miracle compared to the psychology of doom that persisted just a few months ago.
Many investors, myself included, use VIX as a hedge on stock positions. When market volatility increases - usually when stocks are falling fast and fear dominates, the VIX moves higher. To protect your stock investments a reasonable strategy is to buy long VIX. Stocks gets slammed, the VIX goes higher.
Since 2001 the VIX has never made it far above 80, even during the dot-com crash and 9/11 tragedy. So when the index peaked at 80 in November it was probably not a good time to use it as a form of portfolio insurance. However, with the VIX back to within "normal" historical range, and even below the 200-day simple moving average of 44, we should once again be considering using the index as portfolio insurance.
Lock in your gains and protect your portfolio - greedy pigs get slaughtered. Recall the Latin proverb by Vegetius: "Si vis pacem, para bellum."
Disclosure: Long VIX, Short SPY, Long QQQQ