Amira Nature Foods (ANFI) is a company based in India that processes, distributes, and sells Indian Basmati rice (a specialty variety of rice grown in India that is aged 6-12 months or longer). The company has been family owned and operated for nearly 100 years, and listed their shares through an initial public offering on the New York Stock Exchange on 10/10/2012.
Why did the company go public?
One question many potential investors have concerning ANFI, is why did a company that was family owned for almost a century go through with the IPO despite pricing at $10, well below the original initial expected price range of $13-15. In fact, this was the first question asked at ANFI's two most recent announced investor presentations. The company's response normally includes an anecdote about attempting to acquire American Rice in Houston. They were the highest bidder, but Amira was unknown here, presumably costing them the acquisition. The company will also cite the capital needed to increase their capacity. A close reading of the company's financial statements, however, reveals several concerning red flags, and points towards the IPO being an act of desperation rather than opportunity.
ANFI plans to use $52 million of the IPO proceeds to repay outstanding debt, and $25 million to partially fund the development of a new rice processing facility. The company currently estimates that the new facility will cost $64 million.
Before the IPO, ANFI had a large amount of debt. As of 6/30/2012, according to the IPO prospectus, ANFI had total debt of $143,582,760 (almost all of it short-term), cash of $3,646,864, and a total of only $12.3 million remaining available under the company's existing credit facilities. The company's debt had an average interest rate over 10%, and was personally guaranteed by the CEO. Total debt increased further to $166,043,742 as of 9/30/2012, (according to the company's Q2 earnings release). This is a disturbingly low amount of liquidity, especially before the start of the Basmati purchasing season, when the company's cash needs are highest.
Cash Burn:
ANFI has historically generated negative cash flow. One should take note that since the company uses IFRS accounting, interest payments are not included in cash from operations, but within cash flow from financing activities. This might make their operating cash flows appear higher to investors more familiar with GAAP accounting which includes interest expenses within cash from operations. At least one sell-side report fails to account for interest payments anywhere in their cash flow model for future periods. Below is a table outlining historic cash from operations and capital expenditures at ANFI adjusted to include interest expense.

Because of the working capital intensive nature of the business, any further growth by ANFI requires more inventory which should contribute to continued lackluster operating cash flows. The company is burning large amounts of cash before considering any kind of cap-ex spending. Over the last three fiscal years, ANFI has spent a minimal amount on cap ex (purchase of property, plant and equipment), averaging less than $3 million annually. However, ANFI plans to spend more than $60 million over the next two years to expand their capacity. This puts ANFI's stock price in a no-win situation. Either the company will disappoint on growth to generate operating cash flow, or they will need to go back to the markets to raise the cash they need to complete the cap-ex to support growth. Given the difficulty ANFI had raising capital in their IPO, and the small public float, any additional equity sales could quickly force the stock to revalue more in line with their peers.
Rice Smuggling and Related Parties:
The company's balance sheet would have looked even more strained, had it not been for a highly unusual purchase of seized rice inventory by company insiders. On 5/15/2012, a shipment of 420,000 bags of white rice owned by Amira (with market value of $10 million) was seized by the Bureau of Customs in the Philippines. The company was accused of attempting to smuggle the rice into the country. Eventually the government sold the seized rice in an auction; however ANFI was still able to receive cash for their shipment, as according to the prospectus, the rice "was sold to a related party for $11,445,000 under an arrangement that effectively transferred all risks and rewards to the goods without any recourse". Without this cash infusion from company insiders, there may not have been an IPO, much less any kind of capacity expansion.
This $11.445 million sale to related parties was completed on 6/27/2012. Total ANFI sales to related parties for the last reported quarter prior to the IPO (quarter ending 6/30/2012) was $17.5 million. Total year over year sales growth for the three months ending 6/30/2012 was only $13 million, meaning ANFI would have shown negative revenue growth just before the IPO without these timely related party sales.
This is not the first time it appears that ANFI has run afoul of the law. Amira is currently prohibited from entering into transactions with public sector undertakings (PSUs) of the Department of Commerce in India, based on allegations that they misappropriated profits from shipping non-basmati rice under the guise of food-aid, during the period of time when India had banned exports of non-basmati rice with the exception of humanitarian aid shipments. More details on this are available in a series of stories written by Outlook India.
The notes of the company's prospectus and subsequent financial statements detail numerous additional ongoing financial relationships with related parties. One particularly troubling related party relationship worth detailing is with a company called Karam Enterprises. Karam Enterprises, according to their website, is the sole representative of Amira Foods for the Middle East (Amira's largest market outside of India) and some African countries. The contact phone number for Karam is 9714-235-1755 which is the same number Amira uses for their Dubai headquarters. The whois data for Karam's website also shows that Amira Foods is the registrant. Additionally, the managing director of Karam is Anil Chanana, who is the father of Karan Chanana, the current CEO of ANFI. According to the 2006 annual report, Anil had previously been the managing director of Amira prior to his son taking over, before resigning from Amira for personal reasons. Amira had been a 5% owner of Karam, with Anil owning 34%, and Karan owning 24%, but Amira appears to have sold their 5% Karam ownership stake in fiscal 2007. Additionally, as of 9/27/2012, Karam Industries, with Anil signing as representative, owned 1,113,134 shares of Amira India. This is a disturbing conflict of interest, and a nightmare for maintaining proper internal controls.
Valuation:
Another potential motivation for going public on the NYSE, is the shallow investor knowledge about the Basmati industry in America. Several analyst reports attempt to compare ANFI to branded organic food companies such as Hain Celestial Group (HAIN), or Annies (BNNY) to show how Amira is undervalued relative to the high earnings multiples that these companies trade at. These are poor comparisons, as Basmati rice is a commodity industry, with low barriers to entry. Additionally, there are already severally publicly traded Basmati rice companies in India with larger, more vertically integrated production capacity than Amira. Unfortunately for ANFI investors, the company's valuation is already far higher than their other publicly traded Basmati peers, despite possessing average margins, with lower brand value. Within India, Amira is considered a 2nd tier brand vs. some of the companies included in the comp valuation table below that are considered 1st tier.
Below is a table comparing ANFI's financials and valuation to other Indian Basmati companies (financial data in millions USD):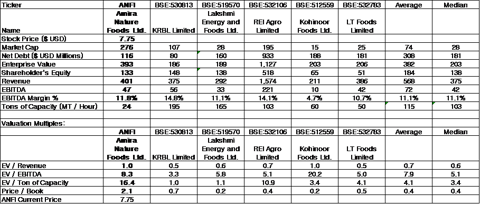 KRBL is likely the best comparison for ANFI, as they are considered the leading Basmati rice company in India. KRBL has total production capacity of 195 mt/hour, which is over 8x the capacity of Amira currently (24 mt/hour). In fact, this is still over 3x the capacity that ANFI plans to have by fiscal 2015 (after spending another $64 million). KRBL also has an extensive contract farming and seed development operation. In fact, 35% of basmati seeds in India are provided by KRBL, and KRBL sources 66% of their rice paddy requirements from their contract farms. These, combined with KRBL's India Gate brand strength, provide significant competitive advantages for the company.
Below is a table showing what ANFI's stock price would be at different comparable multiples. For the multiples that would imply a negative price for ANFI equity (target value would be less than the company's outstanding net debt) I've used 0.

As demonstrated by the above chart, by almost any metric, ANFI is incredibly overvalued at current prices.
Given their knowledge of the industry, and company valuations, it's possible that insiders could look to sell their shares. The lock-up restricting insiders (who own 70% of the outstanding shares) expires on April 8th. This is a significant risk considering the small public float, and the $11 million insiders put at risk to purchase rice from ANFI that was seized by authorities in the Philippines.
Disclosure: I am short ANFI. I wrote this article myself, and it expresses my own opinions. I am not receiving compensation for it. I have no business relationship with any company whose stock is mentioned in this article. This article reflects personal views and is provided for educational purposes only.