Vanguard Natural Resources (NYSE:VNR) is an upstream master limited partnership ("MLP"). Like many of its peers, Vanguard acquires developed and mature oil and gas properties, hedges most of the expected production, and distributes nearly all of the excess margin to its unitholders. Vanguard is unique among the upstream MLPs in that its distributions are paid on a monthly basis. An additional advantage that Vanguard has is that it does not have a General Partner and therefore does not pay incentive distribution rights. As of March 2013, Vanguard's monthly distribution was $0.2025 per unit. At current prices, Vanguard yields about 8.5%.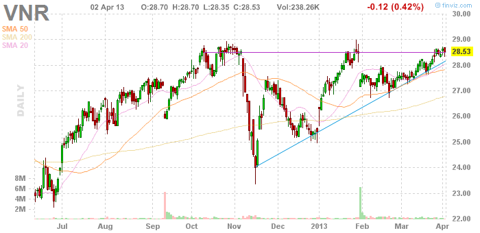 Vanguard has a geographically diverse asset base that is spread across the US. Vanguard has about 152 MMBOE of reserves, of which about 74% are proved developed. Vanguard's asset mix is about 60% gas and 40% liquids.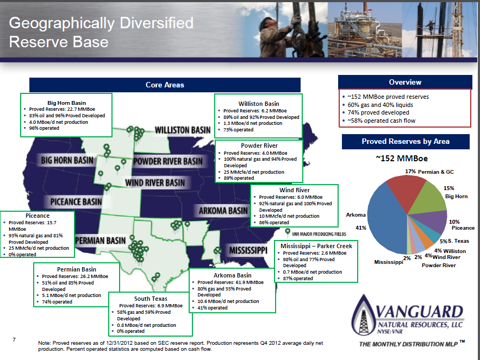 In order to secure its distributions, Vanguard needs to make sure than when it acquires properties, that it locks in the associated profit margin. Vanguard achieves this through the use of hedges. As of Q4 2012, Vanguard had 90% of its expected oil production and 85% of its expected natural gas production hedged through 2017.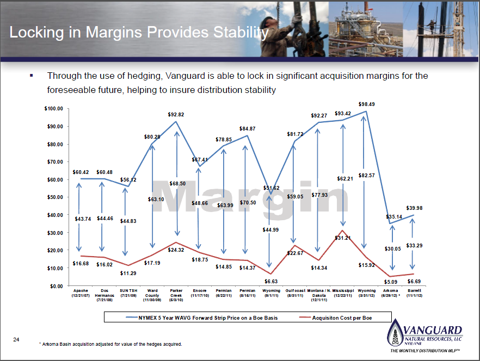 Vanguard has a few positive catalysts in store for it, these being higher natural gas prices and its accretive acquisition of properties in the Permian Basin.
Shift to Natural Gas
During 2012, Vanguard completed three acquisitions, for a total of $783M, that significantly increased its exposure to natural gas. Natural gas prices were at historic lows during the year, allowing Vanguard to buy these properties at fire-sale prices.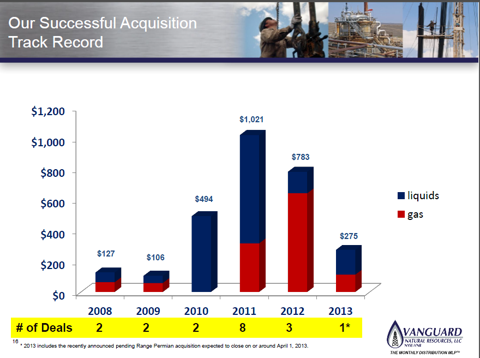 These acquisitions allowed Vanguard to heavily shift its reserves from about 34% natural gas in 2011, to about 60% natural gas in 2012.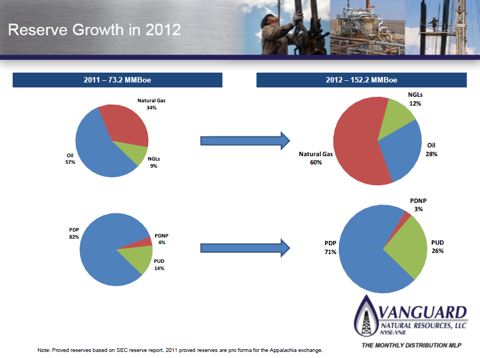 Vanguard stands to benefit from this shift in reserves, as the price for natural gas has rebounded in 2013. YTD, natural gas spot prices have increased 23% and have crossed above the $4 level for the first time in many months.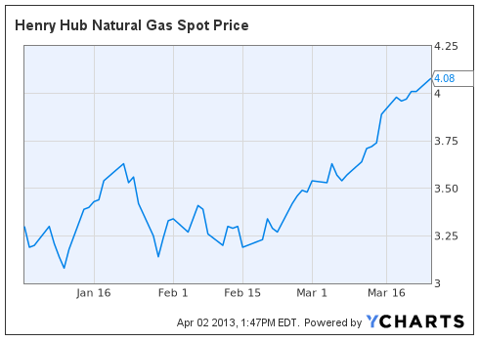 Permian Basin Acquisition
On April 1, 2013, Vanguard announced that it had closed it previously announced acquisition of natural gas, oil and natural gas liquids ("NGLs") assets in the Permian Basin from two subsidiaries of Range Resources Corporation. The properties have estimated proved reserves of 137 BCFE, current production of about 17 MMcfe/d, a reserve mix of 43% natural gas, 25% oil, and 32% NGLs, and are about 78% proved developed. The adjusted purchase price for these assets was $268.8M, and the effective date of the acquisition is January 1, 2013. Vanguard has already hedged most of the expected production from this acquisition and expects it to be immediately accretive to DCF.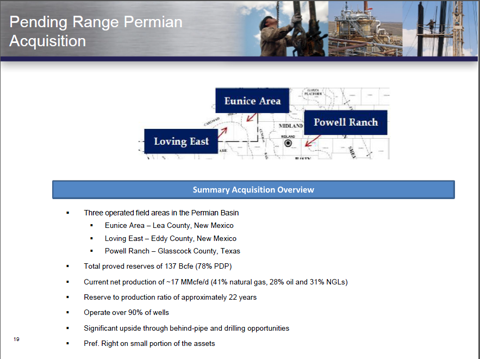 Conclusion
Due to its steady monthly income and smart acquisitions, Vanguard continues to be one of my favorite holdings. However, like all high-yield investments, Vanguard does carry some risk. In addition, Vanguard tends to modestly raise its distribution about every quarter and/or after a large accretive acquisition. It would not surprise me if in the coming months Vanguard announces a small increase to the distribution. In terms of risk/reward, I consider Vanguard to offer a fairly good return given the risk involved. I would however wait for a secondary before starting a position, since Vanguard is currently trading near its highs.
Source: Credit Argicole Conference Presentation
Disclaimer: The opinions in this article are for informational purposes only and should not be construed as a recommendation to buy or sell the stocks mentioned. Please do your own due diligence before making any investment decision.
Disclosure: I am long VNR, QRE. I wrote this article myself, and it expresses my own opinions. I am not receiving compensation for it (other than from Seeking Alpha). I have no business relationship with any company whose stock is mentioned in this article.