Tom Ward may be on his way out from Sandridge Energy (SD) and Aubrey McClendon is out from Cheseapeake Energy (CHK), both after battles with activist investors. Both CEOs were attacked by activist investors and in the press for high compensation and insider-deals that were not considered in the best interests of shareholders.
The case against Mr. Ward and Mr. McClendon has been made publicly and repeatedly. Their real problem ultimately may have been that they could not get traction for their stocks, and that they may not have been aggressive enough fast enough to support their flagging stock prices.
To start making the case for Ward and McClendon, it is important to provide some historical perspective, and to illustrate what happened to other, similar companies. Until 2008, natural gas prices had been rising for decades, albeit with tremendous volatility.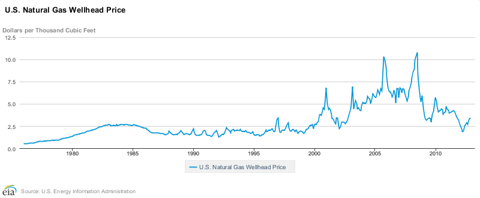 In mid 2008, natural gas prices peaked and started a series of crashes that led gas prices from a peak of $14/mcf to a low point of below $2/mcf. This collapse greatly diminished cash flows from producing natural gas fields, destroyed much of the value of undeveloped natural gas fields, and caused problems for levered natural gas producers, who had built their previously successful businesses on the assumption that natural gas prices would continue to rise over time.
Chesapeake and Sandridge were two such levered natural gas companies. Others included Companies such as GMX Resources (GMXR) and Petro-Hawk in the Haynesville, Delta Petroleum in the Piceance, EOG in the Barnett, and Ultra Petroleum (UPL) in the Pinedale. Delta Petroleum investors suffered the worst fate, with the company going bankrupt within a few years of the crash. And GMXR's investors are close behind, with the stock down over 95% and a recently announced "going concern" clause in the financial statements implying the company may not be solvent in the near future.
Ultra Petroleum did better but has muddled through the natural gas price collapse, holding on in hopes of better prices while reducing operating costs. And Petro-Hawk and EOG have done among the best - their discovery of the Eagle Ford shale bailed both companies out of massive natural gas bets, Petro-Hawk's in the Haynesville and EOG's in the Barnett and elsewhere. Floyd Wilson, the former CEO of Petro-Hawk, sold the company to BHP (BHP) in a highly valued transaction, and is already back again in the public markets with a new entity, Halcon (HK). And EOG (EOG) has thrived in the Bakken and Eagle Ford, transitioning into a primarily oil producer with an increasingly richly valued stock.
Ward and McClendon certainly did not do the worst, as they managed to stave off bankruptcy, but did not do the best, as they did not achieve richly valued stocks or sales of their companies at premium prices. This is particularly impressive for Ward, as ultimately the natural gas assets Sandridge held in 2008 have been written down to near zero! Had it not been for aggressive action, Sandridge may have been in the company of Delta and GMXR.
In the aftermath of the 2008-2009 natural gas price crash, both CEOs shifted their companies aggressively to oil production. Ward bought Arena Resources in 2010, leased two million acres in the Mississippi Lime oil play, and acquired Dynamic Offshore in 2012. McClendon leased millions of acres in the Mississippi Lime, Eagle Ford, Niobrara, Utica, and other oily or seemingly oily resource plays, and redirected capital at first hesitantly and then almost exclusively to those plays.
In addition to acquisitions, both CEOs brought in joint venture partners, to whom they sold portions of their properties at a large premium to the initial acquisition costs. McClendon in particular excelled at this, closing numerous multi-billion dollar deals at lofty acreage valuations, and using the proceeds to fund drilling oil wells. McClendon's joint venture and divestiture prowess was highlighted recently by Chesapeake's joint venture/sale of part of its Mississippian asset at a lower than expected price, which compares unfavorably to the sales McClendon closed while he was managing Chesapeake. Analysts went as far as saying it was a "half price deal", and compared to JVs at ~$10,000 per acre prices for non core Niobrara and Eagle Ford, the post-McClendon Mississippian deal certainly did look thinly priced. And Ward's deal prowess was illustrated through a Mississippian JV and the recent divestiture of Permian assets, which looks like a ~2x return for Sandridge over a 3 year period.
Both CEOs also issued royalty/drilling trusts, monetizing existing production and proved undeveloped reserves at premium valuations. Ward excelled at this, bringing in well over $1 billion net to Sandridge from several royalty trust deals, the biggest of which was Sandridge Royalty Trust II (SDR), which IPO'd at over a $1 billion valuation. These transactions created a lot of value for Sandridge and some value for Chesapeake.
Finally, and it is hard to over-emphasize this, the Mississippian play was a huge find for Sandridge and Chesapeake, and the Utica was a huge find for Chesapeake. Both companies have decades of high rate of return inventory, which represents substantial untapped value for their shareholders. Sandridge will almost double its production from the Mississippian this year, and Chesapeake will ramp its liquids production in the Utica dramatically, despite a limited capex budget. This is a far cry from bankrupt Delta Petroleum and potentially nearly bankrupt GMXR, albeit less impressive than Petro-Hawk's Eagle Ford discovery and subsequent sale, and EOG's discovery of the oily core of the Eagle Ford, and of Parshall field in the Bakken.
In short, Tom Ward and Aubrey McClendon may have been richly compensated, but they helped steer their companies in the right direction, overcame inertia to avoid bankruptcy in a falling commodity price environment, and positioned their companies to benefit from strong oil prices and built a base from which to potentially grow into richly valued companies in the future.
From an investment perspective, with lower executive compensation going forward and activists essentially running both Sandridge and Chesapeake, both seem like potentially interesting investments. Particularly as "ways to play" the Mississippian and Utica - SD for the Mississippian, and CHK for the Utica. I have exposure to the Mississippian via two other smaller companies - Austex (AOK AU or ATXDY.OB) and Petro-River (OTCPK:PTRC) - incidentally, Petro-River is one of the highest performing energy stocks of 2013, already up ~400% so far this year, and Austex may be following in its footsteps. However, small and relatively illiquid public companies may not be the best fit for every investor. For such investors, CHK and SD may be good ways to get exposure to the fruits of Tom Ward's and Aubrey McClendon's labors combined with the capital allocation expertise of TPG and Carl Icahn, respectively.
Another aspect of this argument is where Ward and McClendon have left their shareholders. While I do not think Sandridge or Chesapeake are the most undervalued or compelling E&P companies out there, they do seem to offer somewhat compelling value propositions, particularly compared to their peers. CHK trades at ~5x EV/EBITDA, and is liquidating assets to de-lever, while continuing to organically grow oil production. It offers investors a way to get exposure to recovering natural gas prices. It gives one of the most levered ways to get exposure to the Utica Shale, in what is widely considered to be the sweetest spot of the play, with some leases even more prospective than the land held by high-performing stocks like Gulfport (NASDAQ:GPOR). And it is a way to bet on Carl Icahn's abilities to create and realize value - and Ichan has quite the track record.
Sandrige trades at a low ~4x EV/EBITDA multiple and is growing oil and gas production organically after the sale of its Permian asset. It holds units in drilling trusts that could be sold for hundreds of millions of dollars in the future, potentially further de-levering the company and providing potential additional capital to fund production growth. The Mississippi Lime still offers compelling drilling economics, despite recent reductions in EURs and increases in gas cuts. It may not be the cheapest way to get exposure to the Mississippi Lime, but it is quite inexpensive. And while TPG's hedge fund is less well know, it manages over $50 billion and its private equity funds have created and realized tremendous value in portfolio companies for decades, famously turning around Continental Airlines in the 1990s and generating a 50%+ IRR on that investment. Sandridge represents an opportunity to co-invest with TPG and potentially benefit from that value creating and extraction expertise. And according to TPG (in a presentation on a website that has since been suspended), Sandridge is worth over $20 per share, versus the current $5/share price.
Disclosure: I am long OTCQX:ATXDY. I wrote this article myself, and it expresses my own opinions. I am not receiving compensation for it (other than from Seeking Alpha). I have no business relationship with any company whose stock is mentioned in this article.