As someone who covers a lot of short ideas on this site, one of the most important items I follow is short interest data. One must always be aware of the short interest in a stock. A large short base could spark a short squeeze on good news, while low short interest could spark a huge drop on bad news. Every couple of weeks, we get an update from Nasdaq on short interest data, and I report on what I am seeing. Today, I'm here to discuss the middle of March data, and here are five names that have seen some decent short covering recently.
Hewlett Packard (NYSE:HPQ):
The computer giant was on this list last time around, and we've seen another decline in short interest. As you can see in the chart below, the number of shares short in Hewlett Packard is now at its lowest point since the end of July 2012. Since my last update, more than 5.85 million shares short have been covered, and over 15.88 million have been covered in the past month alone. Since the end of November high, more than 47.8 million shares short have been covered, representing almost 45% of the total short (at the high point).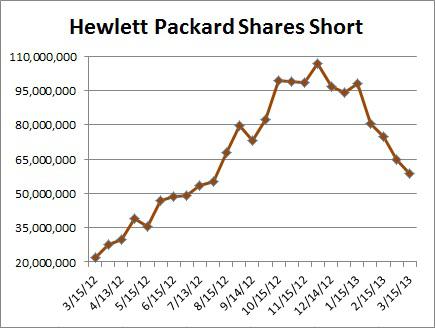 HP shares had been on a huge run lately, as results have not been terrible and as shown above, short sellers have been covering in droves. The stock more than doubled from its 52-week low of $11.35 to a high on Monday of $24.05. However, the rally has lost a lot of steam, mostly due to a Goldman downgrade to sell from neutral. Goldman believes that sentiment has moved ahead of reality, and the firm's $16 price target is well below the $23.31 the stock closed at Monday before the downgrade. On Tuesday, shares declined 5.19% to $22.10.
On the positive side, HP recently announced a dividend raise to $0.1452 cents per quarter, effective with their next dividend payment. The raise was slightly larger than expected, as most were looking for a 14 cent payout. As of Tuesday's close, the yield using the raised dividend will be 2.63%.
HP stock rallied during the second half of March, so it remains to be seen which way the short interest will go at the end of March update. The Goldman news won't be reflected in that data, but the dividend increase will be. My guess is that HP short interest declines a little more at the end of March update, before rising again when we get the middle of April numbers.
lululemon (NASDAQ:LULU):
The Canadian athletic apparel maker saw its first decline in short interest in a few months with the mid March update. The roughly 316,000 shares covered is not large when you're talking about a short number that was previously at 20.9 million. However, you're talking about short interest that had nearly doubled from the end of May 2012, when it stood at just 10.7 million. About one-seventh of the 144 million shares outstanding were short, but if you use the float number according to Yahoo!, 20% of the float is short.
You may have heard this company in the news lately, and I'm not just talking about the financial news. This company made headlines when it announced that there was a problem with its black luon pants. I discussed this issue and the latest quarterly earnings report in a recent article. While the pants problem is a short-term negative, I believe that the issue can be overcome and that this stock will eventually recover.
As for the short interest number we get at the next update, this one is a complete toss up. You could argue on one hand that the decline in the stock price from $70 to the low $60s will get the shorts to cover. I personally think this is more likely, given the short case isn't as strong at $63 as it was at say $75 to $80 a few months ago. On the other hand, you have those that will short the name on bad news. This camp believes that even with the company's reduced guidance, problems could still occur, and the company could lower guidance again.
Regeneron Pharmaceuticals (NASDAQ:REGN):
Regeneron isn't a name I've discussed in detail on this site, as I've only mentioned the name when it comes to short interest. As you can see in the chart below, short interest in the name hit a new yearly low at the mid March update. Since the high of 5.58 million shares short was reached in late November, nearly 31.2% of shares short have been covered. The short count stands at 3.84 million as of mid March.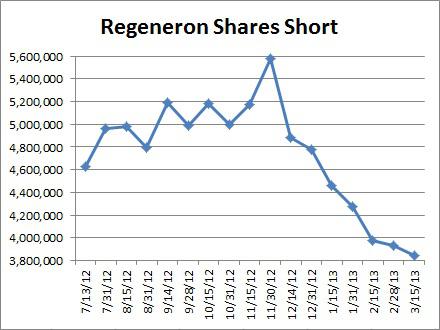 Like HP, Regeneron was on this list at the last update. The biotech firm is mostly know for Eylea, an eye treatment for wet age-related macular degeneration. Regeneron has been one of the market's biggest winners in recent times, rising from $40 to $185 over the past two years. Current analyst estimates call for 38% revenue growth this year to more than $1.9 billion, and another 21% growth in 2014. Regeneron shares are getting close to their 52-week high again, so it will be interesting to see at the next few updates if we finally see a rise in short interest.
VMware (NYSE:VMW):
VMware was on the last update for huge short covering. I mentioned in the last report that the company reported a mixed result at the end of January, but issued bad guidance. Shares fell more than 21% on the news. Short interest in VMware had spiked, but since the bad report, shorts have taken their profits, and in quite a substantial way.
As you can see in the chart below, short interest has continued lower. Another 312,000 shares plus were covered during the first two weeks of March. Since the middle of January high, more than 6 million shares have now been covered, representing 48% of the total. This is certainly a name where a lot of shorts took their profits.
VMware shares had made a decent rally during late February and early March. Shares hit a 52-week low of $70.05 on February 21st, but almost touched $86 on March 15th. Shares have come back down a bit since then, now standing around $78. We'll see if this late month decline had any impact on the short interest in the next week or two.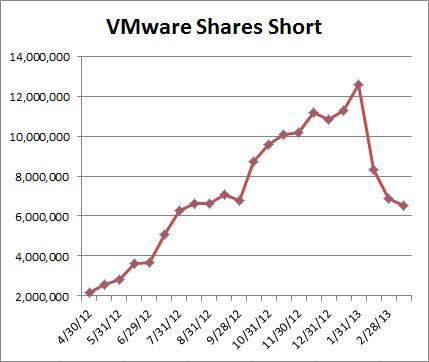 Sirius XM Radio (NASDAQ:SIRI):
Sirius makes this list because short interest in the name recently declined from a new yearly high. From the middle of August 2012 until the end of February 2013, short interest had risen from about 260 million shares to 414 million. That's a rise of nearly 60%. During the first two weeks of March, more than 14.2 million shares short were covered. While that's only 3.4% or so of the total, it's the first drop in a couple of months, for a name whose short interest just kept rising.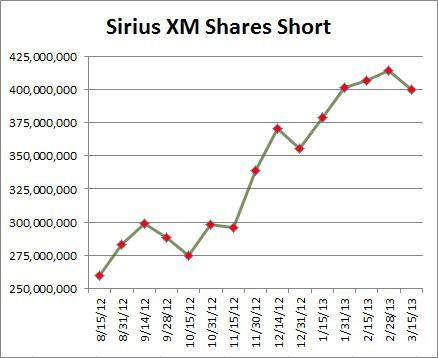 I don't follow Sirius on a daily basis, except for watching the short interest numbers every couple of weeks. I can tell you that the stock has rallied from its 52-week low of $1.78, now standing at $3.08, about 5% off the 52-week high. Also, current analyst estimates call for a nearly 12% rise in revenues this year, followed by another 10% next year. For those looking for more in-depth analysis of the name, I defer to fellow Seeking Alpha writer Stephen Faulkner, who writes extensively on this one. Here is his latest article.
Final Thoughts:
All five of these names have seen significant drops in short interest, either over the past update or the past few updates. Investors must always be aware of where short interest is in a stock, as it can help determine where a stock may trade in the future. I'll be back in a couple weeks with the next round of data, and we'll see if any of these names make the list again.
Disclosure: I have no positions in any stocks mentioned, and no plans to initiate any positions within the next 72 hours. I wrote this article myself, and it expresses my own opinions. I am not receiving compensation for it (other than from Seeking Alpha). I have no business relationship with any company whose stock is mentioned in this article.
Additional disclosure: Investors are always reminded that before making any investment, you should do your own proper due diligence on any name directly or indirectly mentioned in this article. Investors should also consider seeking advice from a broker or financial adviser before making any investment decisions. Any material in this article should be considered general information, and not relied on as a formal investment recommendation.