Shares of Nuance (NASDAQ:NUAN) were up some 5.7% Tuesday on news that Carl Icahn initiated a stake in the company. I recently wrote an article on investing alongside Carl Icahn through his master limited partnership which trades on the public market, Icahn Enterprises (NYSE:IEP).
On the very day the article was published, the press reported that Mr. Icahn took a 9.3% passive stake in Nuance. Investors should note, however, that while Mr. Icahn beneficially owns 9.3% of Nuance, the deal was consummated through fifteen different investment vehicles owned by Mr. Icahn. Based on my read of the Section 13G filing, Icahn Enterprises, the master limited partnership investable through the public markets, holds a 7.43% beneficial stake in Nuance.
Nuance appears to fit certain criteria in which Mr. Icahn invests, which include: (1) financial/balance sheet restructurings; (2) operation turnarounds; (3) strategic initiatives; and (4) corporate governance changes.
In February 2013, Nuance's equity price slumped 19% after it reported Q1 earnings due to missing analyst revenue targets, European macroeconomic concerns and muted expectations in the near term, even as Nuance reported it grew Q1 FY 2013 revenue and operating cash flow 29% and 37% year-over year, respectively.
Price:
Nuance is currently valued at about $6.8 billion, down from a peak of about $9.3 billion in early 2012.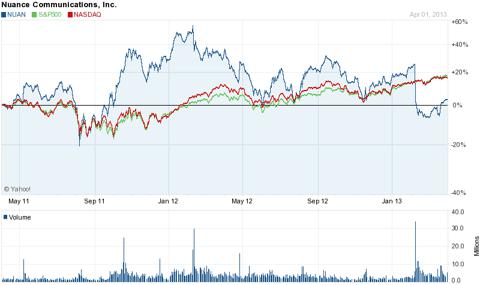 The company also is in a net debt position of about $1.4 billion, bringing the enterprise value to about $8.2 billion. At that price, does Nuance represent a bargain?
Nuance Business:
Nuance provides voice-recognition software solutions, primarily to two segments: (1) mobile and (2) healthcare.
I suspect Mr. Icahn sees great value in both, considering the markets should grow on the back of secular growth trends in each segment. And, considering that Nuance has lagged the market over the past year, Nuance appears like a classic, out-of-favor contrarian pick. In addition, I suspect investors also punished Nuance for its affiliation with the out-of-favor Apple (NASDAQ:AAPL), which utilizes Nuance technology for Siri. When one can say that a supplier of Apple was punished for its affiliation with Apple, both companies might be worth a look for value investors.
As it relates to the Nuance business, there appears to be significant value in the healthcare segment as the industry goes through an operational disruption. Revenues grew at a blistering pace, up 49.6% year-over-year. According to reports, Nuance has developed technology with the ability to extract discrete information from paper-based files and transcribe it to electronic medical records. One of the hallmarks of President Obama's Affordable Care Act includes reducing administrative cost and burden by shifting to electronic medical records, an area where Nuance is poised to add considerable value.
The mobile business will likely benefit from significant tail winds, thanks to its leading position in voice-recognition in the mobile market. Revenues in its mobile and consumer segment increased 20.4% year-over-year. It's also reported that Nuance is now attacking the $8 billion mobile ad market through its service called Voice Ads, presenting another opportunity for growth at Nuance.
Finally, Nuance reported $629.3 million and $183.1 million in US federal and state net operating loss (NOL) carryforwards as of September 30, 2012, respectively, both of which will offset future tax obligations. Part of those NOLs, however, relate to stock-based compensation previously expensed, and when that portion of the NOL balance is used, management will record it as additional paid-in capital when realized. Nuance also reported foreign net operating loss carryforwards of $420.4 million, of which it recorded a valuation allowance of $89.4 million. Management didn't apply a valuation allowance against the US portion. Therefore, it is more likely than not that it will benefit from the full value of the US NOLs. Collectively, the NOLs will allow Nuance to offset $1.14 billion in future income, saving the company some $343 million in future taxes (based on a 30% tax rate).
Conclusion:
Nuance is a very innovative company levered to growing markets. With the stock up some 5.7% after the news of Mr. Icahn's passive stake and up some 18.5% since hitting a low of $18/share in February, investors should proceed with caution. The market is clearly repricing Nuance, and with the recent rise in the share price, the equity value has increased accordingly, by about $1 billion since hitting its low. Another, more risk averse way to play Nuance, may be investing in Icahn Enterprises, which trades at a discount to its net asset value.
Mr. Icahn holds Nuance shares at better prices than investors can obtain today. I'd go with the smart money to get exposure to Nuance. And Mr. Icahn looks sagacious sporting his new, white beard. His recent trades are certainly acting as a confirmation of his investing wisdom.
Disclosure: I have no positions in any stocks mentioned, but may initiate a long position in IEP over the next 72 hours. I wrote this article myself, and it expresses my own opinions. I am not receiving compensation for it (other than from Seeking Alpha). I have no business relationship with any company whose stock is mentioned in this article.