There were a lot of jitters after the publication of several key Asian PMI indices. A rebound in the Far East would drive Western GDPs and equity earnings on the upside. The export channel of GDP may benefit from better-than-expected growth in Asia. But will it lead to an over-performance of Asian stocks?
Numbers out of Asia confirmed a pickup in manufacturing that was much more positive than February's dismal readings, reaching further above the contraction threshold than expected. From a regional standpoint, the link between my Asian PMI Index (an equally weighted index of China, India, South Korea, and Taiwan PMIs) and the MSCI Asia ex Japan index holds well. The relationship also holds for the GMF ETF.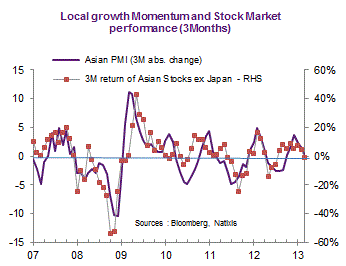 It also holds steady for the SPY (with a dreadful signal sent earlier this week with the ISM Manufacturing as can be seen below).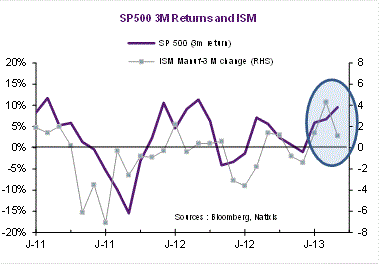 The question is whether we can draw any conclusions in terms of relative performance between Asian and US stock indexes. The answer is straightforward:
The link does exist and is robust;
There is some regularity in the cycle of under/over performances of both markets (4-6 months). Momentum is at play here; and
Turning points are robust and do not send any false signals.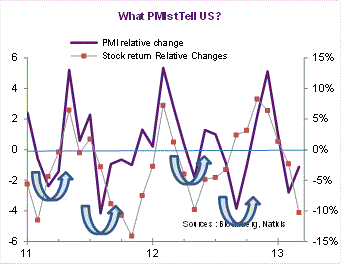 The link between the SPY/GMF relative performance and relative growth is back after, as can be seen below, the relationship took a hit during the crisis. As the risk/on - risk off logics fades, it is now time for economics-based relative performances.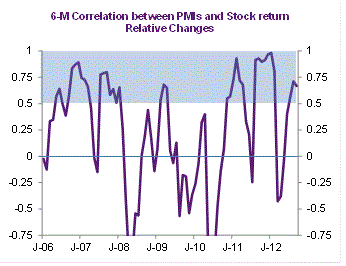 The level of under-performance of Asian stocks combined with the signal sent by relative PMIs would suggest being long GMF and short SPY for the next few months.
Disclosure: I have no positions in any stocks mentioned, and no plans to initiate any positions within the next 72 hours. I wrote this article myself, and it expresses my own opinions. I am not receiving compensation for it (other than from Seeking Alpha). I have no business relationship with any company whose stock is mentioned in this article.
Additional disclosure: GMF, SPY