Nuance (NASDAQ:NUAN) is widely known for its speech recognition technology that is at the heart of Apple's (NASDAQ:AAPL) beloved Siri. Although Nuance's mobile applications are only a part of its 1.4 billion dollar business, they are the lion's share of Nuance's claim to fame. Voice recognition makes the "Kirk to Enterprise" popularized by the first intergalactic mobile phone on Star Trek in the late 60's a coming reality. Many will use their voice to control their phones and all will find some use for voice activated features.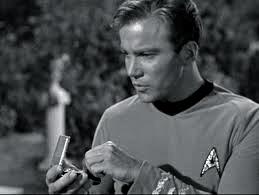 Nuance is the Dragon at the gate of voice technology with its acclaimed Dragon suite of apps: Dragon for Email, Dictation, Search, a Personal Assistant and the Commander Dragon Go. Nuance also owns Swype, which perplexed Apple iPhone users have been wanting for years. Apple blames security issues for refusing to allow Swype on its devices. If Apple owned the company, the security issues could be easily addressed.
Swype is available on all Android phones (NASDAQ:GOOG) and is standard on all the Samsung (OTC:SSNLF) S models. Swype makes texting easy, cool and fun. For people with large hands, texting on the S3 or S4 Samsung phones with Swype is a great experience while texting on the iPhone is just annoying. Voice technology along with Swype could make texting on the iPhone the best experience out there once again.
Icahn has purchased shares but does not intend to influence the direction of the company. This indicates he has confidence in current management and other investors should as well. Warburg Pincus, another investment group, reportedly owns 14 percent of Nuance. Clearly, Nuance is a company that Apple should buy to integrate the voice activation technologies into its suite of mobile devices. The only question is will Apple act to take the lead again in mobile technology or cede the crown to Samsung?
Nuance's price tag would be spare change for Apple's cash hoard. The 4,000 patents for voice technology, Dragon and Swype brands would pay for the purchase just by themselves. The integration of the technology into the reportedly coming larger iPhones would be seamless. Apple would own the patents and thereby force Samsung and others to license speech recognition technology from Apple.
That, in addition to the 1.4 billion dollars in sales, would add to Apple's top line. There is little downside for an Apple purchase. It would be nice to have the choice to give Siri another voice like Hal from 2001, Nomad from Star Trek or just mimic Star Trek's computer voice. This would be a feature people would enjoy and make the iPhone fun again. Even if Apple does not purchase Nuance, other buyers might see an opportunity to derail Siri and beef up their own phones.
Samsung seems like a natural choice because the company is committed to making smartphones that surpass or equal Apple. Microsoft (NASDAQ:MSFT) and BlackBerry (BBRY) have a great opportunity to keep their foot in the door and put a Dragon at the gate. By buying Nuance, either company would have leverage to become the third major player in the smartphone field. Google (GOOG) has a history of clever acquisitions that negatively impact Apple like buying Nik photographic filters which are the best filters for Apple's Aperture. Google has plenty of reasons to want to keep Apple from leapfrogging Android in the voice recognition technology. Overall, Nuance is in the mobile phone sweet spot and is trading far from its 31 dollar high last year. At 20 there appears to be a significant upside. In the case of a buyout, significant gains may be forthcoming.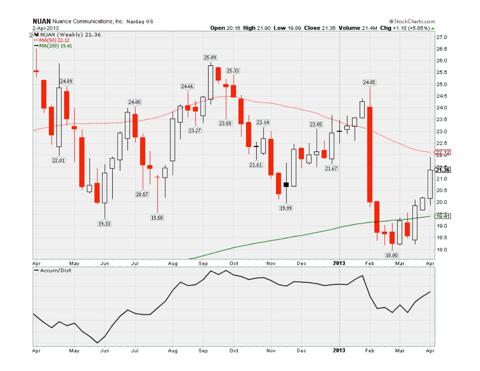 The simple weekly chart shows the stock is under accumulation. A way to hedge your bets for a small gain and limited loss is to consider selling at the money puts. The January 2014 put options are around 4. If the company is sold, the price is likely to be in the mid twenties or even thirty. This would make a good profit and if the stock sells off you would be buying it for $16 a share, which would put you in good company. At this price, Nuance deserves a serious look both as a long-term buy and as a speculative buyout.
Disclosure: I am long AAPL. I wrote this article myself, and it expresses my own opinions. I am not receiving compensation for it (other than from Seeking Alpha). I have no business relationship with any company whose stock is mentioned in this article.