During the fourth quarter, rates on 30-year residential mortgage loans leveled off and began to rise just as anticipated in A Critical Quarter for Mortgage REITs. The falling rates that generated impressive appreciation on portfolio securities now leave fund managers with tighter yield spreads to deal with going forward. This change in the financial environment will have different effects on the funds depending upon the strategies adopted by the fund managers.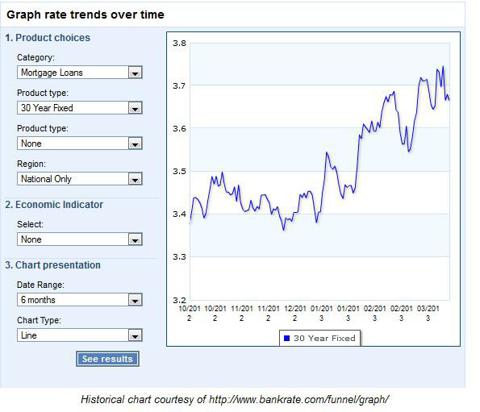 The mREITs
I compiled quarterly financial results for mREITs that fall into three categories. REITs that invest only in residential mortgages issued or guaranteed by a government agency: American Capital Agency (NASDAQ:AGNC), Armour Residential REIT (NYSE:ARR), CYS Investments (NYSE:CYS), Hatteras Financial Corp. (NYSE:HTS), and Annaly Capital Management (NYSE:NLY). Hybrid mREITs that invest in agency and non-agency residential mortgages: Apollo Residential Mortgage, Inc. (NYSE:AMTG), MFA Financial Inc. (NYSE:MFA), American Capital Mortgage (NASDAQ:MTGE), and Two Harbors Investment Corp. (NYSE:TWO). Diverse hybrid REITs that invest in agency and non-agency RMBS as well as CMBS, commercial properties, loans, asset-backed securities, and excess mortgage servicing rights: Dynex Capital, Inc. (NYSE:DX), Invesco Mortgage Capital Inc. (NYSE:IVR), AG Mortgage Investment Trust, Inc. (NYSE:MITT), Newcastle Investment Corp. (NCT), New York Mortgage Trust, Inc. (NASDAQ:NYMT), and Starwood Property Trust, Inc. (NYSE:STWD).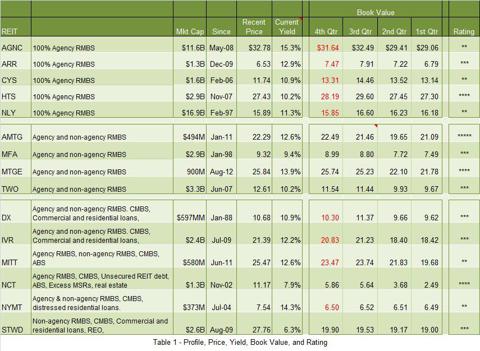 The share price and yield figures in Table 1 are as of March 30, 2013. Current yield ranges from 15.3% by AGNC down to 6.3% by STWD. Reviewing the quarter ending book value per share over the year, we see that in the fourth quarter many funds reported a drop (denoted in red), a significant change from the reliable quarterly increases in recent years. A decline in book value indicates that at least a portion of dividends paid during the quarter were a net return of capital; the REIT failed to earn enough during the quarter to fund the dividend and maintain share value. All of the agency-only funds reported a decline in book value in the fourth quarter, while all of the hybrid funds increased their book value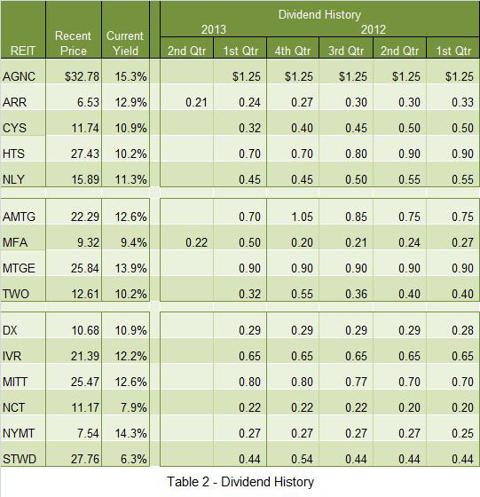 Only three of these funds - AMTG, TWO, and STWD - increased dividends in the fourth quarter while growing book value. Hybrid MTGE sustained its $0.90 dividend and increased book value for the quarter. AGNC, DX, IVR, NCT, and NYMT maintained their dividend but book value declined.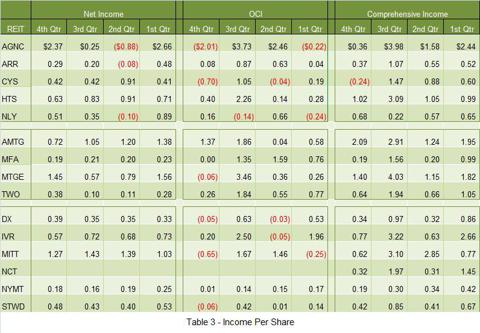 For agency-only and hybrid funds, net income is primarily yield spread income per share net of expenses. OCI is primarily unrealized portfolio and related hedge gains and losses. Comprehensive income is total income per share in accordance with GAAP - the bottom line. For the quarter, every fund except NLY reported reduced comprehensive income per share.
Last year, many funds enjoyed substantial portfolio appreciation as mortgage rates declined, a situation we do not expect to continue this year. Those funds that relied on OCI last year will have to find new ways to support dividends or reduce payout. Agency-only funds have limited options to earn higher yields, while hybrid and diversified funds have freedom to seek yield wherever managers can find opportunities in the developing economic recovery.
Discussion and Analysis
The Fed has not announced an end to the QE3 program to keep downward pressure on mortgage rates. It is committed to keep rates low, saying it expects to maintain a "highly accommodative stance" for a considerable time after the economic recovery strengthens, and extended through mid-2015 its commitment to maintain the target range for the federal funds rate at levels of 0% to 0.25%. We have seen a solid recovery in housing sector with sales and prices rising and inventory now down to pre-recession levels in some areas. These changes create new risks and opportunities for fund managers.
Agency-only funds face the risk that the cost of the funds they borrow to leverage shareholder capital will rise as the economy strengthens while at the same time the Fed maintains downward pressure on the yields of mortgage securities they must rely on to produce income. The strategy adopted by some managers to use preferred stock to leverage common shareholder capital mitigates this risk to some degree. As mortgage rates leveled off and began to rise, the funds cannot earn the unrealized gain on portfolio holdings reflected in OCI earlier in 2012. Looking ahead, we expect agency-only funds may experience unrealized losses as the value of mortgage securities falls in response to rising interest rates. This effect will challenge these funds to maintain dividends and book value. I recommend long-term investors in these funds who have large gains consider taking some of the gains and parking the proceeds in a safer place such as the preferred stock, which offers 7%+ yield that should be reliable and relatively worry-free.
The hybrid and diverse funds that have substantial holdings of subprime and distressed mortgages purchased at a discount to par will be the best performers as rates rise and the economy strengthens. As residential housing recovers, those discounted mortgages will be redeemed at par providing capital gains in addition to the premium yield spread.
Among the diverse REITs, NCT and STWD are making aggressive moves that adventurous investors may find interesting. NCT has announced it will shortly split into two funds, New Residential and Newcastle. New Residential will target investments in excess MSRs, non-agency RMBS, and other assets that generate 15% - 20% returns. Newcastle will focus on existing commercial real estate investments while investing opportunistically in senior housing, real estate debt, and other assets - target 15% - 20% returns. Excess mortgage servicing rights are an interesting investment opportunity that NCT is pursuing. Click Here to view the detailed presentation.
STWD announced early January the acquisition of LNR Property LLC and Auction.com. STWD expects the transaction to be accretive to earnings and cash flow in 2013 and 2014, resulting in enhanced dividend coverage for STWD shareholders. Investors are impressed and they have bid the price of STWD up sharply following the January 24 announcement. Interested investors can click Here to review the presentation.
Disclosure: I am long MTGE, NCT. I wrote this article myself, and it expresses my own opinions. I am not receiving compensation for it (other than from Seeking Alpha). I have no business relationship with any company whose stock is mentioned in this article.