I was excited about Tumi's (NYSE:TUMI) IPO in April 2012. For many years I traveled with a Tumi carry-on bag and it is the kind of company that I like to invest in. Unfortunately, the stock has been flat for most of its history as a public company. This is not surprising since private equity firm Doughty Hanson controlled the company and didn't want to leave much money on the table in the IPO process. Last week, Doughty Hanson and some Tumi executives sold shares through a $214 million secondary offering that priced at $21.10 per share (approximately 15% of the shares outstanding, before over-allotment). The deal put further pressure on Tumi's stock that was weak following Q4 earnings a few days earlier (the earnings were good, but analyst had high expectations). With the stock trading around the level of secondary offering I am bullish. I discuss my top five reasons in this article.
Share Price At Bottom End Of Range
Since last August, Tumi has been trading in a range of approximately $20 - $26 per share. With the share price drop following the secondary deal, Tumi is back near the bottom of the range, which has been a good buy point over the last few months.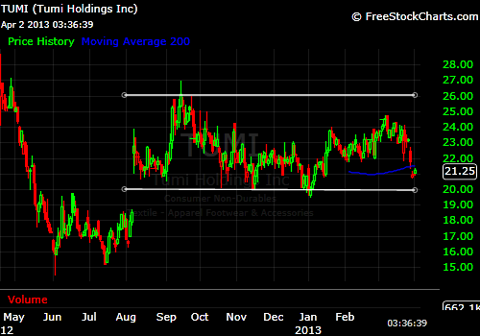 (Source: FreeStockCharts.com)
Valuation: Growth At A Reasonable Price (GARP)
Tumi seems like a GARP stock that is working off a high initial IPO valuation. The following chart shows the contraction in Tumi's forward P/E multiple since IPO and especially during the period that the stock has been rangebound.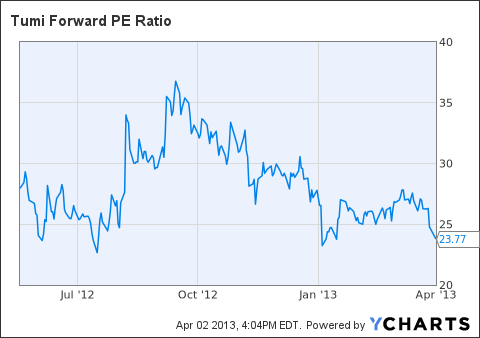 TUMI Forward PE Ratio data by YCharts
The best comp for Tumi is Samsonite (OTCPK:SMSOF). However, Samsonite is traded in Hong Kong, so I prefer to look at U.S.-listed companies Michael Kors (NYSE:KORS) and Coach (NYSE:COH). Although we think of Tumi as a luggage company, it is trying to become a lifestyle/accessories company. On the last conference call (here), the CEO said that less than half of revenue comes from travel-related items.
On a valuation basis, Tumi is sandwiched between Michael Kors and Coach.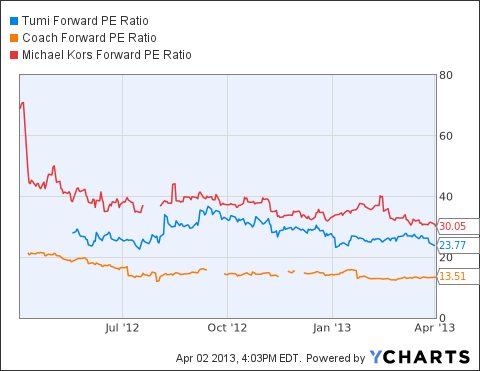 TUMI Forward PE Ratio data by YCharts
The following tables compare Tumi to Michael Kors and Coach and further make the case that Tumi's valuation is reasonable.
Tumi's upside going forward will likely come as earnings growth drives the stock price higher. There may be room for some multiples expansion, but that seems like a secondary factor.




(Note: USD in millions, except per share data, some numbers are rounded, please see financial statements for exact numbers. Source: Yahoo Finance, except short interest, which is from Nasdaq.com.)
Strong Growth Profile
Since I view Tumi as a GARP stock, I want to highlight some of its growth characteristics.
The following are Tumi's long-term growth targets: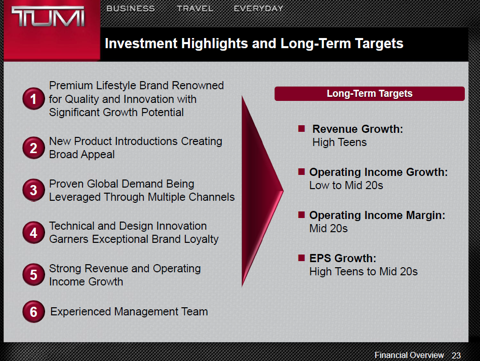 (Source: Tumi's presentation at ICR XChange, January 2013)
Tumi's 2012 results show a good growth profile, in-line with its long-term targets.
Net sales increased 20.8% to $398.6 million from $330.0 million in the year ended December 31, 2011.

Operating income increased 18.6% to $71.7 million from $60.4 million in 2011.

Diluted EPS of $0.58 per share compared to $0.32 per share in 2011

At the end of the fourth quarter, average net sales per square foot was $1,051 compared to $972 a square foot a year-ago (NOTE: company said on the earnings call that it is targeting $1,200 - $1,400 in the long run)
Management's 2013 guidance represents a continuation of the growth trajectory.
Net sales are expected to increase between 18% and 20%

Comparable store sales growth for the Direct-to-Consumer North America segment in the mid- to high-single digit range

Comparable store sales growth for the Direct-to-Consumer International segment in the mid-single digit range

Diluted EPS of $0.82 to $0.86 per share

8 to 16 store openings
Great Brand
Tumi has a great brand. It captured the leadership position in the high-end travel accessories market. At a conference in January, Tumi's management said that the company's target customer is the global top 1-2% (I am a customer, but don't count myself in that category).
Going forward, one of the opportunities for the company is to expand its brand into new categories.
Tumi could also be an acquisition target of a large luxury goods company. Tumi's market cap is only ~$1.5 billion, which is a manageable acquisition size even with a premium.
Even without a potential buyout, I like to invest in stocks with unique and leading brands and Tumi fits that bill.
Reduced Overhang
The Doughty Hanson stake has been an overhang for the stock. There was a secondary offering in November 2012 and now another one in March 2013. After the recent offering, Doughty Hanson's stake, including some co-investors, is at 27.5% (source: Tumi's prospectus). Prior to the offering, the stake was 42.2%. There still is an overhang, but it is now reduced.
Interestingly, the topic of share buybacks has come up on Tumi's earnings calls in questions from analysts, but management has not commented on buybacks yet.
Tumi has been reducing debt. It has a low debt level and may be able to use its cash for buybacks in the future.
Risks
There are still many risks regarding Tumi, including:
As a recent IPO its trading history is limited, so a broad market correction could put extra pressure on Tumi's stock price.

Its last earnings results were good but disappointed analysts, so it seems that analysts have not fully calibrated their models.

The luggage segment may have a limited market size and Tumi will need to extend the brand.

Although the valuation seems reasonable, it is not a cheap stock and there could be further multiple compression.

Tumi is focused on the global 1-2%, but there are still concerns about consumer spending.

Lots of competition, especially in accessories.

If the stock drops below the current range, it may come under additional pressure.
These are just some of the things that I am concerned about. Please see Tumi's SEC documents for its official risk factors.
Conclusions
The drop in Tumi's stock seems to present an opportunity. Tumi is now trading at the lower end of a multi-month range with a lower multiple. So far, Tumi has been executing well, but it has taken time for it to work off its IPO price/valuation. The stock isn't cheap, but I consider it a GARP stock. Tumi has a great brand and lots of opportunities for continued growth.
Disclosure: I am long TUMI. I wrote this article myself, and it expresses my own opinions. I am not receiving compensation for it (other than from Seeking Alpha). I have no business relationship with any company whose stock is mentioned in this article.
Additional disclosure: I may trade any of the securities mentioned in this article at any time, including in the next 72 hours.
Disclaimer: The opinions expressed above should not be construed as investment advice. This article is not tailored to specific investment objectives. Reliance on this information for the purpose of buying the securities to which this information relates may expose a person to significant risk. The information contained in this article is not intended to make any offer, inducement, invitation or commitment to purchase, subscribe to, provide or sell any securities, service or product or to provide any recommendations on which one should rely for financial, securities, investment or other advice or to take any decision. Readers are encouraged to seek individual advice from their personal, financial, legal and other advisers before making any investment or financial decisions or purchasing any financial, securities or investment related service or product.
Information provided, whether charts or any other statements regarding market, real estate or other financial information, is obtained from sources which we and our suppliers believe reliable, but we do not warrant or guarantee the timeliness or accuracy of this information. Nothing in this article should be interpreted to state or imply that past results are an indication of future performance.