It has not been a good couple of months for shareholders of Apple (NASDAQ:AAPL). Shares of the technology giant staged one of the most impressive rallies in history during the first eight or so months of 2012. Since then, we've seen an equally impressive drop. There are several items you could blame the fall on. Declining gross margins, no dividend increase, and growth concerns are just a few.
About a month ago, I correctly called a short-term bottom in Apple when the stock rose above a 2.5% annual dividend yield. Apple shares, which were close to a 52-week low of $419, started higher, and just missed hitting $470 on March 25th. Since then, the stock has come back down a bit, losing most of those gains.
Today, I'm here to explain why the recent weakness could continue for the short term. As we've seen multiple times in the past, I'm guessing that there will be some analyst estimate cuts heading into Apple's fiscal Q2 report, which is currently scheduled for the afternoon of April 23rd. Even though we've already seen estimates come way down, analysts seem to be worried about Apple's next product cycle. We didn't get a March iPad refresh as we've seen in the past, and rumors about new iPhones seem to be getting pushed back further and further. Today, I'll show where the numbers stand, and describe why I think Apple goes lower from here in the short term. That is, until we get more clarity on the company's product launch cycle.
First, let's start with fiscal Q2:
Apple has fallen quite a bit from the $511 level we saw going into the fiscal Q1 report. Apple guided to revenues in a range of $41 to $43 billion, which was a bit disappointing. Apple also said that they would be providing more realistic guidance going forward. Most are now expecting Apple's guidance to be fairly accurate, and not see quarters where Apple beats its own guidance (not analyst estimates) by 20%, 30%, or more.
I've already detailed that Apple's guidance has caused estimates to come down. That's not a surprise. However, it was already coming down even before the fiscal Q1 report. The following table shows the average analyst estimates for revenues and earnings since the start of this year. Yellow line is the day when Apple reported Q1.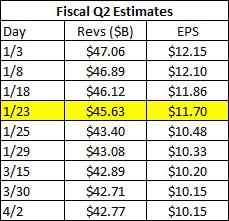 Now there's a slight rise in revenue estimates at the end there, but the overall trend is downward. Given no new product launches, I could see these numbers coming down further. Remember, Apple's midpoint was $42 billion and analysts are still above that. They might want to be closer to the midpoint until we see what "more realistic guidance" actually is. Don't forget, last year going into Q2 analysts got really negative. That caused the stock to pull back from a high of $644 to $560 going into earnings. Apple proved those doubters wrong, and the stock went on to that eventual $705 high.
The issue with this year is that there are actual reasons to downgrade the stock and cut estimates. Last year, it just seemed like analysts were cutting estimates just to cut estimates. Last year, analysts got nervous after iPhone activation numbers from AT&T (NYSE:T) and Verizon (NYSE:VZ) were weak. Analysts jumped on that one issue, which is why I was so critical of those analysts later on. This year, there are plenty of reasons to doubt Apple. I detailed some above, and discussed this in its entirety a few weeks ago. Yes, the iPad mini is a lower margin product. Yes, Apple had a huge product launch with many upfront costs. Also, the iPhone was launched a few weeks earlier and that moved the timeline up. To me, these are more concrete issues than last year's were, which is why we are getting so much negativity.
Trying to figure out fiscal Q3:
The bigger issue for me, and probably for most investors looking forward, will be Apple's guidance for fiscal Q3. So far, you've heard a wide range of rumors, from a new or cheaper iPhone coming in June, to an iPad or mini refresh sometime during the quarter. You've even heard rumors that nothing will be launched until calendar Q3 (fiscal Q4). To me, everything really is noise until we get something from Apple, like an event announcement.
I started tracking Apple's fiscal Q3 estimates in the middle of March, and the table below shows how they've trended.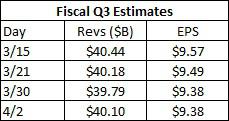 You see that there was a huge spike recently in Q3 revenue estimates. For now, those estimates will probably bounce around until we get actual guidance from Apple. Every analyst these days is basing their numbers on different rumors. Some may be pricing in certain items, while others are not. To show you how fluid these numbers are for now, the range for Apple's fiscal Q3 revenues amongst analysts is $35.49 billion to $48.93 billion. That is tremendously wide, and it will surely narrow after Apple reports Q2.
This is the part where I would worry. If Apple does not launch any new products during fiscal Q3, I think that current analyst estimates could be a bit optimistic, and that's why you might hear analysts saying that Q3 numbers need to come down. Why do I think numbers might be too high? Well, let's first look back at Q3 last year.
In Q3 last year, Apple sold more than 26 million iPhones. Remember what I said about the iPhone timeline being pushed up a couple of weeks? If Apple is going to launch a new iPhone in fiscal Q4, you might see one of those times where consumers wait for the new phone. That will hold back sales.
But my main worry here is with the iPad. In last year's fiscal Q3, Apple sold over 17 million iPads. A lot of that had to do with the fact that Apple refreshed the iPad in March 2012. A third generation model was released on March 16th, with further releases in April, May, and even July. There was no iPad launch this March, but now we have the iPad mini. Considering that Apple sold just under 23 million iPads in fiscal Q1 this year, I don't see how a 17 million figure is possible two quarters later, especially with no new releases. Additionally, the average selling price of those 17 million units sold in Q3 last year was $538. With the iPad mini now here, that average is headed lower. In fiscal Q1 this year, the average selling price was $467. That's a 15% drop in average selling price, meaning that Apple would need a large rise in unit sales to compensate. If the mini accounts for even more sales going forward, the number needed would be even higher.
It's possible that total iPad revenues for fiscal Q3 could be down $1 billion over the previous year period. That's why I'm a little worried, because current Q3 analyst estimates call for a $5 billion rise in Apple's fiscal Q3 revenues. Throw in some more declines in iPod revenues, and I don't see how a $40.1 billion quarter is possible. Again, I'm worried about fiscal Q3 and guidance until we get more clarity on the product cycle. My worries are based on no new products during the quarter. Should Apple actually come out with something new, the math would certainly change.
This is why I think we'll see some negative analyst notes before Apple reports Q2 in about three weeks. I think a number of analysts are going to cut their numbers going into the report, and that's why I'm worried shares could head back down. More on this in the next section.
Recent analyst comments:
I'm not going to cover every analyst note that's come out in the past month or two, because I've covered a lot of them in past articles. Today, I'll focus on some from the past couple of weeks. I can start by saying that I covered a few in a recent short interest article, discussing cuts by Pac Crest and Oppenheimer. Pac Crest's Andy Hargreaves cut his iPad forecast for Q3 from 18.5 million to 15 million. That's why I said above a $1 billion revenue decline is possible for the iPad. Selling 2 million less units, plus the lower average selling price would certainly impact Apple's growth plans.
There was also a pair of cuts just a few days prior to the ones I mentioned above. Canaccord cut its price target on Apple, and also stated they believe Apple will sell just 25 million iPhones in fiscal Q3. That would represent a year over year decline from the 26 plus million in last year's quarter, making it even harder for Apple to achieve $5 billion in revenue growth. BlueFin Research also cut their estimates, stating that Apple will need a low-cost iPhone to more accurately serve the market. Like the iPad mini was to the regular iPad, many analysts believe a low-cost iPhone will be significantly lower margin.
On Tuesday, we got a negative note from Goldman that had many scratching their heads. Goldman analysts removed Apple from their Conviction Buy list, taking their price target down from $660 to $575. Given that Apple currently trades for $430, you would think that a price target representing that much upside would remain on the list. Goldman cut their fiscal year estimates for this fiscal year and the following two fiscal years.
There are a number of mixed opinions when it comes to this Goldman move. First, we've seen Goldman be a contrarian indicator at times, meaning a negative note from them means it is time to buy. A number of months ago, Goldman analysts cut their price target on Intel (NASDAQ:INTC) to $16 when it was in the $19s. That almost marked the bottom in Intel's stock, which has rallied more than 10% off its low. Apple's stock was down a couple of bucks in the pre-market trade Tuesday on the Goldman cut, but then rallied, up more than $9 at one point. However, by the end of the day, Apple pulled back, and so did the market. Apple ended the day up almost $1.00, losing more than $8.00 from the day's high. Apple closed at $429.79, meaning the stock is down $40 from its recent high.
A rise in short interest:
I referenced a short interest article above, which talks about short interest in Apple starting to rise again. The chart below shows a history of Apple's short interest over the past 11 months. Apple short interest hit a high above 21.6 million shares in the middle of November 2012. That number came down a bit, with 17.7 million shares short in the middle of January.
However, over the past two months, Apple's short interest has risen by nearly 2.8 million shares, a rise of 15.8%. Of course, these 20 million shares short is a relatively small percentage of the nearly 940 million shares outstanding. However, Apple's short interest was just 8.1 million shares 11 months earlier. That means that short interest has risen more than 153% in just under a year. I wouldn't be surprised if short interest continues to rise as we get closer to Apple's earnings report, especially if we continue to see negative notes from analysts.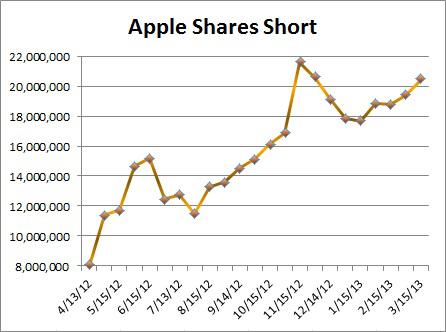 A psychological negative - current fiscal year estimates:
I talked about this in the past, and we've now hit the mark. The following table is a screenshot from the above linked Yahoo! Finance analyst estimate page for Apple, as of Tuesday.

Other than the large drop in fiscal Q2 earnings, which we already know will probably happen, do you see a key number? It's in the current year '13 numbers. The current analyst estimate is $44.12, below the fiscal year number achieved in the prior fiscal year of $44.15. Now anyone that regularly follows Apple knows the $44.15 number is misleading in a sense. Apple's prior fiscal year had an extra week in fiscal Q1, which made the fiscal year 53 weeks instead of the normal 52. This produced an estimated $0.99 of extra earnings, so the real number for the previous fiscal year is $43.16 on a 52-week basis.
However, for the average investor that is just taking a glance at this page, they might not realize this fact upfront. Someone who looks at this and doesn't know about the extra week might panic if they think Apple's earnings per share are declining this fiscal year. Additionally, the estimates for this fiscal year stood at $53.24 on 10/25/12 and $48.03 going into Apple's Q1 report. So this fiscal year's estimate has continued to come down, and if Apple analysts keep cutting numbers, it could go down even more. Currently, the $44.12 number represents just 2.22% earnings per share growth for Apple. That in itself is scarily low, but that growth figure could get lower or even become negative.
Valuations don't matter:
How many times do we hear someone say Apple is cheap because it trades at X, and then they give a number, whether it is Price to Earnings, or P/E excluding cash, etc. They then tell you a long story on why Apple should be worth so much more because every other name is. Yes, I used to do this sometimes in the past as well, but I've tried to get away from it as Apple continued to fall. Why do I say this? Well, look at the following table, which shows price to earnings valuations based on Tuesday's close and current 2013 calendar year analyst expectations. I've thrown in Microsoft (NASDAQ:MSFT), Cisco Systems, (NASDAQ:CSCO), and Google (NASDAQ:GOOG) to illustrate a point.

Does Apple look cheap to you? Sure, but it could get cheaper. Also, analysts don't always use GAAP estimates, as I've shown in the table. Some companies, like Google and Cisco, provide earnings per share on a GAAP and non-GAAP basis. For many technology companies, including these two, analysts provide non-GAAP estimates, and the non-GAAP numbers are often higher, as they don't include certain expenses. Thus, if you were to use GAAP numbers, those valuations could be even higher. Or, if you were to use non-GAAP numbers for Apple, Apple's valuation would be even lower.
The overall point I'm trying to make here is that valuations don't always matter. Just because a number is low doesn't mean it is cheap. If we were to value Apple like Amazon (NASDAQ:AMZN), which trades for nearly 178 times expected calendar year 2013 earnings, Apple would be worth like $7,800 a share. Sometimes, there are several other items to look at. For instance, Cisco just raised its dividend very nicely, and Apple hasn't announced any plans for a dividend raise. Google is growing a lot faster right now. There are often dozens of factors that make a valuation a valuation, so don't let any one person tell you that because Apple trades at X, it is cheap. You can't believe that everything in today's market is rational, and of course, Apple could always get cheaper, especially if more estimate cuts occur.
Final Thoughts / Recommendations:
Apple has certainly taken a beating over the last couple of months, and that beating could continue over worries about both fiscal Q2 and Q3. There has not been any definite news on product launches, which means current analyst estimates could be too high. A lack of product launches in calendar Q2 (fiscal Q3) could cause Apple to issue guidance below street estimates.
I'm going to classify this article as a short idea, on the basis that no new product launches would mean more estimate cuts, and I think that we'll see more of those cuts and downgrades going into Apple's report. Now, I don't want all of you Apple super bears to come back at me saying I'm calling for the death of Apple and a huge short position. That's not what I am saying, not at all. What I'm saying is that until Apple clears up the key issue of product launches, Apple analysts may be forced to continue cutting revenue/earnings estimates and price targets. That will continue to pressure the stock into Apple's earnings report. We've seen plenty of cuts into recent quarters, and it could happen again. Throw in the fact that the markets could pull back at any point, and Apple could also be hit there. But the main point here is that if we get more negative analyst notes every day or two into earnings, I would not be surprised if Apple hits a new 52-week low or tests $400 into earnings. Being that Apple closed Tuesday near $430, that means Apple is a short idea. That doesn't mean I am recommending everyone goes out and shorts Apple! If you agree that no product launches will be seen and more negative notes are coming, you may want to consider it though.
Disclosure: I have no positions in any stocks mentioned, and no plans to initiate any positions within the next 72 hours. I wrote this article myself, and it expresses my own opinions. I am not receiving compensation for it (other than from Seeking Alpha). I have no business relationship with any company whose stock is mentioned in this article.
Additional disclosure: Investors are always reminded that before making any investment, you should do your own proper due diligence on any name directly or indirectly mentioned in this article. Investors should also consider seeking advice from a broker or financial adviser before making any investment decisions. Any material in this article should be considered general information, and not relied on as a formal investment recommendation.