Bank of America (NYSE:BAC) shares have enjoyed a solid rally in 2013, even as challenges and significant downside risks remain. This stock was trading for about $9 in November, and it recently went to around $12.75. However, in the past few days it has started to pullback and I believe it may be heading down to re-test the $11 level. There are a few reasons why a pullback could happen in the coming weeks and $11 per share would be a far more attractive entry point when compared to the current $12 level. Let's take a look at the chart below and also consider a few reasons why Bank of America shares could offer a better entry point at $11: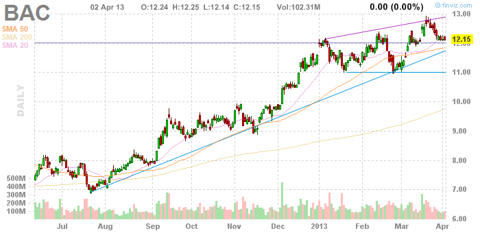 1) As the chart above shows, Bank of America shares have been in an uptrend for the past few months. This coincides with a major rally in the market indexes. For example, the S&P 500 Index (NYSEARCA:SPY) has rallied by about 9% in just the first three months of 2013. Many stocks are now extended well beyond the 50 and 200-day moving averages. That is a concern because buying stocks at the top end of the trading range can add risks and in a correction, stocks often trade back down to key support levels. For Bank of America, the 50-day moving average is $11.86 and the 200-day moving average is $9.77. Since it is currently more than 20% above the 200-day moving average, I think it makes sense to patiently wait for a pullback to at least $11 per share. This is almost right in between the 50 and 200-day averages, and the stock could have strong support at $11. As the light blue line in the chart indicates, BofA shares have short-term support at the $11 level.
2) As one recent article points out, Bank of America shares have been one of the riskiest Dow stocks for the past couple of years. While the worst-case scenarios have not played out, headline risks and litigation expense remain elevated. The article states:
The fact that Bank of America tops the list of riskiest Dow stocks should come as no surprise. B of A was one of the hardest-hit banks during the financial crisis, as its buyouts of Countrywide and Merrill Lynch greatly heightened the risks it had already taken in its own core banking operations. Even now, the bank has a leverage ratio of 9.3, which is more than many of its domestic traditional banking peers.
3) The U.S. Government needs to increase tax revenues and many officials are still supporting increased regulations and fees, especially for "too big to fail" banks. A recent vote in the Senate was approved 99-0 in favor of ending subsidies to big banks. Even the Federal Reserve seems to support surcharges for big banks. A recent CNBC article details these plans and it states:
When asked about how Washington would go about fixing banks that were "too big to fail," Bernanke responded: "One of the things that will be proposed and is not in effect yet will be surcharges on the largest banks, that is, the largest financial institutions will have to hold more capital as a percent of their risk-weighted assets than smaller banks do."
4) The crisis in Europe is dragging on and it is too early to believe that headline risks won't cause a correction in the United States. There is also risk in China since many investors believe that it could be in the midst of a real estate bubble that could burst. The U.S. housing market does seem to be having a solid Spring selling season, but the economy in general still suffers from high unemployment and the optimism over housing might be overdone. A number of events could push housing data back down. Rising interest rates could dampen buying activity, economic shocks from Europe, China, the Middle East, or now even North Korea could lower consumer confidence. Rising tax rates and recent government budget cuts could put downward pressure on economic activity in the coming weeks and months and cause investors to re-think the very optimistic views on the housing and stock market.
While Bank of America shares have longer-term upside, it seems that in the short-term, the stock may have run a bit ahead of the fundamentals. The markets in general are also extended and patient investors could be rewarded with much better buying opportunities in the near future.
Here are some key points for BAC:
Current share price: $12.20
The 52 week range is $6.72 to $12.94
Earnings estimates for 2013: $1
Earnings estimates for 2014: $1.30
Annual dividend: 4 cents per share which yields .3%
Data is sourced from Yahoo Finance. No guarantees or representations are made. Hawkinvest is not a registered investment advisor and does not provide specific investment advice. The information is for informational purposes only. You should always consult a financial advisor.
Disclosure: I have no positions in any stocks mentioned, and no plans to initiate any positions within the next 72 hours. I wrote this article myself, and it expresses my own opinions. I am not receiving compensation for it (other than from Seeking Alpha). I have no business relationship with any company whose stock is mentioned in this article.