Copper prices have recently hit a seven-month low on concerns that demand may be easing in China. Roughly 40% of global copper demand comes from China, and as such, news from China severely influences copper prices. LME copper warehouse stock levels have been rising since the 4th quarter of 2012. This is a sign of weak demand, although there are seasonal factors that surely contribute to the rise of the warehouse stocks.
Freeport-McMoRan (NYSE:FCX) gets 79% of its revenue from copper (company data here and below sourced from 10-K and recent 8-K Freeport-McMoRan reports), so copper prices have a significant effect on the company and on the performance of its stock. After nearly reaching $3.80 per pound in February 2013, copper prices fell below $3.40, losing more than 10%. FCX lost almost 10% too.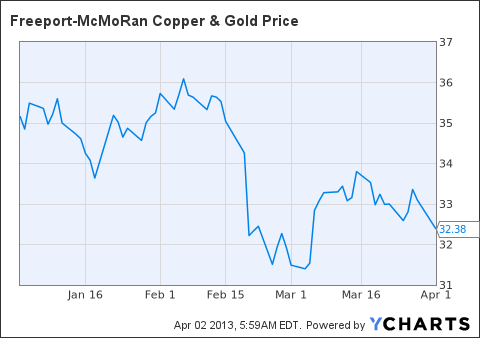 How dangerous could be the drop of copper prices to the company? Last year, Freeport-McMoRan sold copper at an average price of $3.60 per pound, which is more than 6% higher than current prices. Copper prices are volatile. Let's imagine that the company sells copper for an average price of $3.30 in 2013. Would it be disruptive?
FCX states that the impact of price changes in 2013 on operating cash flows would approximate $350 million for each $0.10 per pound change in the average price of copper. Site production and delivery costs per pound averaged $2.00 per pound in 2012. Due to lower copper prices in 2012, Freeport-McMoRan's operating margin fell but remained on comfortable levels.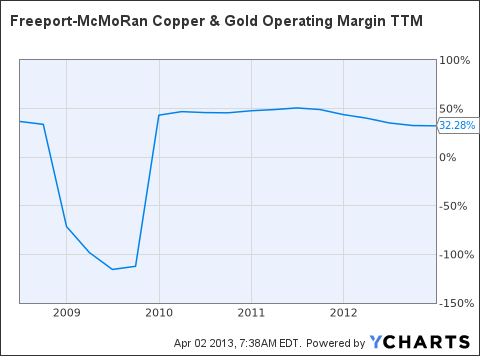 FCX Operating Margin TTM data by YCharts
A $0.30 drop in average copper prices for 2013 would mean a roughly $1050 million drop in revenue for the company. Total revenue for 2012 was $18010 million, so it would lead to a 5.8% drop in the revenue, if everything remains the same as in 2012. Of course, this "everything remains the same" is used here only for convenience, to represent that such a drop does not bring devastating consequences.
Why do I choose to speak about a $0.30 drop, and not $0.20 or $0.40? Do I predict such a drop? No, I do not. For prices to average a $3.30 per pound of copper, they have to go much past the $3.30 mark, and I do not believe this would happen. I think the demand for copper will pick up in the following quarters.
But what would happen if something shocking happens to copper prices? Does the company have enough cash? To answer this question, I would use 3 ratios that are seen as a gauge of a company's liquidity: cash ratio, quick ratio and current ratio. As you can see, all ratios stand above 1. This means that the company is able to fulfill short-term liabilities with its short-term assets.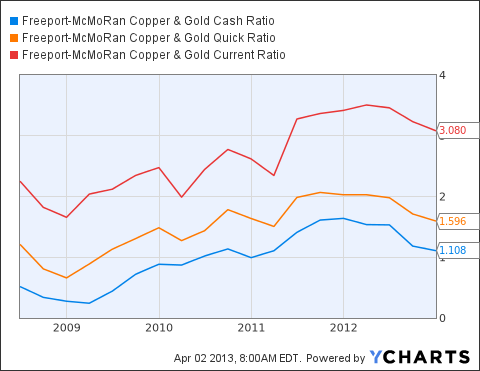 FCX Cash Ratio data by YCharts
I think that Freeport-McMoRan is a buy at current levels. You can expect a $1.25 per share dividend, which brings a 3.86% yield. The company is well positioned to profit from the growth of the world economy. Freeport-McMoRan can sustain lower copper prices. However, I think we will see higher copper prices in the second part of the year.
Disclosure: I have no positions in any stocks mentioned, but may initiate a long position in FCX over the next 72 hours. I wrote this article myself, and it expresses my own opinions. I am not receiving compensation for it (other than from Seeking Alpha). I have no business relationship with any company whose stock is mentioned in this article.