Alcoa (NYSE:AA) is a tale of two business: upstream and mid / downstream. The mid / downstream business has been doing well and achieved record results in 4Q 2012. However, the upstream business faces challenges from weak aluminum pricing. Alcoa's management said on company earnings calls that the price of aluminum is driven by macro events as opposed to normal supply / demand patterns. We know that Q1 was good from a macro perspective, so I wanted to check aluminum prices in advance of Alcoa's 1Q earnings on April 8.
In contrast with the performance in global stock markets, aluminum continued to be weak in Q1. In this article I will look at Alcoa's previous comments about aluminum pricing, the recent price action in aluminum as well as the implications for Alcoa's upcoming earnings report and stock price.
Alcoa's Perspective On Aluminum
Alcoa's 4Q 2012 earnings presentation included the following slide about LME aluminum prices: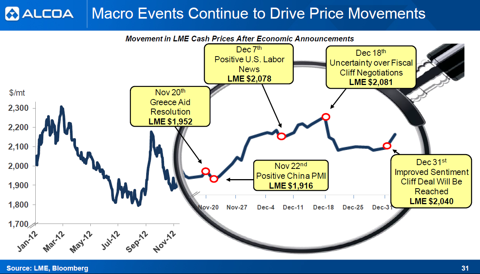 (Source: Alcoa's 4Q 2012 earnings presentation)
The slide clearly tries to link the price of aluminum to macro events. Furthermore, Alcoa's management said on the earnings call (here):
So this depicts basically the metal moves in the last year and then the magnifying glass shows a period in time which is basically last eight weeks in the last year. And what you see there is the macro events basically drives the momentum. There's a strong correlation of metal price movement of general economic news. So this is what you have to understand on the market side and this concludes the market segment. (Source: Seeking Alpha)
It is important to note that the LME aluminum price is not the sole factor in pricing. In the earnings presentation, Alcoa also showed the following slide about regional premiums: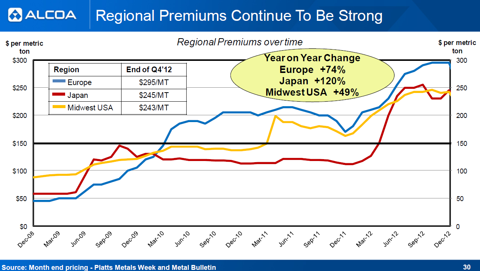 (Source: Alcoa's 4Q 2012 earnings presentation)
Nonetheless, the LME price accounts for the majority of the end-price and, according to Alcoa's management, the LME price had been impacted by macro events.
LME Aluminum Price in Q1 2013
The following chart shows the LME price over the last year, including Q1 2013: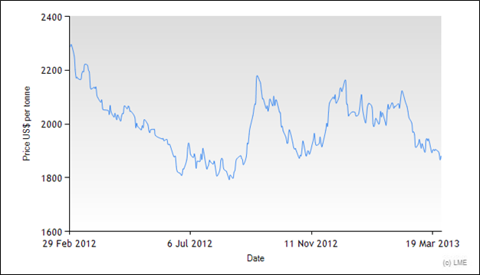 (Source: LME)
Clearly, the trend for Q1 has been down. But, over the same period, global equity markets were strong. Furthermore, macro events were a tailwind for Q1 following the Fiscal Cliff deal around New Years.
Question For Alcoa's Management
It will be interesting to hear Alcoa's comments about aluminum pricing on its upcoming earnings call. My question for Alcoa's management would be how they reconcile the price action in the LME price in Q1 with their previous comments.
More importantly, it seems that Alcoa had been using macro events as the driver for LME aluminum prices because they believed that prices should be higher considering the supply / demand situation. I wonder if their supply / demand outlook changed dramatically.
Other Metals
Aluminum is not the only metal experiencing weakness. The following comments by Alcoa's management seem to indicate that there is a connection between the LME price of aluminum and other metals for non-fundamental reasons:
"... In the LME price, we see that this is largely influenced by large-scale investors that based their decision mainly on economic news and are active of a lot of different commodity markets as well as in the very liquid aluminum markets." (Source: 4Q earnings call, Seeking Alpha)
The 1 year chart for the iPath Dow Jones UBS Copper ETN (NYSEARCA:JJC) that shows similar price action to the LME aluminum price: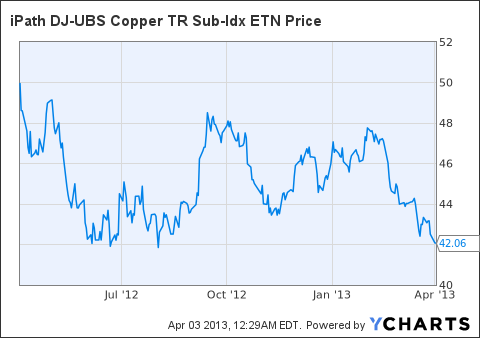 The price chart for LME nickel is similar: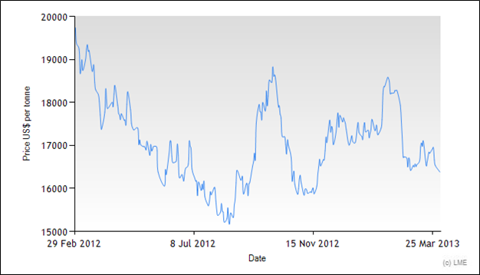 (Source: LME)
It could be that LME aluminum pricing is part of a broader weak metals trade due to weakness in China and/or elsewhere. However, there is a difference between global weakness in metals for fundamental reasons and correlations between metal prices because of investors trading on macro news.
The correlation between the LME aluminum price and other metals still raises questions about Alcoa's supply / demand assumptions.
Alcoa's Q1 Earnings Estimates
Together with LME aluminum pricing, Alcoa's earnings estimates have come down over Q1: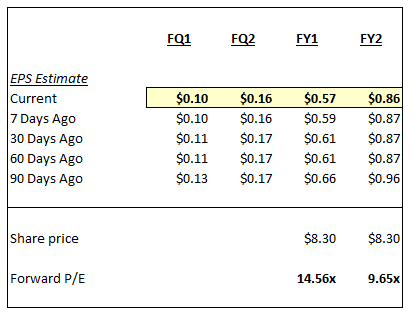 (Source: Yahoo Finance)
Key Stock Price Level
Alcoa's stock price has been weak for a while and is trading just above the $8 level, which has been key support.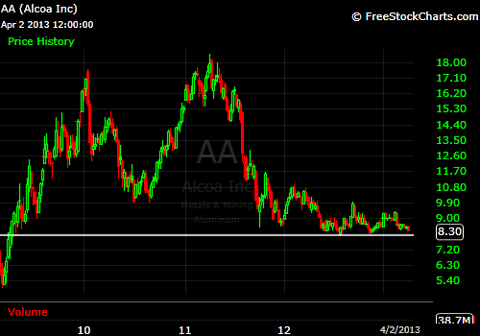 (Source: FreeStockCharts.com)
A longer term chart of LME aluminum shows the current price also just above a level of key support for the metal.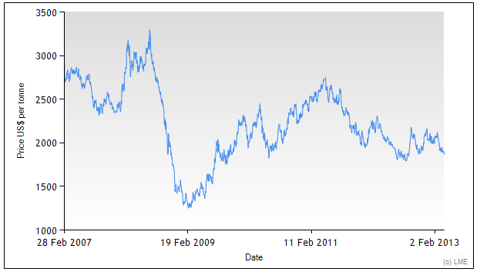 (Source: LME)
Both the price of aluminum and Alcoa's stock could be setting up for a big move, either rebounding off prior support or going down to multi-year lows.
Conclusions
The LME aluminum price was weak in Q1 in contrast with the positive macro environment for much of the quarter. Alcoa's management had linked the LME aluminum price to macro events, but that correlation seems no longer relevant. The price of aluminum may be part of broader weakness across metal markets. However, if that is true, I wonder what it means for Alcoa's supply / demand outlook. It will be interesting to see how Alcoa's management addresses these topics on the upcoming earnings call.
Disclosure: I have no positions in any stocks mentioned, and no plans to initiate any positions within the next 72 hours. I wrote this article myself, and it expresses my own opinions. I am not receiving compensation for it (other than from Seeking Alpha). I have no business relationship with any company whose stock is mentioned in this article.
Additional disclosure: I may trade any of the securities mentioned in this article at any time, including in the next 72 hours.
Disclaimer: The opinions expressed above should not be construed as investment advice. This article is not tailored to specific investment objectives. Reliance on this information for the purpose of buying the securities to which this information relates may expose a person to significant risk. The information contained in this article is not intended to make any offer, inducement, invitation or commitment to purchase, subscribe to, provide or sell any securities, service or product or to provide any recommendations on which one should rely for financial, securities, investment or other advice or to take any decision. Readers are encouraged to seek individual advice from their personal, financial, legal and other advisers before making any investment or financial decisions or purchasing any financial, securities or investment related service or product.
Information provided, whether charts or any other statements regarding market, real estate or other financial information, is obtained from sources which we and our suppliers believe reliable, but we do not warrant or guarantee the timeliness or accuracy of this information. Nothing in this article should be interpreted to state or imply that past results are an indication of future performance.
THERE ARE NO WARRANTIES EXPRESSED OR IMPLIED AS TO ACCURACY, TIMELINESS, COMPLETENESS, OR RESULTS OBTAINED FROM ANY INFORMATION IN THIS ARTICLE OR ANY LINKED WEBSITE.