Over the past two months, light sweet crude oil has made a significant recovery from its 52-week low of $39.72 on 2/18/2009. However, after a dramatic price appreciation of nearly 30%, how much longer can this rally be sustained?
In the past four weeks crude oil prices have been trading sideways and slightly down from the 2009 high of $54.34, and this trend will most likely continue through the first half of this year. Historically, oil prices have had a significantly higher likelihood of price appreciation in the fourth quarter of the year, beginning in October. This will most likely be the case in 2009 as well, as global demand isn't expected to recover until the second half of 2009, at the very earliest. Historical monthly data from 1976-2008 was used in the analysis to produce the following charts which depict the cyclical trends of the oil market. These charts support the case that we'll see stronger momentum during the last three months of the year.
The most notable trend over the past 32 years has been the average price appreciation in the fourth quarter versus the rest of the year. Oil prices gained an average of 6.00% in the fourth quarter, compared to 0.14%, 1.18%, and 0.66% in Q1, Q2, and Q3, respectively.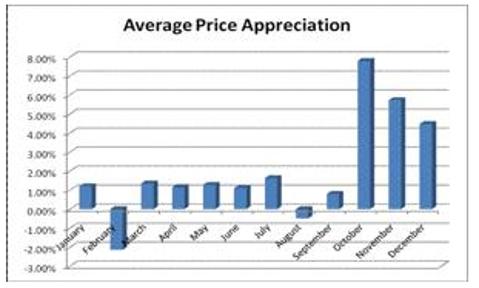 Although much less decisive data, the percentage of months that had positive price movement in the sample data is notably higher in the fourth quarter.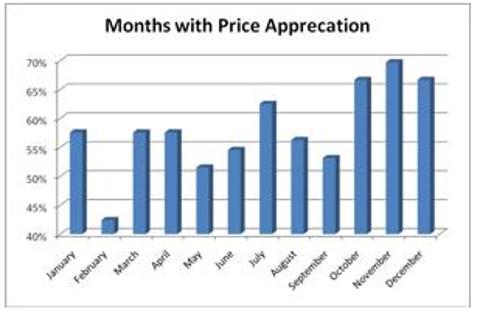 Historical Oil/Natural Gas Trends
Let me finish with some brief comments on the historical spread between oil and natural gas prices. The spot price of oil divided by the price of natural gas has had a historical mean of 12 since 1976, and a historical mean of 14.1 since 1930. This multiple has been on the decline as displayed in the below chart. The current multiple is 13.5, but the EIA is forecast (.pdf) of natural gas and oil prices would place the multiple at 5.5 in 2010.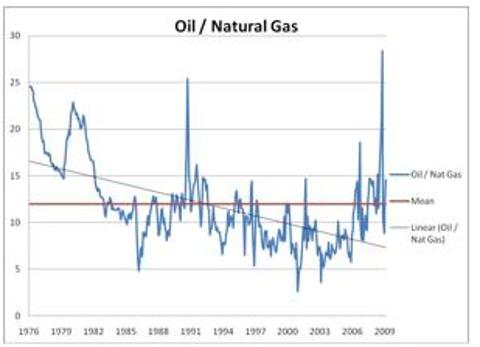 Disclosures: None