Investors might get to see US companies begin to acquire assets and beef up operations in order to boost profits and their growth rates. The latest rumor has two telecom giants teaming up to purchase Vodafone (more below) and this could be one of those events which signals the beginning of an economic expansion at higher rates than we have previously seen. It could also force Europe to finally become more efficient and allow more cross boarder mergers or else risk having all of their companies bought out or put out of business. That would certainly help in turning the union around, but we think the upfront pain of job losses would prevent any moves for the long-term benefit of everyone.
Chart of the Day:
Looking ahead to tomorrow, we would hope that there is not another surprise, for that might very well indicate the beginning of a trend...a trend that no one wants to see. As stated before, we expect the jobs market to get a bit choppy as the curve levels out but the good news is that we shall see more hires than those coming off of unemployment simply due to the large shadow number out there. That will surely be good for the economy and provide for an added boost.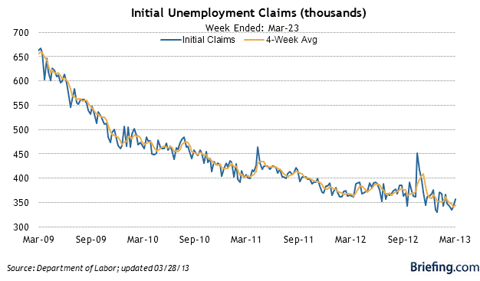 We have economic news due out today, and it is as follows:
MBA Mortgage Index (7:00 a.m. ET): N/A
ADP Employment Change (8:15 a.m. ET): 197k
ISM Services (10:00 a.m. ET): N/A
Crude Inventories (10:30 a.m. ET): N/A
Asian markets finished mixed today:
All Ordinaries -- down 0.51%
Shanghai Composite -- down 0.11%
Nikkei 225 -- up 2.99%
NZSE 50 -- up 0.03%
Seoul Composite -- down 0.15%
In Europe markets are lower this morning:
CAC 40 -- down 0.51%
DAX -- down 0.25%
FTSE 100 -- down 0.46%
OSE -- up 0.23%
Technology
The stealth bull move in Yahoo (YHOO) continues as the shares rose $0.28 (1.19%) yesterday to close at $23.78/share. We have highlighted this one numerous times over the past few months and would most certainly categorize this as one of those Chinese water torture stocks for the bears. It just grinds its way higher day after day and makes an appearance on the 52-week high list to little or no applause. A few more quarters of solid results and the story could change, with Yahoo once again becoming an internet darling.
Why has the rest of the market not caught on to this story? A huge move since September 2012...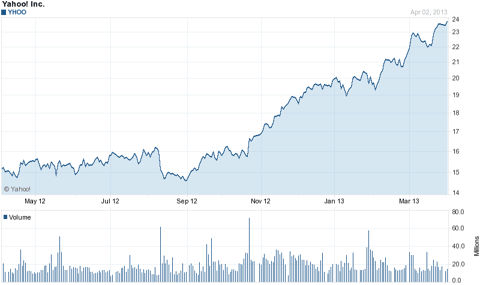 Chart courtesy of Yahoo Finance.
Telecom
It appears that our call for Vodafone (NASDAQ:VOD) would have been perfect, but we got too greedy a few weeks back. The Verizon rumors that sprung up gave the stock new life and yesterday just as everything had seemed to have calmed down a rumor popped up that Verizon and AT&T were considering a joint bid to acquire the company with Verizon taking control of the US assets and AT&T getting the international side of the business. It seems logical for all parties involved, and actually creates to different phone companies to choose from here in the US, a domestic carrier or an international player. It would also allow AT&T to focus on one of its core competencies, the business consumer.
Financial
Nasdaq OMX Group (NASDAQ:NDAQ) announced yesterday that it would acquire the eSpeed trading platform from BGC Partners (see news release here). It was great news for BGC shareholders, less so for Nasdaq's. Shares fell by $4.10/share (12.81%) to close at $27.91/share on volume of 11.4 million shares, well above average for the stock. The deal could be worth more than $1.1 billion when all is said and done and is yet another step being taken by the company in order to diversify its revenue streams. The market did not like the purchase of the Treasury trading platform at that price, but we will keep an open mind on the deal as there could be some considerable cost savings as well as co-branding opportunities for the combined entity.
Coal
Most of the attention in the coal sector has been on Cliffs Natural Resources as of late, however this week Walter Energy (NYSE:WLT) has drawn the ire of investors with shares getting slammed. Yesterday the downtrend continued with investors pushing the shares down another $2.09/share (7.96%) to close at $24.15/share. Volume was above average at 7.5 million shares as well. The entire coal complex is going to have to tighten the belt further and cut unprofitable production in order to survive. We could see things getting much uglier before they get better and with the way things are looking we could see a double dip for equity prices in the industry, at least among the players with the razor thin profit margins. We are no longer even trading these names as the risk of getting caught in a bear raid are too high.
Biotechnology
Breaking through $90/share resistance was the key for the 52-week highs as of late, but for the all-time high breakout, $80 was the resistance. Clear sailing ahead now?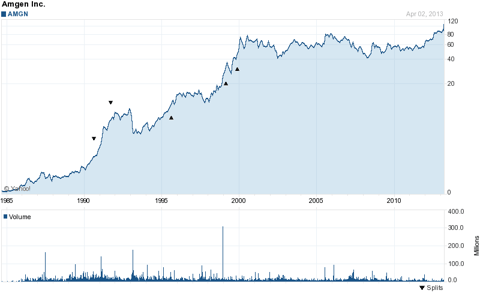 Chart courtesy of Yahoo Finance.
We have talked about our two favorite names in the industry in our daily updates often, but we noticed that the other 800 pound gorilla in the industry, Amgen (NASDAQ:AMGN), is also at 52-week and all-time highs. The companies with actual drugs, actual businesses, solid management teams, and healthy drug pipelines have turned out to fulfill many of the promises from a decade ago. These will be the next 'Big Pharma' companies and provide the steady growth for investors via share price, while 'Big Pharma' continues to mine the small biotechs for drugs of the future to continue their anemic growth and help fund their dividends. The landscape as we see it now supports this bull market a few years out and we think opens up the sector for some speculation. We like the big names as investments and trades, but we will be looking for some names to highlight in the coming months which would be good for speculative capital.
Disclosure: I have no positions in any stocks mentioned, and no plans to initiate any positions within the next 72 hours. I wrote this article myself, and it expresses my own opinions. I am not receiving compensation for it (other than from Seeking Alpha). I have no business relationship with any company whose stock is mentioned in this article.