With the specter of sequestration spending cuts weighing heavily on investors' minds, I have been surprised that defense stocks have shown modest strength this year given the risk this poses to top-line growth in the sector. Across-the-board reductions in spending authority leave practically no "wiggle room" for the Department of Defense to allocate funds to specific programs, which means the entire sector is at risk for reduced government funding. On top of that, it's obvious that we have entered a down-cycle in defense spending as the U.S. military presence in the Middle East is beginning to wind down following a huge surge in spending from 2001 through 2009.
With that said, I'd like to highlight one name I believe actually represents compelling value in the beleaguered sector - General Dynamics (NYSE:GD). For those unfamiliar with the story, GD is an aerospace and defense company that boasts a broad portfolio of products and services offered through four business groups - Aerospace, Combat Systems, Marine Systems, and Information Systems and Technology. It is the fourth largest military contractor in the world, and also one of the world's premier producers of private jets. The firm has over 92,000 employees globally and sports a market cap of $24.9 billion at today's levels.
No Love from Mr. Market
Last year, operating results were disappointing - earnings, margins, and free cash flow all declined due to difficult market conditions (Europe was cited in the company's Annual Report) and operational challenges, including weak results from a number of recently acquired units. The company posted a loss of $0.94 per share - however, this is largely a result of a one-time goodwill impairment charge in the Information Systems and Technology division. As Seeking Alpha readers are no doubt aware, Wall Street is near-sighted and has punished GD shares for the company's lackluster results. As you can see below, over the last year, shares have dramatically underperformed both the iShares U.S. Aerospace and Defense ETF (NYSEARCA:ITA) as well as the S&P 500 (NYSEARCA:SPY) .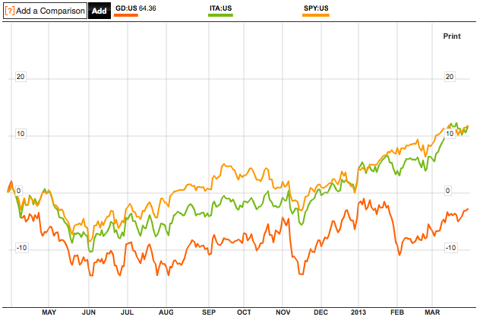 However, what's missing from this picture is the fact that, despite weak bottom-line performance, the company's core businesses actually posted fairly strong results in 2012. The Combat Systems and Marine Systems groups both had meaningful year-over-year gains in earnings. The Aerospace group, which includes business-jet industry leader Gulfstream, posted double digit sales and earnings growth following the launch of two new aircraft models - the G650 and G-280 - and the unit grew revenues by over $800 million.
If it Looks Like a Duck…
General Dynamics is typically grouped with "Pure Play" large cap defense stocks. Its P/E ratio of approximately 10X 2013 EPS is in line with the sector and represents a roughly 30% discount to the S&P 500's multiple. In my opinion this sector discount accurately reflects the market's fear of spending cuts affecting earnings of companies levered to military spending. However, according to its 2012 Annual Report, only two-thirds of the company's earnings are actually U.S. government related.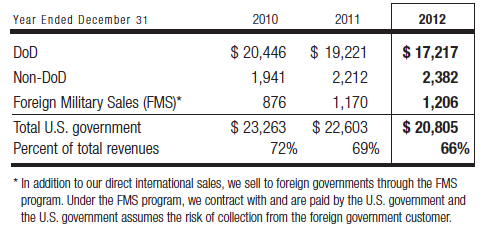 For comparative purposes, almost 90% of Northrop Grumman's (NYSE:NOC) earnings are government related - Lockheed Martin's (NYSE:LMT) are above 80%. With that being said, if the market is pricing defense stocks at a discount because of the belief that sequestration will put a drag on government-related revenues, I believe General Dynamics deserves a modest premium to its peers because the company offers a substantial growth component in its Aerospace division and a business mix less leveraged to the government's spending policy.
Like a G6
For those readers who are not billionaire corporate executives or rap-stars (to clarify, neither am I), let me emphasize that Gulfstream is the gold standard of private aviation. It is the second largest maker of private aircraft based on revenues, next to Bombardier. The company introduced the G650 aircraft model in 2008 and received FAA certification in 2012. This is important because the G650 stands to be a game-changer in the private aviation industry; it has set 6 city-pair speed records in 2013, most recently traveling from Melbourne to Abu Dhabi in slightly over 13 hours at an average speed of Mach 0.87. Its top speed of Mach 0.925 makes it the fastest civilian aircraft in service. The Aerospace unit's revenues were up over 15% in 2012 (earnings up almost 18%), and management is conservatively guiding for 2013 revenue growth of 16%.
And the Pitch is On Its Way
Great investors like Warren Buffett and Howard Marks have made a career out of identifying undervalued investment candidates (in fact, Berkshire Hathaway (NYSE:BRK.A) has a modest allocation to General Dynamics as of the time of this writing). These investments present themselves at times when a particular stock or industry is out of favor, as we are seeing today in defense names. While I don't see value in defense stocks per se, I think GD represents a compelling brew of solid fundamentals, weak short-term performance and an out of favor sector.
General Dynamics has been managed fairly conservatively; although the company has made some mistakes on recent acquisitions, the firm's capital has generally been allocated well over time. The firm has rewarded shareholders over the years, consistently raising its dividend (which currently provides a 3.2% yield) and is now maintaining an open authorization to repurchase 10 million shares on the open market. The balance sheet is well capitalized, with a modest debt load and healthy free cash flow from operations.
In short, I feel that the current valuation of General Dynamics is too low given the company's diverse business mix and the meaningful growth being achieved in the Aerospace division. I would assign a P/E multiple of 10X on Defense related earnings, and a conservative 14X multiple on the Aerospace/Gulfstream earnings, with the blended valuation of slightly above 11X EPS. That being said, using the Wall Street consensus of $7.13 for 2014 EPS, I believe shares could be worth $80 without a meaningful improvement in fundamentals.
Assuming the dividend is collected at $2.24 per share, I view the total return potential to be around 17.5% over the next year given the current stock price.
Pair Trades
Going back to my initial thoughts, I feel that other names in defense may represent a decent short. In particular, Huntington Ingalls Industries (NYSE:HII) seems to have gotten way ahead of itself, rising from $40 to $52 over the last 52 weeks and now trading at around 13.5X EPS. This defense name has effectively 100% of its earnings tied to U.S. government spending, and I believe it is one of the stocks most vulnerable to a sequester selloff. Respected hedge fund manager David Einhorn recently exited his position in HII, which suggests he may possibly believe the run is over too.
One possible idea would be to go long General Dynamics and short either the U.S. Aerospace and Defense ETF to hedge sector Beta, or possibly identify a name like Huntington you feel is overvalued to take a more speculative stance. Obviously there is greater risk in the second strategy but I feel there may be meaningful opportunity there as a relative value trade.
Disclosure: I have no positions in any stocks mentioned, and no plans to initiate any positions within the next 72 hours. I wrote this article myself, and it expresses my own opinions. I am not receiving compensation for it (other than from Seeking Alpha). I have no business relationship with any company whose stock is mentioned in this article.