Today, Monsanto (NYSE:MON) announced earnings per share of $2.74 for the 2nd quarter of 2013, up 22% from the second quarter of 2012. Expectations were high, the average estimated EPS was $2.58 from a range of $2.40 to $2.71. Fortunately for shareholders, this backs up the high flying stock that is up 10% YTD, 50% above its 52-week lows and with more upside in-store.
Highlights
2nd quarter sales up 15% to $5.47 billion, first half of 2013 sales up 17%.
Driving revenue growth is higher crop prices and demand for premium seed and agricultural products.
Revenue from seeds and genomics business (biggest input) grew 11% to $4.35 billion on increased corn seed sales.
Raised full-year earnings estimate by $0.10 to between $4.40 and $4.50.
Affirmed its guidance on free cash flows of between $1.5 and $2 billion. This should be seen as a win for shareholders, as Monsanto has a history of returning value in the form of dividends and share repurchases.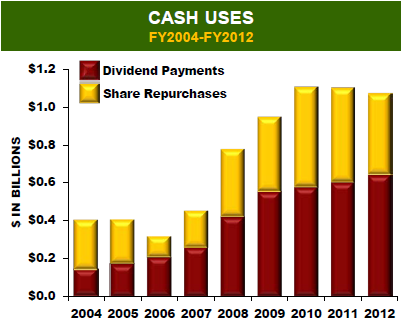 Here is a visual of past and projected EPS:
Another positive for Monsanto this last quarter was its settlement with DuPont (DD) in which DuPont agreed to pay $1.75 billion over 10 years to Monsanto for a settled licensing agreement.
Technicals
Per Morningstar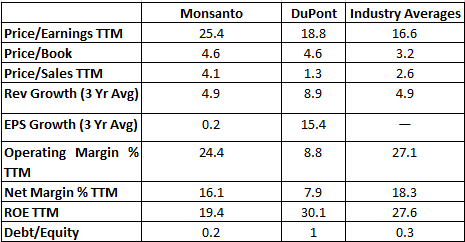 Bottom Line
Monsanto is trading at a premium based on book values and most other financial ratios, but the company has been delivering on higher expected earnings and sales performance. It's hard not to like this company's growth prospects as the demand for more efficient and higher yielding seeds is going to be more important moving forward. I personally am not an investor of Monsanto but would be interested in shares at a lower price.
Disclosure: I have no positions in any stocks mentioned, and no plans to initiate any positions within the next 72 hours. I wrote this article myself, and it expresses my own opinions. I am not receiving compensation for it (other than from Seeking Alpha). I have no business relationship with any company whose stock is mentioned in this article.