The stock price of Amgen (NASDAQ:AMGN) has advanced from $85 in January to $102 (as of March 28), a decent 20% increase in just three months. The question in an investor's mind is: Will this run continue? How much is AMGN really worth? In our recent article, we described four factors contributing to Amgen's increased value.
In this article, we perform a stock valuation for Amgen based on its 2012 annual report released in February 2013. From our projected income statement, AMGN's revenues could grow from $17.7 billion in 2013 to $19.6 billion in 2017, whereas the adjusted earnings per share (EPS) could increase from $7.08 to $10.52. Using our projected free cash flow numbers, we derived an estimated fair value for AMGN at $117. Thus, with the stock currently at $102, it is trading at a 13% discount of its intrinsic value. The stock currently has a 1.8% dividend yield. However, the company is committed to return 60% of adjusted net income to shareholders through dividend increases. Therefore, the stock could be appealing to both growth and income investors.
Revenues
(Financial data before 2012 are based on the Amgen's 2012 annual 10-K filing. The data from 2013 to 2017 are projections based on AMGN's historical data or revenue estimates.)
Amgen has launched several new drugs in the last few years, including Sensipar, Vectibix, Nplate, Prolia, and Xgeva. These new products will be key revenue drivers for the next decade. Accordingly, we assigned them high growth rates for the next five years.
Enbrel has 14.5% increased sales in 2012. However, it is unlikely the growth rate will maintain at such rate, so we assigned a 6% rate going forward. Neulasta and Neupogen combined sales have been steadily increasing at a baseline growth rate of 3%-3.5%. Aranesp and Epogen have experienced declining sales due to competition and upcoming patent expirations. We estimate that their sales will decline 15% and 8%, respectively, over the next five years.
AMGN's drug pipeline includes new drug candidates such as talimogene for melanoma, bradalumab (anti-IL17 receptor) for psoriasis, and trebananib for ovarian cancers. Other Phase III programs are expanding the existing products such as Xgeva, Prolia, and Vectibix for new indications. Since these drugs are still in Phase III clinical trials with significant development risks, we did not include their potential revenues in our projections.
Altogether, the estimated total revenues for AMGN are $17.7 billion, $18 billion, $18.5 billion, $19 billion, and $19.7 billion from 2013 to 2017. This suggests that AMGN's revenue compound annual growth rate (CAGR) is approximately 2.6%.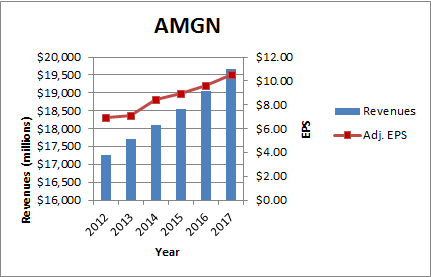 Other Income Statement Items
On the expense side, we used AMGN's historical gross margin and EBIT margin as a guide. Its cost of goods sold (COGS) and selling and general administration (SG&A) expenses were about 16% and 51% of net sales, respectively. We also assumed its effective tax rate to be 14.5% going forward, according to the company's guidelines.
Interest expenses were derived from our projected debt and interest schedules. Overall, AMGN's long-term debt balance will be around $25 billion, while short-term borrowing is estimated to be around $2 billion to $2.5 billion, just sufficient to cover its mandatory contractual obligations. The average interest rate for AMGN's debt is approximately 4.5%.
Our income statement projects earnings per share at $5.62 (2013), $6.91 (2014), $7.36 (2015), $7.87 (2016), and $8.70 (2017). AMGN's adjusted earnings estimates will be approximately $7.08 (2013), $8.45 (2014), $8.98 (2015), $9.59 (2016), and $10.52 (2017).
Cash Flows
AMGN's cash flows from operations (CFO) are estimated to be between $5.5 billion and $7.2 billion from 2013 to 2017. Capital expenditures are $930 million to $1.2 billion, representing an average of 17% of CFO. Our capital expenditure estimates are more conservative than the company's guideline for 2013 ($700 million). We reason that Amgen may need to increase investment for its biosimilar facilities and expansion into developing countries. After subtracting capital expenditures from its CFO, Amgen's free cash flows are in the range of $4.5 billion to $6 billion. The free cash flow numbers are used to derive AMGN intrinsic value (see below).
AMGN will pay $1.88 in dividends per share ($1.45 billion total) in 2013. Amgen's management has "committed to return 60% of adjusted net income to shareholders." Over the next few years, Amgen will "focus on growing the dividend meaningfully with more moderate share repurchases."
Since Amgen first started issuing dividends in 2011, it has increased dividends by 30% annually. In our projections, we assume that AMGN will increase its dividend by 20% and buy back $2 billion worth of common stock every year. The combined cash requirements will be $4 billion to $4.5 billion from 2013 to 2017, which can be comfortably funded by its free cash flow.
Summary of Financial Ratios and Growth Rates
Based on its previous three-year averages, AMGN's gross profit margin, earnings-before-Interest-and-tax (EBIT) margin, and net profit margin are 83%, 32%, and 24% respectively. Its average return on invested capital (ROIC), return on equity (ROE), and return on assets (ROA) are 13%, 22.8%, and 8.4%, respectively. These ratios suggest that AMGN has great operating efficiencies and its profitability based on return on investment is within the industry average.

Amgen's total debt will be around $24 billion to $26 billion. Over the next five years, AMGN will maintain a total debt to total capitalization at 61%. Its debt to shareholder equity is 139%, which is high compared to its peers. Its interest coverage ratios are in the range of 5x-6x. The company has higher debt than several pharmaceutical companies we covered, including Johnson & Johnson (NYSE:JNJ) and Pfizer (NYSE:PFE). This suggests Amgen has a weaker balance sheet due to higher debt ratio.

Overall Valuation
We utilized the discounted free cash flow model to derive AMGN's intrinsic equity value. Based on the free cash flow numbers from 2013 to 2017 and a long-term growth rate of 4.5%, the estimated per share stock value is ~$117. The fair value is greatly impacted by long-term growth rates. For instance, a 4.75% growth rate would elevate the fair value to $121, whereas a 4.25% growth rate would bring down the fair value to $113. We believe AMGN is capable of maintaining a 4.5% long-term growth rate, mostly attributed by its new drugs approved within last five years and the Enbrel profit share benefits to be recouped from Pfizer.


AMGN was trading at $102.51 as of March 28, 2013. This price represents a 14.5x multiple to the 2013 adjusted EPS. With a 1.8% dividend yield, a sustainable 4.5% growth rate, and management's commitment to increase dividend, AMGN is appealing to both income and growth investors for the long term.
Disclosure: I am long AMGN. I wrote this article myself, and it expresses my own opinions. I am not receiving compensation for it (other than from Seeking Alpha). I have no business relationship with any company whose stock is mentioned in this article.