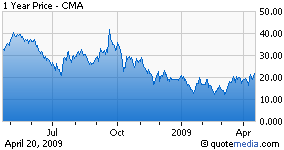 Comerica (NYSE:CMA) is expected to report Q1 earnings before the market open on Tuesday, April 21 with a conference call scheduled for 8:00 am ET.
Guidance
Analysts are looking for EPS of (9c) on revenue of $624.82M. The consensus range is (34c)-5c for EPS, and $588M-$657.40M for revenue, according to First Call. Bernstein last month called Comerica one of the better capitalized banks in the industry. The firm predicted that Comerica would continue to increase its capital ratios over the next two years.
Analyst Views
Bernstein reported that its stress test shows Comerica has a tangible book value of $24.75, versus its share price of $19.91 in mid-morning trading today. The firm maintained an Outperform rating and $25 target on the stock in March. Also last month, Goldman Sachs identified Comerica as one of several banks that it believes have the best chance of paying off the government's TARP investments. The firm, which predicts that Comerica will probably repay the government in 2010 rather than 2009, recommends that investors buy a basket of these banks' stocks. Investors may also be relatively optimistic about Comerica's results after Wells Fargo (NYSE:WFC), Goldman Sachs (NYSE:GS), and JPMorgan (NYSE:JPM) all announced better than expected results.