Fitch Ratings has issued a bleak prognosis for the recovery of corporate credit conditions. Even with positive economic growth from 2010, due to the time lag in achieving "trend" growth - the point at which recovery begins to manifest itself in corporates - the agency still does not forecast a return to more benign credit conditions for its corporate portfolio until mid-2011.
As a result, the current heavily negative bias to corporate rating actions represents a forward-looking assessment, rather than a reaction to current earnings reports.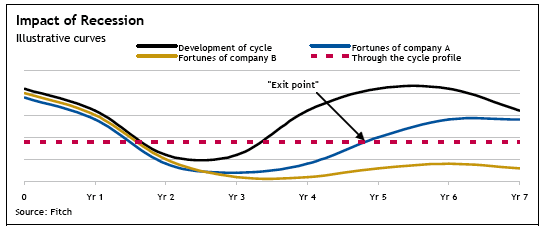 From a financial perspective, those issuers most exposed to downgrades will be those where economic conditions both generate a material increase in leverage (through gross debt increases or depletion of operating cash flow), and, also, where a rebound in future profitability will be unlikely to restore the financial profile within the foreseeable future, Fitch says. Also more at risk are sectors or companies where an individual business model or industry position is likely to exit the current recession in a materially impaired condition.
Typically, vulnerable companies are more likely to be in the manufacturing and media sectors.
Issuers where Fitch's forecasts indicate more financial resilience to the current economic stress include those where either current Fitch forecasts indicate profiles staying broadly within the tolerance bands for the current rating, or where a more material increase in leverage is offset by the potential for strong recovery as and when the economy recovers.
Typically, these companies are more likely to be in the energy, telecom and non-discretionary consumer product sectors, and services such as health care and education.
A final category of vulnerability relates to the most difficult area to forecast - liquidity. Fitch's report notes that the hurdle for 'access assumption' - the assumption that an issuer can generally access funds both on reasonable terms and with no material delay - rises in current conditions from investment grade to mid- to high-investment grade for many industries. Exceptions to this include defensive sectors such as major telecom companies and regulated utilities.
Thus far in 2009, liquidity pressure in western economies from the rationing of bank refinancing has been in part offset by surprisingly robust corporate access to both investment-grade bond and equity markets. Bond market funding has also typically been inexpensive on an all-in basis, with spreads at record highs offset by interest rates at or near record lows. Fitch, however, regards this level of access, notably for 'BBB' and lower rated entities, as vulnerable to further deterioration in sentiment.
For details see "Corporate Forecasts: Macro-Level Assumptions: April 2009 Update", which outlines Fitch's principal assumptions driving its internal forecasts for corporate performance in the next two years.