Chevron Corporation (NYSE:CVX) management told analysts during the release of its earnings guidance that 90% of projects, which will contribute to its production target, are either online or under construction. Approximately 99% of exploration projects will commence before 2017. CVX has already factored into guidance the major stock price swing catalysts like oil production output, Gorgon and Wheatstone capex outlook and cash flow management priorities.
Upstream Play
Earnings forecasts for growth projects currently underway are expected to further improve cash margins which are currently leading its peers. CVX had a net cash position of $9.7 billion at the end of 4Q12. It would be good for CVX to maintain large cash positions throughout the next several years of heavy capital spending, given the recent volatility of world oil prices. This company relies very minimally on debt to finance its operations; its debt to capital ratio is 8%. Under the company's current oil price outlook, net cash balances will naturally draw down with the increased level of capex spending.

Source: Company Report
The near-term overhang on CVX's stock includes the Ecuadorian lawsuit, a major Nigerian blow out, and a leak in Brazil. These events come as the industry quietly moves on from the Macondo disaster that put a massive shadow over Chevron's leading position in the deepwater Gulf of Mexico. None of these issues has been fully resolved, and while both Nigeria and Brazil seem to have quieted down, there remains a steady drip of negative headlines from both the plaintiffs and Chevron over the Ecuador lawsuit.
Chevron/Exxon Mobile Share Price Returns vs. S&P 500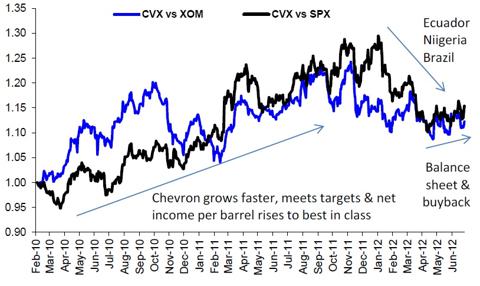 In 2012, CVX stock hit a 52-week low of $95.73 and 52-week high of $121.56. The stock has been showing support around $118.43 and resistance in the $122.43 price range. Technical indicators for the stock are bullish and S&P rated CVX a very positive 5 Stars (out of 5) with a Strong Buy rating.
Barclays currently gave a price target of $133 with an "Overweight" rating. The bank is confident that the stock could outperform other mega cap names in the near-term given its attractive valuation, higher oil leverage, strong exploratory performance and management's enhanced record in meeting their production guidance.
On the other hand, Goldman Sachs noted that the weaker downstream earnings were due to (1) the Richmond refinery fire; (2) weaker California gasoline marketing margins which were squeezed by higher crude oil prices; and (3) negative inventory and crude oil pricing effects. Post sell-off by investors, Chevron shares now exhibit an increasingly interesting 17% total return upside to an unchanged $128 six-month target price, with Goldman Sachs giving the stock a "Neutral" rating.
CVX Stock Price vs. S&P 500 Index with Barclays Target Prices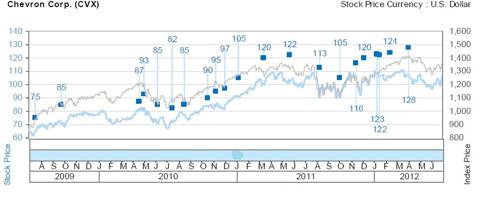 Source: Barclays Research Estimates
Dividend Growth
Chevron was able to grow its dividends within the last 3 years by an average rate of 9.7%. This is very impressive, given the high dividend amount that it is already paying its investors. In 2012, the annualized dividend amount was $3.51 per share. Chevron has a low average P/E ratio of 8.69X and a high profit margin, at 10.89%. Its huge pile of cash allows the company to distribute higher dividend amounts and still have a payout ratio based on a cash flow of 22.8%.
Comparative Dividend Yields vs. Buy Back Yields, 2013 Forecast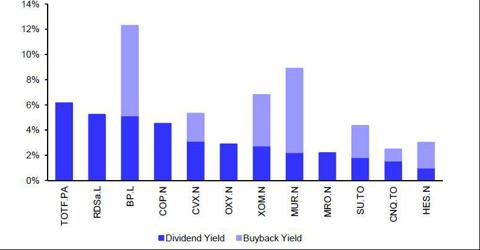 Source: Deutsche Bank
CVX currently trades at 6.6X, a discount compared to the U.S.-based major oil companies' average of 6.9X and Exxon Mobil (NYSE:XOM) at 8.3X. Oil production declines have impacted valuations in 2011 and 2012, as the company invests in its next wave of production. It prevented CVX shares from reaching fair relative valuation. Likewise, the cash-rich company is notably underweight in U.S. natural gas, as questions and investor fears persist over the company's appetite for M&A (mergers and acquisitions) to boost near-term growth and develop a portfolio within the shorter term.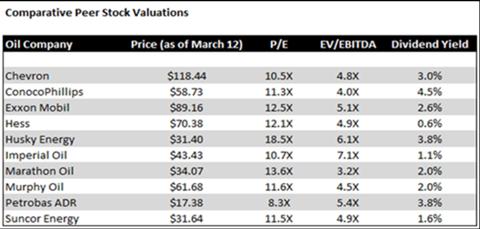 Source: Barclays
The company's major focus is the development of two vast LNG projects in Australia, the $37 billion Gorgon project and the $29 billion Wheatstone project. These projects will commercialize a higher proportion of the company's enormous Australian gas position, which thus far has been limited to production from minority-owned North West Shelf LNG. In the meantime, growth is muted in the very near term and capex levels are very high. Chevron is likely to lead in the supply of both natural gas and LNG in the Asia-Pacific belt if these projects materialize.
Start-Ups of Major Capital Projects, 2013-2017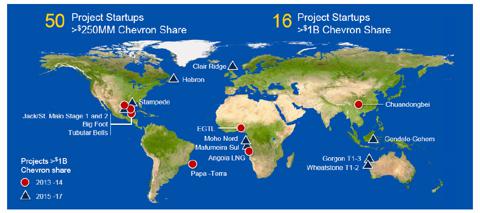 Source: Company Report
CVX and other major oil players could be an interesting play going into 2014 to 2015. The market begins to discount the shifting dynamic in the marketplace as well as CVX's improving production and capital efficiency outlook. The newly explored opportunities in North America, combined with a potential flat oil price environment over the next several years, could lead to a power shift between the oil-producing counties and the IOCs (international oil companies) in favor of the IOCs. This favorable development should ultimately lead to better returns and correspondingly, an expansion in the relative multiples.
Chevron vs. Exxon Mobile Relative P/E Multiples
(Based on analysts' consensus estimate)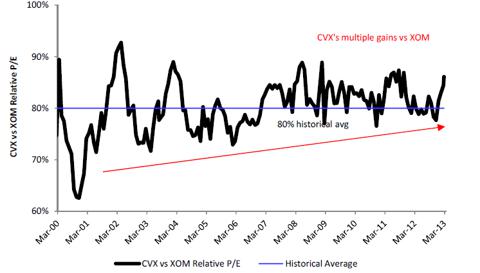 Source: Deutsche Bank
Disclosure: I have no positions in any stocks mentioned, and no plans to initiate any positions within the next 72 hours.
Business relationship disclosure: Black Coral Research is a team of writers who provide unique perspective to help inspire investors. This article was written Hans Centena, one of our Senior Analysts. We did not receive compensation for this article (other than from Seeking Alpha), and we have no business relationship with any company whose stock is mentioned in this article.
Additional disclosure: Black Coral Research is not a registered investment advisor or broker/dealer. Readers are advised that the material contained herein should be used solely for informational purposes. Investing involves risk, including the loss of principal. Readers are solely responsible for their own investment decisions.