The long awaited correction for U.S. stocks may be just around the corner. Consider these major indicators.
U.S. Treasury Bonds, the long standing safe-haven trade, have seen rates drop from over 2% on the 10 year, to 1.82% within a few days.
Most U.S. bank stocks have shown significant declines in the last few weeks. This could indicate tightening credit conditions. Morgan Stanley (NYSE:MS) is down over 14% in the last few weeks and many others are down about 10% in the same period.
Long considered a major growth engine of the global economy, China continues to slow.
Copper (NYSEARCA:JJC), called "doctor copper" by many in the financial industry for its ability to forecast economic conditions, is showing a drop of 9% in the last month.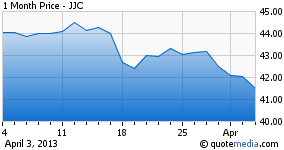 Silver (NYSEARCA:SLV) prices have taken a beating recently on news of reduced manufacturing activity, as the metal is widely used in many devices, including Apple (NASDAQ:AAPL) products. This morning, silver broke though the $27.00 technical barrier to the downside, which may indicate a significant move lower.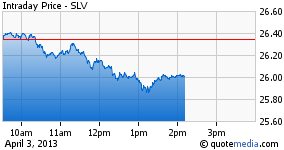 Corn (NYSEARCA:CORN) prices have dropped significantly in the last few days on news of larger supplies and bigger crops next year. Many farmers are highly leveraged and farmland prices have been increasing at parabolic rates over the last few years, which puts that industry at risk of a bursting bubble set off by lower grain prices.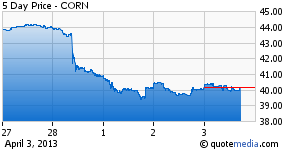 U.S. GDP growth came in at 0.4% last quarter, giving little support to U.S. stock market gains of about 10% in the same period.
Corporate guidance, which has been largely ignored by U.S. stock investors of late, is very negative as can be seen in the chart below.
Source: Investors Ignore Negativity At Their Peril. --WSJ
Conclusion:
Given the recent exuberance shown in U.S. stock prices in the face of these many indicators, it would stand to reason that a significant correction may be at hand.
I would look at taking short positions in U.S. stock indexes and going long the U.S. dollar as a risk-off attitude takes over. In my opinion, a correction of 10% or more on the S&P 500 would be reasonable in the near term.
I would look for the USD dollar index (DXY) to gain 2-3% in the near term.
ETFs that can be used to trade the U.S. equity indexes include: (NYSEARCA:SPY), (NYSEARCA:SDS), (NYSEARCA:DIA), (NYSEARCA:DXD), (NYSEARCA:IWN), (NYSEARCA:TWM), (NASDAQ:QQQ)
ETFs for going long the U.S. dollar include: (NYSEARCA:UUP), (NYSEARCA:UUPT)
Please remember that leveraged ETFs and ETNs are designed for short-term trading. All financial decisions are your own, seek professional advice before taking action.
Disclosure: I am short SPY, IWM. I wrote this article myself, and it expresses my own opinions. I am not receiving compensation for it (other than from Seeking Alpha). I have no business relationship with any company whose stock is mentioned in this article.