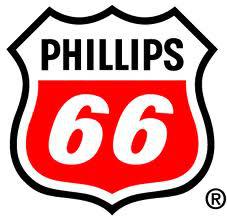 Phillips 66 (NYSE:PSX) has sold off dramatically in the last few days. New Environmental Protection Agency ("EPA") proposals to cut the sulfur content to an average of 10 parts per million, down from the current standard of 30 parts per million, was all the excuse for profit taking in the refining sector. As a result, PSX, Valero (NYSE:VLO), Holly Frontier (NYSE:HFC), and Marathon Petroleum (NYSE:MPC) are all down sharply.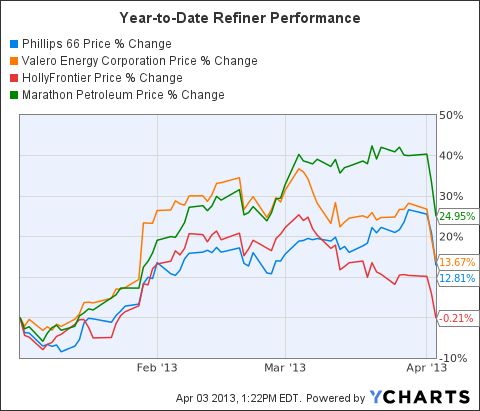 PSX data by YCharts
Note that all the refiners shown above are still up for the year with the exception of HFC, which is down slightly year-to-date.
As I write this article, PSX is down -$4.71 (7%) today. Volume is 2x normal. Obviously, this is a big turnaround from last week when trading pushed PSX over $70. This puts the near term correction at 11% from the high.
Yesterday (Tuesday), Valero spokesman Bill Day said the company expects to spend $300-400 million building new equipment to remove sulfur from gasoline and to expand existing facilities. Valero also expects to incur additional operating costs each year, and those costs have yet to be determined. Those statements, and the uncertainty they implied, seemed to fuel the sell off.
Is the sell off in PSX justified? I think it's overdone - here's why:
First off, these were EPA proposals and they have not yet been enacted into law. The EPA is expected to hold public hearings on the new proposals.
Secondly, does anyone honestly believe the refiners aren't going to pass the costs of these new regulation onto the driving public by charging more for gasoline?
Third, PSX has significant non-refining assets. Its 50-50 chemicals joint venture with Chevron (NYSE:CVX), "CPChem", is the industry's best chemical company. In addition, Phillips 66's Midstream segment is loaded with valuable assets as the upcoming MLP offering clearly shows. Meanwhile, although WTI is down today, so is Brent - so the crack spread is still there. And natural gas is just a tad under $4/MMBtu. So the fundamental story (low cost input feedstocks) is still in place for PSX's refining and chemicals businesses.
Also, it is not clear to me if the proposed regulations also apply to exports. If so, refiners like PSX that have significant export growth opportunities may not suffer as much.
That said, selloffs can become very irrational. PSX seems to be lumped into the "refiners" bucket with no consideration for its non-refinery operations. The stock seems to be showing some strength at the $61-62 level - a level last seen in mid-February. I would be a nibbler if the stock weakens further. I'd be a buyer under $60.
PSX's Q1 earnings are due out on May 1 and I expect them to be, once again, excellent. The stock yields 1.8% after the sell off, and has a P/E of 9.5. I expect another bump in the dividend soon. I also think the MLP offering in the second half of the year to be a bullish catalyst.
Is it just me, or are the proposed EPA regulations somewhat hypocritical? They propose stringent emission standards on the gasoline market, yet they seem to put every imaginable barrier to prevent ordinary Americans from converting their vehicles to run on natural gas. If the EPA is really concerned about the environment, why are they not an outspoken supporter of natural gas vehicles which emit ~30% less CO2 than gasoline and diesel powered vehicles, and 100% less of the toxic particulates - like the sulfur they seem so concerned about. As long as the EPA refuses to put its weight behind adopting natural gas transportation, the agency will be viewed as though it may have an agenda other than simply protecting the environment.
Disclosure: I am long PSX, CVX. I wrote this article myself, and it expresses my own opinions. I am not receiving compensation for it (other than from Seeking Alpha). I have no business relationship with any company whose stock is mentioned in this article.
Disclaimer: I am an engineer, not a CFA. Please do your own research and contact your investment adviser. I am not responsible for investment decisions you make. Thanks for reading and good luck!