Overview
Google (NASDAQ:GOOG) purchased YouTube in late 2006 for $1.65B. When it was acquired YouTube had 19.1M visitors per month. Recently it was reported YouTube's unique monthly visitors have soared to over 1B.
In just 7 years YouTube has grown its viewers by 51x, and now ranks #3 in the world Alexa rankings. YouTube has historically been significantly less than 5% of Google's revenue, but that is about to change. For many reasons YouTube is just in the early innings of monetization.
Here is a look at the main components driving YouTube's growth.
Increasing Users And Content
Now that YouTube has over 1B monthly users, almost 1 out of every 2 people on the internet are on its platform.
As of 2012 there were 2.4B people with internet access. That's approximately 1/3 of the entire world's population, meaning the internet has still not been adopted by the majority of people on the planet. Internet penetration (especially in emerging markets) is in its early stages, and YouTube is well positioned to benefit directly from this growth. YouTube is already live in 53 countries and 61 languages, and has 70% of its traffic coming from outside the US.
Over 72 hours of new videos are uploaded to YouTube every minute. This is triple the amount of content that was being uploaded just 3 years ago in 2010.
Paid Channel Subscriptions
Rumors about paid channel subscriptions have been present for a while, but reached a new level of credibility with this WSJ article, published on March 21st.
In the WSJ piece, YouTube exec Roberty Kyncl discusses the importance of helping its users monetize their content. Specifically, Kyncl mentioned how Youtube wanted to "create .... additional revenue streams."
Paid channel subscriptions would be an excellent way to create a recurring revenue stream, and drive more premium content to the platform.
YouTube has reportedly been talking about the service with several content producers and is planning to charge between $1-$5 per month. YouTube is relatively quiet about how much of its revenue it shares with its users (with advertisements on their videos), but most estimates are around 50%.
If YouTube were to keep a consistent revenue sharing model with its content providers, it would theoretically earn $0.50-$2.50 per channel subscription, per month.
With 1 billion users every month, YouTube needs just 1% to sign up for its subscription service, to create a relevant new revenue stream.
Here are low and high end projections for the adoption of a paid channel subscription service launched in late 2013.
| | | | |
| --- | --- | --- | --- |
| Year | 2013 | 2014 | 2015 |
| Users With Subscriptions (NYSE:LOW) | 25K | 50K | 100K |
| Subscriptions Per User | 1 | 1 | 1 |
| Revenue Per Subscription | $0.40 | $0.50 | $0.60 |
| Users With Subscriptions (High) | 100K | 500K | 2M |
| Subscriptions Per User (High) | 1 | 2 | 3 |
| Revenue Per Subscription (High) | $2.00 | $2.50 | $3.00 |
| Total Revenue | $120K | $300K | $720K |
| Total Revenue (High) | $2.4M | $30M | $216M |
| Average Revenue Estimate | $1.3M | $15.2 | $108.4M |
| | | | |
The model above (high end) estimates 1-2% of YouTube's monthly users (2M) are paying subscribers. This doesn't seem particularly unreasonable given online services such as Netflix (NASDAQ:NFLX) and Hulu have over 25M and 3M, respectively.
Music Service
Apparently YouTube isn't just sticking to videos. Rumors have been floating around that YouTube is trying to launch a music streaming service to rival Spotify.
Details are still relatively unknown about this project, but the service will supposedly be launching this year. Google has been making a strong push into media and music with the introduction of Google Play. Many speculators believe the two services could become integrated to form a more comprehensive Android media hub (think iTunes rival).
The service will feature both the ability to listen to music for free, and become a paying subscriber. Paying members will obviously have access to more/newer content, but by making it free Google appears to be shooting for widespread adoption of the service.
Potential With Apple iTV and Google Fiber Expansion
Apple's iTV and Google Fiber are slowly changing the way Americans are consuming content from their living rooms.
Cable is becoming more and more obsolete as the internet slowly matures into a relevant content platform. Apple's (NASDAQ:AAPL) iTV is already bringing apps into the living room and making services such as YouTube more accessible.
Google's new internet service Fiber, promises internet speeds 100x faster than are present in the average American's home. Although the service is now only available in Kansas City, this will bring significant amounts online TV traffic directly to YouTube. The faster speeds allow for more HD videos to stream to more homes.
Right now only a very small portion of American households have smart TV's and access to apps from their living rooms. The mobile revolution led by Apple and Google appears to be changing this, and driving content consumption away from cable and towards the internet.
Soaring Revenue
YouTube's financials are generally kept very clandestine. Not once since its acquisition, has Google formally reported YouTube's individual revenues.
Fortunately analyst's have been able to release some YouTube estimates.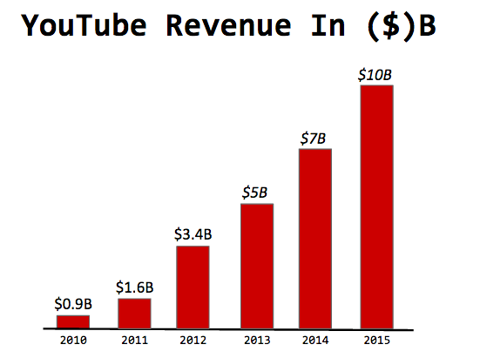 Estimates for 2010 (I, II), Estimates for 2011 (I, II), Estimates for 2012 (I, II)
As shown above, YouTube experienced 113% year over year growth in 2012. For 2013 I project revenue growth will slow to 47%, then settle around 40% in both 2014 and 2015.
Growth will be led by the launch of new services, and increased adoption/viewing hours on YouTube's main platform.
Conclusion
YouTube is on pace to reach a major tipping point.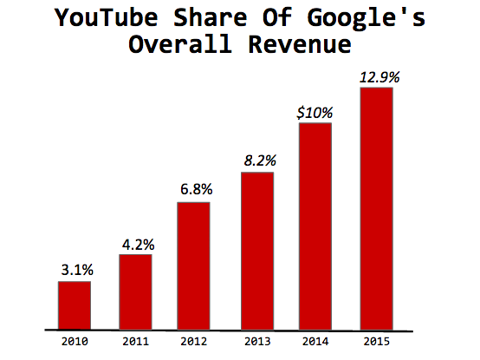 In 2014 YouTube will represent about 10% of Google's overall revenue (based on analyst estimates), and climb to 12-13% by 2015.
As more and more consumers switch from cable to consuming content on the internet, YouTube is positioned excellently to continue gaining traction.
YouTube's growth is clearly still in its early stages. Google is quickly positioning the platform as an internet content leader, specifically catered towards the mobile revolution. YouTube's monetization is positioned to be a source of Google's growth for years to come.
Business relationship disclosure: The article has been written by The Glass View, by our Editor. The Glass View is not receiving compensation for it (other than from Seeking Alpha). The Glass View has no business relationship with any company whose stock is mentioned in this article.
Disclosure: I have no positions in any stocks mentioned, and no plans to initiate any positions within the next 72 hours. I wrote this article myself, and it expresses my own opinions. I am not receiving compensation for it (other than from Seeking Alpha). I have no business relationship with any company whose stock is mentioned in this article.