The 3D printing industry is expected to become a $6.5 billion industry by 2019, rising from just a $1.7 billion market in 2011. Research firm Gartner believes that enterprise-class printers priced below $2,000 will be available in the market from as early as 2016. The firms operating in the industry today, particularly market leaders 3D Systems Corp (DDD) and Stratasys (SSYS), will have the first mover's advantage and will reap maximum returns in the long run as the niche starts becoming more mainstream. Although there are going to be some short-term hiccups, which has now become apparent, the long-term prospects remain bright.
Both 3D Systems and Stratasys have released their quarterly results which continue to show revenue growth, although with some confusion over growth. Meanwhile, a relatively newer entrant ExOne (XONE) has now posted its first quarterly results following its IPO in February.

3D Systems
The industry leader was the first to report its fourth quarter results along with its three-for-two stock split in late February. Not only did the company's management perform the split on the day of its earnings release, the release itself was oddly timed and analysts only had 20 minutes for review before the conference call started -- which created confusion as the numbers had to be adjusted for the split. The business's revenues increased by 45% to $101.6 million, $2.3 million short of analysts' expectations, while its net income increased by 36.25% to $10.9 million. Excluding one off items, 3D Systems' earnings per share increased from $0.27 a year earlier to $0.39. This was significantly above the market's expectations of $0.26.
For the full year, revenues increased by 53.5% to $353.6 million, which includes 22% organic growth, while net income increased by 65.7% to $67.9 million. The business is expecting revenue growth of 24% to 37% in the current year and earnings growth of up to 38%. The relatively modest guidance - compared to what the business has already achieved - was enough to disappoint its investors as its shares plunged by 9% on the day of the earnings release.
Stratasys
Stratasys quarterly results were better than analysts' expectations. The company earned revenues of $96.4 million which is significantly more than the market's expectations of $52.8 million and has gone up by 23% from $78.3 million reported in the same quarter last year. This translated into a net loss of $3.5 million as compared to a loss of $6.3 million a year earlier. In non-GAAP terms, the company's earnings were $16.3 million or $0.40 per share, which is 2 cents above analysts' estimates.
For the full fiscal year, Stratasys's revenues increased by 30% to $359 million while its annual losses shrank from $30.9 million in 2011 to $21.6 million in 2012. The non-GAAP net income, excluding the $1.4 billion Objet's merger related and other costs, increased by 60% to $59.6 million or $1.49 per share. For the current year, the business has given a revenue and non-GAAP income guidance of $430 million - $445 million and $1.80 to $1.95 per share; which is above analysts' revenue and profit estimate of $421 million and $1.86 per share.
ExOne
ExOne reported a quarterly net income of $902,000, coming from a loss of $2.77 million in Q4-2011 while it recorded revenues of $12.7 million, showing a massive increase of 369% from just $2.72 million in Q4-2011. The company did not release an EPS figure, but with 13.28 million shares, its earnings turn out to be $0.0679 per share, which is below analyst's estimate of $0.08 per share.
For the full year, while the total revenues increased by 87% to $28.66 million, annual losses have increased by 27% to $10.17 million or $0.77 per share, which is more than analysts' loss estimate of $0.66 per share.
More than half of the total annual sales (54%) have come from the sale of 3D printing machines while the rest came from selling 3D printed parts and materials (NASDAQ:PSC). A total 13 machines were sold in 2012 which takes the average price to $1.2 million. Given the relatively smaller size of the company, a slight increase in sales in the number of machines can give a significant boost to the company's overall sales. Moreover, this is also going to improve the ExOne's margins. The firm's gross margin in Q4-2011 was 14.6% but as revenues from machine sales multiplied from $0.2 million in Q4-2011 to $8.9 million in Q4-2012, its gross margin rose to 49%.
For the full year, ExOne's gross margin increased, due to reasons explained above, from 23.8% in 2011 to 42.4% in 2012.
In 2013, ExOne is expecting to earn revenues of $48 million - $52 million while most of this is going to come in H2-2013. The midpoint of this guidance, $50 million, would represent a 74.46% increase over 2012. The business expects its gross margin to remain between 42% and 46% in 2013.
ExOne's rise was already anticipated but 3D Systems still leads in terms of gross margin. In the final quarter, both ExOne and 3D Systems recorded a year-over-year increase in quarterly gross margins. On the other hand, Stratasys has reported a drop from 52.47% in Q4-2011 to 46.15% in Q4-2012.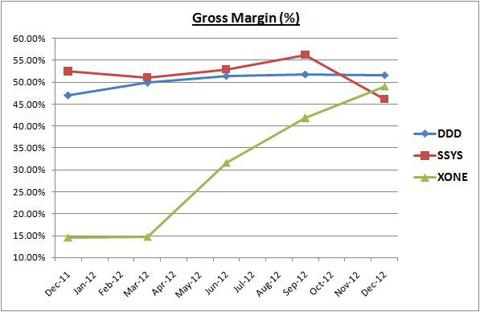 Since February, ExOne's stock has risen by 23.5% while 3D Systems and Stratasys have been down 24.3% and 10.0%, respectively.

The P/E ratio of Stratasys is still above 200, while that of 3D Systems has fallen to approximately 70. The EV:Sales ratio of both Stratasys and 3D Systems is well below that of ExOne but the latter, given its small size, has the greatest growth prospects.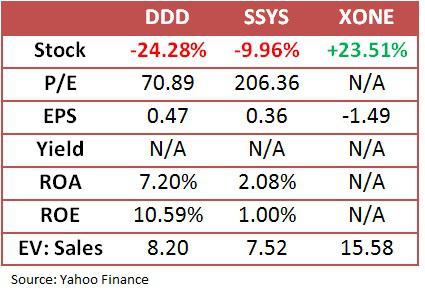 Disclosure: I have no positions in any stocks mentioned, and no plans to initiate any positions within the next 72 hours. I wrote this article myself, and it expresses my own opinions. I am not receiving compensation for it (other than from Seeking Alpha). I have no business relationship with any company whose stock is mentioned in this article.